Christina McKnight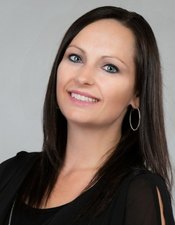 Blogging at Fresh Fiction
8 Authors Share Their Favorite Dukes!
December 13, 2017
Want to learn a little something about the writers of THE DESIRES OF DUKE Historical Romance Read More...
Christina McKnight on why Regency romance excites her
March 22, 2017
I get the sense I'm in an AA or NA meeting every time someone says: Oh, you're a writer! What do you write Read More...
Top FIVE Questions People Have About ME!
December 21, 2016
Do you live off coffee and wine exclusively? Depends who you ask! My coffee and wine budget is Read More...
Christina McKnight | A World Of Mystery
August 17, 2016
Thank you for stopping by Fresh Fiction for all your reading needs and recommendations. I'm bestselling historical romance author, Christina McKnight. My writing style Read More...
Christina McKnight is a book lover turned writer. From a young age, her mother encouraged her to tell her own stories. She's been writing ever since. Currently, she focuses on Historical Romance.
Christina enjoys a quiet life in Northern California with her family, her wine, and lots of coffee. Oh, and her books…don't forget her books! Most days she can be found writing, reading, or traveling the great state of California.
Log In to see more information about Christina McKnight
Log in or register now!
Series
Craven House | Lady Forsaken | Lady Archer's Creed | Undaunted Debutantes
Books:
A Scandalous Christmas, December 2020
e-Book
The Madame Catches Her Duke, January 2018
Craven House #3
e-Book
The Desires of A Duke, December 2017
e-Book
Kissed at Christmas, October 2017
Christmas at Castle Keyvnor #3
e-Book
Adeline, September 2017
Lady Archer's Creed #3
e-Book
For the Love of a Widow, September 2017
e-Book
The Misadventures of Lady Ophelia, July 2017
The Undaunted Debutantes #3
e-Book
The Misfortune of Lady Lucianna, June 2017
The Undaunted Debutantes #2
Hardcover / e-Book
The Disappearance of Lady Edith, June 2017
The Undaunted Debutantes #1
e-Book
Gerogina, April 2017
Lady Archer's Creed
e-Book
Historical Hellions, April 2017
e-Book
The Mistress Enchants Her Marquis, February 2017
Craven House #2
Paperback
Theodora, January 2017
Lady Archer's Creed #1
e-Book
A Kiss At Christmastide, October 2016
e-Book
The Thief Steals Her Earl, August 2016
Craven House #1
e-Book
A Lady Forsaken Box Set, June 2016
e-Book (reprint)
Hidden No More, April 2016
Lady Forsaken #4
e-Book
Christmas Ever More, December 2015
Lady Forsaken #3.5
e-Book
Scorned Ever More, July 2015
Lady Forsaken #3
e-Book
Forgotten No More, December 2014
Lady Forsaken #2
e-Book
Shunned No More, June 2014
Lady Forsaken #1
e-Book