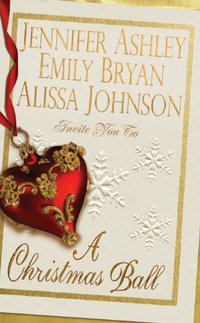 Purchase
Leisure Books
October 2009
On Sale: September 29, 2009
336 pages
ISBN: 084396250X
EAN: 9780843962505
Mass Market Paperback
Add to Wish List

Romance Anthology | Romance Historical
'TIS THE SEASON FOR SEDUCTION
It is the most anticipated event of the ton: the annual holiday ball at Hartwell House. The music is elegant, the food exquisite, and the guest list absolutely exclusive. Some come looking for love. Some will do almost anything to avoid it. But everyone wants to be there. No matter what their desires, amid the swirling gowns and soft glow of candlelight, magic tends to happen. And one dance, one kiss, one night can shape a new destiny….
My Lady Below Stairs by Emily Bryan

Nobody misses Lord & Lady Hartwell's Christmas Ball . . . but they all go for different reasons. When Lady Sybil runs off with an Italian portrait painter, her bastard half-sister Jane Tate goes in her place. Lord Eddleton plans on proposing to "Sybil" under the mistletoe. Lady Darvish is on the hunt for her fifth husband.
Ian Michael MacGregor is determined to show Jane that love doesn't have to pretend.
The trouble with wearing someone else's shoes is they tend to pinch like the dickens!
Comments
53 comments posted.
Re: A Christmas Ball

My choice of your questions was #4 a fondest Christmas memory. Mine was the fourth year I was married. While my sister & parents still lived in the same town as us we would go to their house to join them, and family (my uncle and both grandmothers) for Christmas Eve and to see what Santa had brought for my three year old daughter and open everyones presents. That particular year unbeknownth to us they had called our home to find out when we would be arriving. The reason it was unbeknownth to us was that little Jenny had answered the phone while we were in the bathroom. Thus when we arrived at my parents home we were quite mystified why the chatter came to a halt and everyone stared at our enterance. My Uncle Dick broke the stillness by clearing his throat and asking us if we were experiencing a water shortage on our side of town. We were quite mysterfied. He then proceeded to tell us they had called and Jen answered the phone and they asked her first if they could speak with her Mommy, to which she replied that I was in the bathroom. Then they asked to put her Daddy on. But Daddy was in the bathroom too! And when we came out to dress none of this was repeated to us - 'cause all Jenny could think about was what Sants had brough to her grandparents house for her. So we were no longer mystified why we were the center of attention when we were entered but mortifed at the laughter that ensued!
(Susan Lathen 5:03am September 21, 2009)
What a hoot! Thanks for sharing, Susan!
(Emily Bryan 7:02am September 21, 2009)
Hi Everyone,
I love the Christmas themed movie The Bishop's Wife, it's an old movie with Cary Grant, Loretta Young and David Niven.And now I can't wait to read about Giovanni.Not too much longer. :)And my best ever Christmas was when in 1997 they told me my daughter's cancer was in remission and after one year as an in patient, we got to go home 3 days before Christmas. The Best Ever ! :)
Carol L.
[email protected]
(Carol Luciano 9:32am September 21, 2009)
Good Morning! WHAT?? There is no Santa? Oh this cannot be true, you see at our house if you don't believe in Santa, then he brings no presents! Therefore my adult grown children still amuse me by saying they believe in Santa and he sprinkles magic all around our house on Christmas Eve, They all gather to our house still and sleep over to have Santa on Christmas a.m. SO last year my husband informed them, when there are grandchildren in our future, there is no Santa for them! So I think they have formed a pack not to ever have children! LOL! Have a winderful week! Jane L
(Jane Lange 9:44am September 21, 2009)
Good Morning Ladies. I cannot wait to read this book but I also want to savor it during the holidays and I am not sure I can wait that long *wink*.
In our household my Mom went all out for Christmas. We always got a ton of presents, which we opened on Christmas Morning, or so it seemed. The house & the tree were decorated with loving care. Our Christmas dinners were awesome as my Mom was an awesome cook. Of course if you needed a recipe you had to pay attention because she never used recipes. I sometimes thought she would try to throw us off by chatting about this and that and sneaking an ingredient. She wasn't that devious so I think it was innocent. I sure do miss my Mom. She died at 45 years old and somehow Christmas just wasn't the same after.
Love & Hugs,
Pam
(Pam Keener 9:51am September 21, 2009)
#8 is a good question for me, since I am
writing a 5-part series about the Klaus family
(yes, that Klaus family!), and thus I find myself
writing about elves and the North Pole in the
middle of a hot, muggy summer! Sipping a
gingerbread latte from Starbuck's always gets
me in a xmas-y mood (I even bought the syrup
so I can make it at home when it's "off-season"!
)
(Penny Watson 9:53am September 21, 2009)
To Q# My fondest christmas memory was was my family had a family reunion for Christmas all in one location. This was a monumental things because we live in different parts of the country and all have seperate lives. It was amazing that we had all siblings and their children.
(Armenia Fox 10:10am September 21, 2009)
It's amazing to think that Christmas will be here in a few months. I enjoyed the post and thinking of Christmas past. We used to open presents on Christmas morning but once our children were older they wanted to sleep in on Christmas morning so we started opening presents on Christmas Eve.
(Maureen Emmons 10:13am September 21, 2009)
My fondest Christmas memory when a year when we had no money for food or gifts. The church had groups draw names and bought each of us 5 kids a new outfit for Christmas. I was 12 years old and had never had a new outfit in my life. They came on Christmas Eve with the gifts and food too. We were going to have potato soup that year for Christmas but instead got to have ham with all the trimmings. Even though we were poor, we always decorated even if we spray painted tumbleweed and made ornaments.
(Jane Squires 11:19am September 21, 2009)
One thing I miss is having church on Christmas Eve where the children performed the Nativity Scene, and we received a sack of fruit, candy and nuts as we left church. It was always snowing out and we rushed to Grandma's house to have hot chocolate, cookies and cakes and opened presents. We also opened them in the morning at Grandma's house and had a huge dinner, which we helped ourselves to all day.

I miss carolers. We always used to go around the town caroling.

I always got books for Christmas, and I poked my nose in it the entire day. Smile.

Thanks for lovely post. It brought back many memories.
(Sandy Marshall 11:30am September 21, 2009)
I LOVE Christmas! Favorite Move: White Christmas/Charlie Brown Christmas. Favorite song: Mary Did you Know. Favorite Christmas Album: Charlie Brown Christmas.

I can't wait to read this book.
(Josie Roetemeyer 11:47am September 21, 2009)
I think I was around nine when I found out there was no Santa but I had three younger brothers and sisters so I got to pretend for a few more years.
(Sherry Strode 11:50am September 21, 2009)
My first Xmas with my husband. We had a plant for our Xmas tree & gave each other one gift. We were married on the 16th of Dec.
(Pat Wilson 11:59am September 21, 2009)
My favorite Holiday movie is...well I have two actually. The first is Love Actually just like Jennifer, but my second fav is The Bishops Wife. Not the remake, but the original with Cary Grant who plays an angel. Love love love that movie. Here's to an early Christmas season! Thanks for the great interview.
(Carrie Divine 12:00pm September 21, 2009)
My favorite holiday food is stuffed
duck but I also enjoy turkey any day
of the year. Least favorite:
cranberry anything.

Great seeing Emily, Jennifer and
Alissa here!
(V Young 12:36pm September 21, 2009)
I have to say #4. I love looking at videos and pictures of all the holidays. Especially Christmas and it being winter and allt he lights.
(Kimberly Lane 1:12pm September 21, 2009)
Favorite movie- Have to agree with Love Actually and also It's a Wonderful Life.
Song- Silent Night
I don't really have a favorite album that sticks out.
(Leslie Davis 1:14pm September 21, 2009)
I know that it's Christmas when I see the movie, "White Christmas" with Bing Crosby and Danny Kaye. I really love that movie and the song is not bad either.!
(Rosemary Krejsa 1:32pm September 21, 2009)
My favorite holiday memory is singing carols around the piano and hearing people hum when they forgot the words as the songs progressed.
(Alyson Widen 1:33pm September 21, 2009)
Best Christmas Movie is...Olive, The
Other Reindeer. Soooo funny!
(Penny Watson 2:01pm September 21, 2009)
My family always opened presents on Christmas Eve. However, my husbands' family opens them on Christmas morning. Thanks for the contest. Have a great day.
(Roberta Harwell 2:37pm September 21, 2009)
We always open our Christmas presents on Christmas Eve...Which is also coincidentally MY BIRTHDAY!! So, Christmas Eve is always a GREAT GREAT day for me. :) And every Christmas, we always have birthday cake, which is fun.
(Beverly Bennett 2:38pm September 21, 2009)
Carol L--How wonderful about your daughter's remission! Truly the best gift. Hope she's still doing well.
(Emily Bryan 2:40pm September 21, 2009)
Jane--Whatever leads to more presents!

Pam--Thank you for sharing that bitter-sweet memory. My grandma was a "secret ingredient sneaker" too. She was so acclaimed for her icebox rolls and such, I think she wanted to make sure no one could ever make them quite like she did.

Penny--I'm looking forward to your Klaus series!

Armenia--A family Christmas with everyone present is a rarity nowadays. How delightful!
(Emily Bryan 2:44pm September 21, 2009)
Maureen--Teenagers! They even want to sleep in on Christmas Day!

Jane S--I'm so glad someone made a difference for your family that year!

Sometimes those skinny Christmases make us all the more appreciative. One year my DH and I sold our class rings so we'd have money to buy presents fo our girls. I never had so much fun shopping as that year.
(Emily Bryan 2:47pm September 21, 2009)
We open gifts on Christmas morning after Santa comes the night before.
(Vikki Parman 2:50pm September 21, 2009)
Sandy, I bet if you volunteer to organize a Christmas pageant, your church would let you. It's a ton of work, but they are always delightful. (I'm assuming everyone has read that Christmas Classic THE BEST CHRISTMAS PAGEANT EVER! If not, put it on your list and read it aloud to a young person in your life.)

Josie--I like Mary, did you know? too!

Sherry--I have 3 younger sisters. I too was drawn into the vast Santa conspiracy after I learned the truth.
(Emily Bryan 2:52pm September 21, 2009)
Pat--An almost Christmas wedding. My family actually has a tradition of Christmas weddings. My parents, grandparents and great-grandparents were all married on Dec. 25th. As if there wasn't already enough going on that day!

Carrie--I've never seen THE BISHOP'S WIFE. I'll have to look for it.

V--Never had duck. Love cranberries! ;-)
(Emily Bryan 2:55pm September 21, 2009)
Kimberly--When we lived in NC, we used to go to the Festival of Lights each year at Tanglewood. It was beautiful.

Leslie--Do you suppose the Sesame Street Bert and Ernie got their names from ITS A WONDERFUL LIFE?

Rosemary--My favorite Danny Kaye movie is still THE COURT JESTER, which has nothing to do with Christmas but just thinking about his antics makes me smile!

Alyson--Or make up words! My oldest daughter used to sing "Oh, McFun it is to ride a wongy, wongy sleigh!"
(Emily Bryan 3:00pm September 21, 2009)
Praise be! I remembered my username and password!

Hello everyone, and thanks for stopping by! I'm really excited about this anthology, especially being in it with fun people like Emily and Allisa. You're going to like their stories, I guarantee it!

The Bishop's Wife. Ah, that's a good one.
(Jennifer Ashley 3:02pm September 21, 2009)
Roberta-Thanks for coming by!

Beverly--Well, happy birthday! My nephew's is the 26th and my sister always has to work at making sure it doesn't get lost in the shuffle.

Vikki--Thanks for sharing!
(Emily Bryan 3:03pm September 21, 2009)
Great post! You folks are getting me in the mood for Christmas already. My favorite Holiday movie is the Muppet Family Christmas Movie. I love watching that one with my 6 year old son and my 2 year old daughter.
(Cherie Japp 4:17pm September 21, 2009)
One of my best Christmas's---My husband gave me my first bicycle, and I was 35 years old.
What a great guy!!!
Marjorie
(Marjorie Carmony 4:55pm September 21, 2009)
My family did celebrate Christmas but we didn't have a Santa Claus and I always new that there was not truly such a man.
(G. Bisbjerg 5:13pm September 21, 2009)
Christmas is a big deal in our family. We have so many traditions that just make it extra special for us. They wouldn't mean much to others - small things like having nuts in shells stuffed into the toes of children's Christmas stockings. Always a joy.
(Mary Preston 5:26pm September 21, 2009)
We open our presents on Christmas Day. None of this Christmas Eve cheating. ;)
(Jacqueline Lam 5:38pm September 21, 2009)
I guess my favorite holiday food would be turkey and home made dumplings. Favorite movie would be The Holiday, favorite christman was when my whole family was together with our mother and father, which has been many years ago. My brother was in and my mother and father and brother was still with us. They are all gone now. All I have left is two sisters and we still get together for the holidays.
(Gail Hurt 5:44pm September 21, 2009)
Hi Emily, Alissa and Jennifer,
We open our presents at midnight, so it's technically Christmas Day. "A Christmas Story" is my favorite, too. I've always wanted a leg lamp.
(Jane Cheung 5:48pm September 21, 2009)
I love Christmas. My family all get together for this day, about 45 of us meet for a meal. We have a ball.

lorettaC,
[email protected]
(Loretta Canton 6:34pm September 21, 2009)
Opening gifts varies from year to year but we ALWAYS get Santa gifts Christmas morning.
(Sarah Ulfers 6:36pm September 21, 2009)
My fondest Christmas memory was: When my youngest son was 4 or 5 he loved Ninja Turtles. One year he received the technodrone (I think it was the turtles or shredders lair) but he was so excited he was shaking. After that when he wanted something new we would tell him it cost so many technodromes. He thought that was very expensive. Now my children are grown but we have 4 granddaughters to make them shake with excitement.
(Theresa Buckholtz 6:41pm September 21, 2009)
Question #2. Favorite Holiday Food - Pumpkin Pie - least favorite is cranberry sauce.

Kathy
[email protected]
(Katherine Reese 7:13pm September 21, 2009)
For Question 7: I have to open my presents on Christmas Eve. I just can't wait till the next morning.
(Jenny Ng 7:19pm September 21, 2009)
Hi Everybody! I'm really enjoying all the comments and I wanted to let you all know that Alissa Johnson has been trying to get in all day, but she has dial-up and the site keeps timing out on her. But I'm sure she'd want to me to say hi for her and thank you all for leaving such fun comments!
(Emily Bryan 7:59pm September 21, 2009)
We always open presents on Christmas morning. One of my fondest memories is that my second son was born on Christmas Day. I love to watch Chevy Chase's Christmas Vacation.
(Phyllis Crabtree 8:33pm September 21, 2009)
#9 favorite movie
I still watch every year for White Christmas and two years ago I finally found a DVD copy of it and bought it immediately.
It makes me cry and laugh and feel good
(Diane Sadler 8:43pm September 21, 2009)
question 7. we open on christmas morning because thats when Santa shows up. but our kids do get to exchange gifts from one another on christmas eve.
(Sara Hurt 8:57pm September 21, 2009)
2)My Favorite food is Turkey in that time of year.(9)My Favorite Holiday Movie is Rudolf the Red nose Rain Dear.
is that how it's spelled ?Well It's allways been my fav.
[email protected]
(Stacey Smith 10:15pm September 21, 2009)
4. Fondest Christmas memory - The
way we celebrated Christmas when I
was a child. My Mother's family would
all attend midnight mass together
then go to my grandparents house for
breakfast afterwards. Since my mom
had 8 brothers and sisters and they all
had 3 to 6 children, it was a great
crowd. We would then go home and
open our presents or sometimes wait
until we got a little sleep first. On
Christmas Day, we went to my Father's
parents' house for Christmas dinner.
My grandparents' house wasn't very
big, but we managed to fit the 16
family members in. It was a lovely day
and presents weren't the focus. The
families were just too large to get gifts
for everyone. We gave our
grandparents gifts and our immediate
family, but that was all. No one felt
left out or cheated. Now all the
families are scattered around the
country and the grandparents as well
as our parents are gone. Sadly there is
no way to carry out that tradition
anymore.
(Patricia Barraclough 1:00am September 22, 2009)
Since I've already mentioned my fondest Christmas memory in other years elsewhere, I'll mention when I first "knew" that Santa Claus was a fiction. I was still living in Germany where we have the equivalent of Sankt Nikolaus.

I was my aunt's 3-year-old flower girl at her wedding a few days before Christmas. At the festivities, they also had something for us youngsters. We played Ring around a Rosie and other games. Finally, Saint Nick was announced wearing a beard and a long brown coat, as he does in Germany. Apparently I took one look at him and said, "That's not St. Nick, that's my uncle Max."
(Sigrun Schulz 1:31am September 22, 2009)
Hi everyone! Sorry for not making it during daylight hours, but technical difficulties coupled with a lightning storm made it impossible. I wanted to say thanks for having us here today, and for sharing your wonderful Christmas memories. I've had a blast reading all the comments.

Therese, for some reason, I find the fact that you established technodromes as a currency absolutely hilarious. Thanks for telling that story!
(Alissa Johnson 2:34am September 22, 2009)
Another fun guest post, I think I like this Christmas in September stuff.
I have to ask Alissa or anyone who knows... what on earth is krumkake??
(Sheree McLeod 3:08am September 22, 2009)
This has been fun. My favorite holiday food is a Italian cookie called "pizzelle". I make pecan pizzelles in the iron I received as a wedding present 28 years ago from two Italian girlfriends. They're paper thin and crisp and not too sweet.
One of my least favorite foods is also a traditional cookie - biscotti, but only the anise flavored ones. I like anise in other things, but not in the cookies.
(Elaine Carlini-Davis 8:41pm September 23, 2009)
Registered users may leave comments.
Log in or register now!