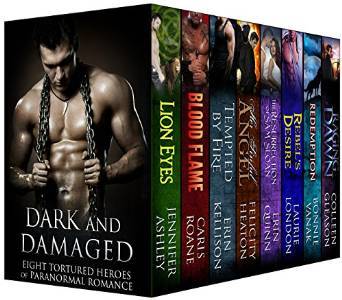 Purchase
Fire Flower Publishing
June 2015
On Sale: June 12, 2015
ISBN: 0151567751
EAN: 2940151567756
Kindle: B00ZM538FM
e-Book
Add to Wish List

JENNIFER ASHLEY - Lion Eyes (Shifters Unbound 7.25) Bree has just decided to give up trying to be a Shifter groupie when a lion Shifter slams into her truck and tells her to *drive*. Seamus is on the run from hunters, other Shifters, and who knows who else. All Bree knows is that he's compelling, needs her help, and most intriguing of all, wears no Collar ...
CARIS ROANE - Blood Flame (The Flame Series 1) Vampire Officer Connor of the Crescent Border Patrol tries to suppress his desire for the powerful witch, Iris Meldeere. Because the woman possesses the ability to kill him with the tips of her fingers, how can he possibly fall in love with her? When a double homicide throws them together, he soon finds his deepest fantasies fulfilled as Iris succumbs to his seductions. But as they battle together to stay alive, and love begins to consume them both, will the witch be able to forgive the dark secrets of his past ...
ERIN KELLISON - Tempted By Fire (Dragons of Bloodfire 1) A powerful dragon shifter has waited six hundred years to avenge the loss of his family, but the beautiful mediator sent to prevent violence among the Bloodkin doesn't want to be his key to discovering the murderer--in fact, she wants nothing to do with dragons at all ...
FELICITY HEATON - Her Sinful Angel (Her Angel Series Book 8) Cast out of Heaven and now the king of Hell, Lucifer is a powerful fallen angel warrior with a heart as cold as ice and soul as black as the bottomless pit. For millennia, he has ruled his realm with an iron fist as he plots the demise of his ancient enemies. When one of those enemies dumps an unconscious mortal female in the courtyard of his fortress and leaves her there, Lucifer finds himself entranced by the beguiling beauty and tempted beyond all reason. But is the enchanting Nina an innocent pawn in the eternal game or part of a plot against him?
ERIN QUINN - The Resurrection of Sam Sloan (A Novella of the Beyond 2.5) When a reaper is trapped in Maggie's estranged husband's body, she knows only that the man with her husband's eyes feels like a stranger . . . a compelling, seductive stranger who touches her in ways her treacherous husband never could. She wants to trust him, but what about the ghost who haunts their home, implicating him in a gruesome murder . . . .
LAURIE LONDON - Rebel's Desire (Iron Portal #4) A jaded Iron Guild warrior cares about nothing except battling a ruthless enemy, but when a beautiful woman literally runs into his arms, he realizes she holds the key to his success. As passion ignites, he must decide whether to sacrifice the woman he's falling for or dare to trust his heart again.
BONNIE VANAK - Redemption (Werewolves of Montana Mating Mini #4) A cursed alpha wolf promises to free an enslaved Mage if she mates with him so he can sire an heir, not realizing she can destroy the dark secret keeping his pack alive.
COLLEEN GLEASON - Raging Dawn (A Gardella Vampire Hunters Stand-Alone Novella) Vampire Hunter Max Denton must work with the daughter of the man who betrayed his family when they travel to an English estate in 1912, posing as servant and mistress. Downton Abbey with vampires.
Comments
No comments posted.

Registered users may leave comments.
Log in or register now!