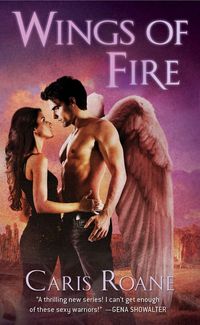 Purchase
A vampire in love?a woman enslaved?two worlds on fire
Guardians of Ascension #3
St. Martin's Press
September 2011
On Sale: August 30, 2011
Featuring: Parisa Lovejoy; Antony Medichi
450 pages
ISBN: 031253373X
EAN: 9780312533731
Kindle: B004VMV3UE
Mass Market Paperback / e-Book
Add to Wish List

Warrior of the Blood and powerful vampire, Antony Medichi battles to protect an untried mortal, Parisa Lovejoy. At the same time, he resists his overwhelming attraction to her, knowing he will fail her as he once failed others in his life. But her fortitude as she faces an unknown world at war, forces him to come to grips with his past and his growing love for this innocent, unsuspecting librarian.
Parisa loved her safe, cloistered life on Mortal Earth but the unexpected appearance of her wings sets her on a journey that demands strength and courage, especially since she finds herself in a strange world of ascending dimensional earths. Because her extraordinary preternatural powers have put her directly in the enemy's path, she must strive to conquer her fears and to accept her new role on Second Earth. When her survival soon depends on giving herself completely to Antony, she must break apart her narrow view of life or perish.
Comments
24 comments posted.
Re: Wings of Fire

I love the inspiration taken from the paranormal, taking all sorts, angels, demons, ghosts, phantoms, the mysteries that existed in stories and "fairy tales" - I love when a series has great secondary characters that are reintroduced and have their own books, I think that that series would have an air of darkness with the light of hope and love.
I would drive/walk in a snowstorm (and I have) to get books. Any and every - depends on the mood that the storm has caught me in and who I am "trapped" with (the landlord next door from hell or the good looking guy 2 floors up). Luckily I got away from the snow and can get books every day!Your series sounds amazing!!
(Carla Carlson 12:51pm September 9, 2011)
I would go through anything to get books from my favorite authors. BDB, Dark Hunters, Nauti Boys, Carpathians...but now with ebooks and such I don't have to...doing the happy dance.
If I created a new series it would definately have some kind of male group-brothers, cousins, pack... and they would probably be long suffering heroes with deep loyalty and loving souls.
(Patti Paonessa 2:06am September 9, 2011)
I am so happy that there are creative authors that are able to come up with good reads because I definitely am not.
Love your cover art.
Good luck and happy writing!
(Tracie Travis 2:40am September 9, 2011)
Paranormal and fantasy, they're just much more interesting!
(Diane Brixius 7:14am September 9, 2011)
Just to let you know that I love Ascension and Burning Skies... Definitely one of the best vampires/angel paranormal books that I have read this yr. :)

Not sure that I am a creative type... but I definitely go for any books that have a huge romance element with a terrific and strong couple .... One of my favorite series is the Eve Dallas one by J.D. Robb because of Eve and Roarke.. I would drive through a blizzard just to get her latest... :)
(May Pau 8:30am September 9, 2011)
You are a new author for me, I recently read Ascention this summer after seeing it on Fresh Fiction and am now well and truely hooked.
(Barbara Hanson 9:54am September 9, 2011)
A new Harry potter book would be the only thing that would get me to a bookstore in a blizzard.
(Pam Howell 10:11am September 9, 2011)
Hi, Everyone,
I am so looking forward to talking with you about what kind of series would hook you. I think the paranormal genre is AMAZING because truthfully, the sky's the limit! In other words, there are no limits to what can be done!

Carla - so you got away from the snow! I can't imagine a better reason than having access to a bookstore, or the local grocery store that carries books, to make sure your addiction gets properly fed and nourished! I also think you would enjoy my series because you mentioned 'secondary characters' that 'have their own books' and that's exactly what I do...and I've done this on purpose! In the first book, Kerrick and Alison are our leads, but you also meet Marcus and Havily, who in turn become the hero and heroine of the second book, BURNING SKIES! And believe me, this is sooo much fun to write!

Patti - I think you've described the ultimate, a group of men (so we get to really SAVOR), long-suffering (because usually they're all that stands between the world and some great evil) and of course they are deeply loyal to each other and are truly capable of loving their women. Okay, go write this series so I can read it! But I think you've described what we crave. I hope my series does this: Guardians of Ascension is essentially a brotherhood book, the men have suffered because the war has been going on for millennia, and yeah, they are soooo wonderful! But I'm prejudiced, because I know each of their hearts so well. Just so ya know, there are 9 men in all!

Tracie - hands down, I have the best cover art, and as I said in my post, I can say this because I had nothing to do with the art work! Hope you enjoy my series!

Diane - I know, right? I've tried to analyze why we're so drawn to fantasy and paranormal. I think it might be because it's mostly just a huge exaggeration of real life.

May Pau - The romance always begins with the couple, the stronger the better. From a paranormal standpoint, I m
(Caris Roane 11:53am September 9, 2011)
I am loving your book covers.... you are a new to me author and after reading this post I want to get my hands on these books!
I love the many genres in romance, but I tend to read what my mood at present time is in for... latey I have been on a cowboy kick, but I think I am leaning towards paranormal next...
(Colleen Conklin 1:17pm September 9, 2011)
Colleen - I'm like that as well! I read paranormal most of the time, then I get on a women's fiction kick and have to read in that genre. Isn't reading great...yeah, I know, BIG understatement! Hope you enjoy my series!

Blessings,
Caris
(Caris Roane 2:49pm September 9, 2011)
I wouldn't go to the bookstore during a blizzard. i'd download to my kindle.
(Sandy Giden 3:23pm September 9, 2011)
Paranormal Romance.......what an interesting genre!
(Sandy Fielder 5:32pm September 9, 2011)
I'm always excited to hear where author's stories come form, their inspiration and work habits. Some ideas take awhile to grow as you mull over the "What if's."
(Alyson Widen 5:35pm September 9, 2011)
Hi, again everyone!

Sandy G. - you're way ahead of the pack!

Sandy F. - paranormal is an interesting genre, it's also the most amazing phenomenon. And yet, when I look back at my early Regencies, I had included two aspects of the genre that later emerged: I wrote a vampire Regency novella, and in three of my full-length novels, I included characters from Greek mythology - Psyche, Eros, Anteros, Aphrodite, and Artemis. What a kick!

Alyson - The heroine of my first novel, ASCENSION, is named 'Alison'. I really like your name...obviously! My Guardians of Ascension series came from first a desire to create a vampire world that was a little out of the norm (hence the wings!) and secondly, I wanted to build a world that could compete with mythology in terms of scope. Don't ask me why that was my desire, it just was. I love BIG worlds, where you can get lost for hours. So those were my inspirations. As for authors, I've adored reading Christine Feehan, Sherrilyn Kenyon, Kresley Cole, JR Ward, Gena Showalter, and Lara Adrian. The one thing they all have in common? Super-powerful warrior-type heroes. Oh, yeah!!!

An ocean of blessings,
Caris
(Caris Roane 7:32pm September 9, 2011)
Paranormal genre is among the top must-read books.
(George Ferris 7:58pm September 9, 2011)
yes i would drive in a snow storm for a book.i have to drive to work in a snow so why not for a book!!!!
(Jennifer Beck 9:41pm September 9, 2011)
I lOve this series. Can't wait for the next book. I would drive thru a snow
store for a book, if I had to. Thankfully I have a kIndle so all I have to do
is download it.
(Debbie Bussie 11:27pm September 9, 2011)
This will once and for all put an end to the fact that all librarians are stodgy & meek!
(Susan Coster 11:41pm September 9, 2011)
This is my last post, everyone...I know, aren't you sad?!? LOL!

George - paranormal IS among the top must-reads! Hope you enjoy my series!

Jennifer - you made me laugh! Duh! And a book would be soooo much more satisfying!

Debbie - I'm so glad you love my series! Hooray! I ADORE writing it. I can't tell you how much fun it is to sink into these wonderful characters (*ahem*, especially the warriors) and tell their stories. It's been a blast, one of the finest experiences of my life!

Susan - I loved how my librarian starts out in her cloistered world then spreads her wings...literally! Parisa was a delight to write because she grew soooo much throughout the story and finally embraced all her power. It's a great metaphor, isn't it? Here's to having wings!

I'll say good-night now!

A sky full of blessings,
Caris
(Caris Roane 12:42pm September 10, 2011)
That sounds like a heck of a series. I love paranormal and urban fantasy. Have been submerging myself in it for a while now.
(G. Bisbjerg 12:46pm September 10, 2011)
Would love to win a copy of one of your books...they look so good from reviews..babyruthmac16@yahoo.com
(Lnda McFarland 3:49pm September 10, 2011)
Thanks for the great post! Definitely look forward to your books :)
(Erin Fender 11:24am September 11, 2011)
I would drive through a snowstorm for good books to read, and I usually grab a book just by it's cover prior to reading what the storyline is about. I really love the book covers and the colors used. Can't wait to read them. I haven't read much paranormal romance--mostly contemporary romance which will be a new experience for me. Thanks!
(Linda Luinstra 3:59pm September 12, 2011)
I love the sound of the world-building in your books. If I created my own series, I'm not sure what I would do. Probably a paranormal because almost anything is possible and it's a fun way to get really creative.
(Na S 3:16am September 13, 2011)
Registered users may leave comments.
Log in or register now!