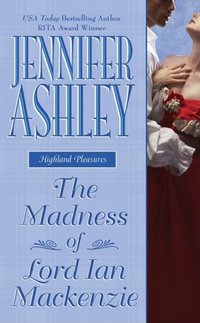 Purchase
The Madness Of Lord Ian Mackenzie
Jennifer Ashley
Highland Pleasures #1
Leisure Books
May 2009
On Sale: April 28, 2009
Featuring: Ian Mackenzie; Beth Ackerley
320 pages
ISBN: 0843960434
EAN: 9780843960433
Mass Market Paperback
Add to Wish List

It was whispered all through London Society that he was a murderer, that he'd spent his youth in an asylum and was not to be trusted—especially with a lady. Any woman caught in his presence was immediately ruined. Yet Beth found herself inexorably drawn to the Scottish lord whose hint of a brogue wrapped around her like silk and whose touch could draw her into a world of ecstasy. Despite his decadence and intimidating intelligence, she could see he needed help. Her help. Because suddenly the only thing that made sense to her was...THE MADNESS OF LORD IAN MACKENZIE
Comments
32 comments posted.
Re: The Madness Of Lord Ian Mackenzie

OOO! Sounds good! Love historicals like this one! Jean M.
(Jean Merriott 10:26pm April 12, 2009)
Howdy! :D

Readers like aristocrats, sure...but readers also like pirates! Arrrr! Heh heh heh!

One of my favourite unusual heroes is Miles Vorkosigan from Lois McMaster Bujold's Vorkosigan Saga. His mother was exposed to poison gas in a botched assassination attempt when she was pregnant with him which messed with his bone development. He's 4'9", has had numerous corrective surgeries, a bit of a hunched back and has had much of his fragile skeleton replaced with synthetic bones.
(Jacqueline Lam 2:19pm April 27, 2009)
Yes i love that set of book whit miles vorkosigan in them have not read them in a few years but thay where great.my fav moive hero is bruce willis he allways saves the day why being a mest up guy in his life.
[email protected]
(Stacey Smith 3:19am April 29, 2009)
Howdy!
Pirates are awesome!
(Sierra Pendleton 5:59am April 29, 2009)
Know its off topic, but just bought your new book, auto buy after learning hero as Asperger's, my younger brother has it and first time heard talked about like this. Thanks
(Kimberly DeLong 6:30am April 29, 2009)
Looking forward to reading about Lord Ian and all his brothers.
(G S Moch 8:48am April 29, 2009)
I agree with your comment about if a hero comes to you and you adore them it's likely we will too. I read a lot, maybe 500 books a year so the heroes and heroines of all genres have to talk to me whatever their origin, planet or state of their finances. Your book sounds great. I think many of us as readers do want to see something unique in the books we read whether it be physical problems, emotional problems or whatever. One I read lately just had a twist in that a forced marriage wasn't to an orge. He wasn't the hero but he wasn't a bad guy. That's refreshing. As life proves heroes come in all shapes, sizes and lifestyle. Glad you and many other authors realize that and keep the books coming and fun. I'd hate to have them all the same. Always nice when something that's fun to read teaches me something too!
(Dee Dailey 9:40am April 29, 2009)
I love The Madness of Lord Ian Mackenzie and can hardly wait for the other Mackenzie brother books to come out. Any release date yet?
(C Y 10:46am April 29, 2009)
I like the unique/unusual hero. It broadens my knowledge. They give me the courage to try the unknown.
(Rosemary Krejsa 11:35am April 29, 2009)
This sounds like it is going to be a great series. I bought my copy of Ian's book this morning, and I hope I have time to read it soon.
(Lori Patterson 11:47am April 29, 2009)
Just finished a book about an ex-rustler (not wrestler) who is the hero. Different is good!
(Karin Tillotson 11:52am April 29, 2009)
An author is taking a risk when he/she creates an unusual character, but I have seen it work many times. Vicki Lewis Thompson has a successful series of geeky nerd heroes. In TO RESCUE A ROGUE by Jo Beverley the hero is addicted to opium. The hero stutters in AN UNCONVENTIONAL MATCH by Julia Justiss.
(Cheryl Castings 11:56am April 29, 2009)
Just read the excerpt, can't wait to read the rest.
(Debra Czarnogursky 12:03pm April 29, 2009)
Ian sounds interesting! My favorite kind of hero? The ones that are bad boys in their youth and are rescued from their bad ways, and ending up in jail or dead, by some branch of the military and usually a mentor.
(Kelli Jo Calvert 12:04pm April 29, 2009)
I always like to read of a different kind of hero. Candace Sams did a griffin, Vicki Thompson did nerds. Different is what makes each of us special and I don't think it can hurt when the author themselves love the character. It shows in the writing of the book.
(Chris Roberts 12:13pm April 29, 2009)
I love these type of books, where rumor and inuendo are the basis for the opinion of a person without knowing him.
(Donna Lubanski 12:52pm April 29, 2009)
I enjoy The Dark-Hunter series by Sherrlyn Kenyon she has so unusual heros!
(Teresa Warner 1:01pm April 29, 2009)
The Madess of Lord Ian Mackenzie is a great book, I recommend it to everyone! I'm looking forward to your new shifter series! Too bad we have to wait until January!
(Susan Galley 1:41pm April 29, 2009)
Ian sounds like a great character and I applaud you bringing Aspergers into the open. My brother has it and through alot of hard work he'll be a senior in high school next year.

As to unusual heroes, I'd say Drake from Jenna Black's Hungers of the Heart. He has to feed off humans to survive, but tries to kill only those that deserve it.
(Jody Faltys 1:48pm April 29, 2009)
Nice post! I like the unique sound of Lord Ian...not everyone is the perfect male or female! Couple of unusual heroes I can think of are: Sydnam Butler the disfigured hero in Mary Balogh's Simply Love; Sir William of Miraval the blind knight from Christina Dodd's Candle in the Window; and Reginald Davenport the alcoholic hero in Mary Jo Putney's The Rake.
(Martha Eskuchen 2:37pm April 29, 2009)
I like heroes that are real, but someone I would be drawn to.
(Shannon Scott 2:41pm April 29, 2009)
The two heroes who stand out to me are Alex in "Blood Magic" by Jennifer Lyon and Vincent in "Insatiable Desire" by Rita Herron. Both of these are new series. Have a great day.
(Roberta Harwell 2:57pm April 29, 2009)
Disarming pirates,Oh My!The vulnerability and strengths you show in your character with high functioning Asperger's strikes a chord and hits readers in the guts. Being different is fine, in fact it sure makes for more interesting reading.
(Alyson Widen 3:50pm April 29, 2009)
Even with the bad name associated with today's pirates (Somalia) I still love the old romantic pirate image.
(Sandy Miresse 4:09pm April 29, 2009)
Hi everyone! I would have popped by earlier today, but I (blush) couldn't remember my password. :-)

Thanks for stopping by and posting comments. I have read many of the heroes you mention and am intrigued by those whose books I haven't read.

I too am a Miles Vorkosigan fan, have been for a while (though I have the secret and sneaking hots for Ivan, LOL).
(Jennifer Ashley 5:09pm April 29, 2009)
Oh, a few years ago I read a book that had a deaf hero. Unfortunately I can't recall the title at the moment. But the character was written as so self-confident and self-assured you couldn't help but love him.
(Cheryl Strange 7:52pm April 29, 2009)
I love books writen with unusual heros. My mine draws a blank for one right now. But I have read about a lot of heros with special powers but I prefer the heros that seem more real to me.
(Gail Hurt 10:52pm April 29, 2009)
It takes me so long to get to my
emails every night. Can't think of any
heroes off hand, but I do prefer those
that are a bit different. Perfect men
don't exist except in fiction and I'd
rather have those who are flawed and
real.
(Patricia Barraclough 11:24pm April 29, 2009)
Just finished and loved Ian's book, and now wondering just how much darker Hart might show himself to be and how you turn him around.

Unusual heros with struggles I thought of mentioned above - Dare from To Rescue a Rogue (opium), Reggie from The Rake (alcholic), and Hal in An Unconventional Match (stutter). Also, Madeline Hunter's series about the Rothwell brothers - though it's never said specifically and not explored indepth as you did with Ian, it seems they have the same syndrome.
(Pamela Pellini 4:10pm April 30, 2009)
Hi Jennifer! Loved those pirates! Too I'm looking forward to Ian's story. For me with a disability too, I love to be able to read their HEA but too those struggles and emotions we deal with each day and more so that helping others understand and accept. I've read a couple too with the heroines with deafness (Annie's Song by Catherine Anderson and Silent Melody by Mary Balogh). With Anderson book, she had alot of healing herself to overcome with another issue as well. Very emotional read. I recall a book by Kristen Hannah who wrote earlier historical romances called ONCE IN EVERY LIFE and this was a time travel where the heroine comes from the present to after Civil War (I think, I remember the western setting) and coming back to a hero who had Post Traumatic Stress Syndrome and too the heroine was deaf. Quite a read, wow!
(Cathie Morton 9:29pm April 30, 2009)
Hello Jennifer, I just love your books... You get a great feel of the characters and thier situations.. I'm working my way up the lists lol..
(Geraline Gordon 8:20am May 3, 2009)
I love your books Jennifer I can't wait to read this one.
Penney
(Penney Wilfort 4:10pm May 11, 2009)
Registered users may leave comments.
Log in or register now!