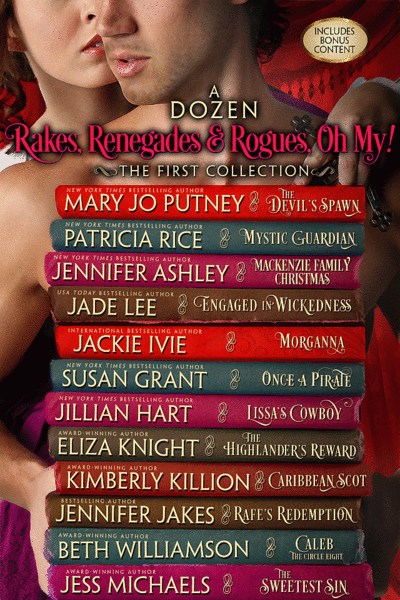 Purchase
~ The First Collection~
Killion Publishing
February 2015
On Sale: February 14, 2015
ISBN:
Kindle: B00QCFO0EY
e-Book
Add to Wish List

Join New York Times, USA Today, and Award-Winning Historical Romance Authors and travel across time to the hills of Scotland, Regency England, the Caribbean, and Old West America. ~Available for a Limited Time~ Devil's Spawn by Mary Jo Putney
Ten years ago, Dominick Chandler's courtship of Roxanne Mayfield was destroyed by her poisonous father. Now Dominick is back and determined to reclaim the only woman he ever loved—no matter what it takes. Mystic Guardian by Patricia Rice
Aelynn, a tropical island veiled from human sight, magically protects a sacred chalice. When a beautiful maiden washes ashore from the outside world and steals the chalice, she sets in motion dangerous and far-reaching consequences. A MacKenzie Christmas: The Perfect Gift by Jennifer Ashley
The MacKenzies gather for Christmas and Hogmanay in Scotland. In the chaos of preparations, one of Ian's Ming bowls gets broken, and the family scrambles to save the day all in the midst of bets, babies and boxing matches. Engaged in Wickedness by Jade Lee
Lady Gwendolyn loves wandering into illicit places with gentlemen just to see how well they kiss. Nothing friends or family say will tame her ways...until she meets the quiet Sir Edward Murray. Morganna by Jackie Ivie
Amidst a background of feuding clans, blood-filled battlefields, and war-torn Scotland, Morganna not only survives, she fights! Once a Pirate by Susan Grant
Capt. Andrew Spencer intends to ransom an heiress to extract revenge from the man who ruined his life. Except the strangely-garbed, half-drowned blonde hoisted onto his deck not only refuses to admit she's his high-born target, she claims to be from another century! Lissa's Cowboy by Jillian Hart
Only a desperate woman would marry a man she's never met, but Lissa has a ranch to save and a small son to protect. She finds a mail-order husband to stand by her side, but Jack Emerson turns out to be much more than she expects...Can he be the man to win her heart? The Highlander's Reward by Eliza Knight
Lady Arbella abhors the idea of marrying an English noble occupying Scotland. When she arrives in Stirling, she is thrown into a full battle between the Scots and the English. Besieged by rebels, she is whisked from her horse by a Highlander who promises her safety. But when he kisses her, she fears she's more in danger of losing herself. Caribbean Scot by Kimberly Killion
Forced to flee Scotland and forfeit the chieftainship of his clan, renegade Reid MacGregor prospers as a fortune hunter in the rich waters of the Caribbean. But there are two treasures he's yet to claim--the lost library of a Mayan priestess and the wild lass he left behind. Rafe's Redemption by Jennifer Jakes
For hunted recluse Rafe McBride, the dark-haired beauty on the auction block is exactly what he doesn't need, and outspoken artist Maggie Monroe isn't about to go meekly with him. Especially when the rugged mountain man looks like sin and danger rolled into one. Caleb by Beth Williamson w/a Emma Lang
Caleb Graham has spent the last four years in too many dangerous situations to count. As a Texas Ranger, he knows no fear, or at least he never shows it. When he's sent to force a blacksmith off government property, he runs face to face into the the woman who will change his life. The Sweetest Sin by Jess Michaels
When their secret marriage was illegally annulled five years before, Landon Hawkins swore he would never love again and that he would never forgive Juliana Russell for her utter betrayal. But now she has requested he help her recover her missing sister, and the lust and the pain he has hidden comes rushing back.
Comments
No comments posted.

Registered users may leave comments.
Log in or register now!