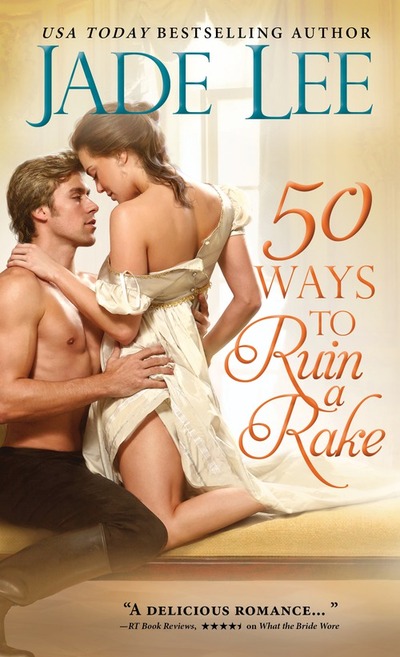 Purchase
50 Ways to Ruin a Rake
Jade Lee
Rakes and Rogues #1
Sourcebooks Casablanca
May 2015
On Sale: May 5, 2015
Featuring: Trevor Anaedsley; Mellie Smithson
384 pages
ISBN: 1492604992
EAN: 9781492604990
Kindle: B00R37SQQS
Paperback / e-Book
Add to Wish List

Mellie has a plan
Mellie Smithson is trapped in the country with no suitors and no prospects on the horizon except, perhaps, the exasperating—although admittedly handsome—guest of her father. She's looking for any excuse to go to London to meet more eligible men.
Trevor has a problem
Trevor Anaedsley's grandfather has cut off his funds until such time as he gets engaged. Trevor escapes to the country—ostensibly to visit his old tutor Mr. Smithson but actually to duck his creditors—where he meets Smithson's lovely daughter Mellie. The obvious solution is suddenly before him—but the lady has ideas of her own, and Trevor's going to have to measure up...

Media Buzz
News at 4: Wednesday Reads - June 10, 2015

Rakes and Rogues
Comments
89 comments posted.
Happy B-day, Happy Release Day & Happy Cinco de Mayo!
(Colleen Conklin 1:12pm May 5, 2015)
I've just learned a very close friend is going to be
married.
(Deb Philippon 1:31pm May 5, 2015)
Happy Birthday Jade, You are a year younger than me and
you DO NOT look your age. I don't either, my kids only
admit that I am 21 so that I pay the bar tab when we
leave. With this being CINCO DE MAYO, being in AZ it is
celebrated WILDLY. So I will have the Margarita,
Tequila Kamikaze, and the nachos party for you tonight.
I may even make the fish tacos (don't like them but you
may)for you. STAY YOUNG, ENJOY YOUR DAY, AND HAVE
SOMEONE SERVE YOU DINNER TONIGHT!!!!!
(Tina Ullrich 3:24pm May 5, 2015)
I almost forgot... shame on me.. the TEQUILA JELLO SHOTS..
(Tina Ullrich 3:25pm May 5, 2015)
Happy Birthday Jade! I adore the excerpt... so sassy!
(Kelly Braun 5:55pm May 5, 2015)
Loved the excerpt Fresh Fiction posted. Can't wait to read
the whole book.
(Samantha Tennant 11:48pm May 5, 2015)
Happy Birthday, Jade! Also, Happy Cinco de Mayo! Hope you
were able to get some good Mexican food and some excellent
celebratory drinks!
(Glenda Martillotti 1:16am May 6, 2015)
Happy Birthday Jade.
(Toni Whitmire 1:36am May 6, 2015)
First, Happy Birthday Jade.You sure don't look 52. God Bless !
A Happy Cinco de Mayo to everyone. The book sounds wonderful.
Carol L
Lucky4750 (at) aol (dot) com
(Carol Luciano 6:11am May 6, 2015)
Happy Birthday! :) What a great birthday gift- the release of a new
book.
Your book sounds quite funny- I love a witty heroine and lots of
snappy dialogue.
Cinco de Mayo is also my wedding anniversary. (27 years!) My hubby &
I laugh and say that there's always a party going on somewhere on our
anniversary.
(Debbie Burdeen 8:47am May 6, 2015)
Happy Birthday. My daughetr has a friend that shares the date
with you and he is 50 now. Congrats on the new book.
(Leona Olson 10:30am May 6, 2015)
Happy birthday, Jade! I always enjoy your posts, and the book sounds like a lot of fun.
(Janie McGaugh 10:48am May 6, 2015)
Love the post, the book sounds wonderful! Happy belated birthday - hope the celebration was spectacular - and congratulations on the new release!
(Kim Giardina 12:41pm May 6, 2015)
Awesomely amazing! A very happy belated birthday to you! I
hope you had a MARVELOUS May 5th birthday and celebrated in
style! I absolutely LOVE historical fiction and have since
I was in Junior High, hmm , forty years ago, that is so
sad...
(Patrice Eannucci 1:05pm May 6, 2015)
Your posts are always amusing, but then again, anyone who is
born in May is forever youthful, witty, smart, and charming,
for starters. I know of what I speak, being born in May as
well. Happy Birthday de Mayo!! lol I hope you had a
wonderful Birthday, and know that your book is going to be a
smash hit!! Never in a million years would I have guessed
your age, and would have guessed that you had a daughter old
enough to be married!! But then again, people get my age
wrong all the time, even though my Husband wants to shout it
out all the time, and I tell him to keep his mouth shut!!
All I'll tell you is that I happen to be slightly older than
you, and I prefer to keep my age a secret!! lol Enjoy both
your Birthday and book release, and your station should be
bombarded at Boas and Tiaras, too!!
(Peggy Roberson 1:06pm May 6, 2015)
Happy Birthday Jade! Enjoy each and everyday to the fullest , go , do, and see all that you can while you are still young . Yes , you are still young. I love your books , you have so much talent and imagination . Thanks for this chance to win .
(Joan Thrasher 1:19pm May 6, 2015)
Happy Birthday! =) Can´t wait for my chance to meet your
rake!
//Linda
(Linda Larsson 2:29pm May 6, 2015)
Happy Birthday. I have 50 ways on my wish list.
(Cecilia Rodriguez 2:35pm May 6, 2015)
Would be nice to read about a rake!
(Joddy Lantigua 2:50pm May 6, 2015)
Happy blessed birthday, Can't wait to meet the new rake love them
(Lois Pomeroy 3:05pm May 6, 2015)
Happy Birthday and thank you for the chance to win!
(Heather Hardy 3:30pm May 6, 2015)
Happy Birthday Jade! I'm looking forward to seeing who
ends up with Mellie's heart!
(Michelle Tweedy 3:44pm May 6, 2015)
Happy Birthday! I can't wait to read your book!
(Ann Unger 3:48pm May 6, 2015)
Happy Birthday Jade. I love your books.
(Lena Lee 4:05pm May 6, 2015)
sounds quite interesting!
(Julie Touchstone 4:56pm May 6, 2015)
Happy birthday and you don't look 52. Everything sounds great
(Judy Ferguson 5:16pm May 6, 2015)
Happy belated birthday! It was my brother's 56th birthday
on the 5th! Can't wait to read the book!
(Sharlene Wegner 9:59pm May 6, 2015)
Yay! Happy Birthday, Jade. I'd love to try the book.
(Karin Anderson 11:04pm May 6, 2015)
Happy birthday to the great authoress Jade Lee! I love you
books....And yes, Cinco de Mayo was awesome :)
(H J 12:39pm May 7, 2015)
Hello Jade had to stop by and say a big Happy Birthday to you hope its a great one and that you will have many more very happy ones to come. Happy Birthday and have a great summer.good luck with all your writing career.
(Gloria Vigil 7:29am May 7, 2015)
Happy birthday!! You don't look 52!! I love your
books and can't wait to read this one
(Beverly Ross 11:31am May 7, 2015)
Happy Birthday! I can't wait to read this one!
(Rachel Collings 1:03pm May 7, 2015)
Happy Belated Birthday!

Hope you enjoyed your day with your family and friends!

I love marriage of convenience stories! Mischief and mayhem and humor sounds like Mellie will give Trevor a run for his money and her hand!

I'd love to win a print copy of your book, 50 WAYS TO RUIN A RAKE!
(Laurie Gommermann 1:10pm May 7, 2015)
Hope you birthday was a fabulous one with much celebration.
(Dean Young 6:37pm May 7, 2015)
Hope you had a Happy birthday!
(Kelly Powell 11:11pm May 7, 2015)
Happy BDay ! Thanks for the chance
(Susan Gannon 8:55am May 8, 2015)
I would love to win a print copy.
(Angela Parrish 11:02am May 8, 2015)
I've enjoyed reading your books and would love to win this one. Happy birthday! Have a wonderful time.
(Anna Speed 1:08pm May 8, 2015)
Can't wait to get my hands on a copy of this!
(Laura Gullickson 1:22pm May 8, 2015)
Happy Birthday! The books sounds awesome!
(Denise Austin 3:00pm May 8, 2015)
HAPPY BELATED BIRTHDAY JADE
Marilyn Collins
(Marilyn Collins 5:52pm May 8, 2015)
Your post gave me a great many chuckles. Hope your
birthday was a blast. Love the excerpt. Sounds like
another wonderful book.
(Irene Menge 8:11pm May 8, 2015)
love your books!
(Doris Losey 8:20pm May 8, 2015)
I'm with you - Margarittas for everyone! Those Regency folks
didn't know what they missed!
(Diane Sallans 9:13pm May 8, 2015)
Currently I've been a bit awful with my housework, because
other things have cropped up which have taken up my precious
moments that I should have spent, cleaning and organizing my
house!! My Father also passed away last year, and there are
items which were brought here from his house, which I need
to incorporate into my little apartment. I have no idea
where these things are going to go yet, but once I clean
everything, and put them in their proper place (we were in
the process of painting when he passed away), I'm sure
you'll never know his things are even here!! I can
sympathize with you, and if I wasn't on dial-up, I would
probably be back on my game site, playing my games as well.
I used to play on a certain site for hours, and made quite a
few friends there as well, which I still have until this
day. Congratulations on your latest book, which I've put on
my TBR list!!
(Peggy Roberson 9:48am June 5, 2015)
Congratulations on your newest book and thankyou for the chance at your book contest! Lots of Love!
(Veronica Boudreau 1:00pm June 5, 2015)
I give myself permission to do badly at housework!
Sometimes, there just isn't time to do more than the bare
minimum, especially if you want to have any time for
yourself, at all!
(Janie McGaugh 10:30pm June 5, 2015)
I suck at patience. I have to tell myself everyday that
it is not always easy to be an adult with kids in the
house and I have to realize they don't always get to have
fun either. With ages comes wisdom is a saying that my
grandmother was fond of, she told me once that being a
grandparent is easy being a parent is hard but being a
kid is torture. To some extent that is true but when you
never want to grow up then being a kid all your life is
really kinda fun but the patience part, I want it now and
that is not always gonna happen.
I love your books and your Q & A's they are fun to read.
thanks for the chance to win...
(Tina Ullrich 11:44am June 6, 2015)
Patience, what patience??? I have none.
(Sue Farrell 1:30pm June 6, 2015)
My nephew is really smart, but isolates himself in his bedroom when he's home. My sister has gotten some time with him by playing word games with him after dinner. My nephew memorized the scrabble dictionary of 2 letter words. When I play the word games with them, I know that I will lose, and I accept that! I get a thrill when I use a word my nephew doesn't know!
(Joanne Schultz 2:07pm June 6, 2015)
I would say d
(Cynthia St. Germain 7:05pm June 6, 2015)
I wore a size 11 up to the point when I had my kids. I
finally lost all of my baby weight and I got into a car
accident. And my metabolism changed. I was inactive and
gained more weight than I ever thought possible. It took 3-4
years to find the right meds to stabilize my condition. I
have never returned to that size. After a period of time, I
had to give myself permission to buy "good" clothes in a
bigger size. A much bigger size. I hadn't made poor choices
that caused me to gain weight, I had gotten into a car
accident and had some health issues that complicated things.
So often women punish themselves by wearing cheap garments
until they lose weight. I accepted it and made the most of my
appearance.
(Marcia Berbeza 1:28am June 7, 2015)
Sewing machines. We're not on speaking terms. I love doing
handwork, but do not get along with sewing machines. That's
OK, the necessary repairs still get done.
(Deb Philippon 11:00am June 7, 2015)
I try to do some housework a few times a week.
Marilyn Collins
(Marilyn Collins 4:19pm June 7, 2015)
I did that (stayed in the house) for about three days before I finally decided that I got to get my front yard presentable instead of showing that no one lives here.
(Kai Wong 10:17pm June 7, 2015)
I let housework go like the dusting mostly .
Jade, I love your books, and thanks so much for this giveaway.
(Joan Thrasher 9:18am June 8, 2015)
I usually give myself permission to be bad at exercise. I'm not the biggest, and I'm not the strongest, but I figure, as long as I try, that's better than nothing.

I may not be able to exercise as well as I'd like, but doing some is better than doing none. You know?
(Rebecca Diederich 9:53am June 8, 2015)
Housework I give myself permission to do a little a day
and that way it doesn't seem such a chore. I also have
time for other things that i want to get done or seem to
be on the burner. Jade, thank you for the giveaway and
would love to read and review as I have been talking
about this book for awhile!
(Peggy Clayton 1:02pm June 8, 2015)
Oh yes! Daily I give myself permission to be lousy at housework. (I think I'm too permissible here.) Oh well, we all have our strengths and weaknesses. Thanks for the post and giveaway.
(G S Moch 1:18pm June 8, 2015)
I give myself permission to let the house cleaning wait until another day
(Debbie Rudder 7:26pm June 8, 2015)
I parallel park very badly. I require my own parking lot.
(Susan Shapley 10:50pm June 8, 2015)
I garden badly. I've been trying to plant for 2 weeks. Between work & the rain/hail it hasn't been going so well. I never seem to get out there before 5 pm, even if it's the only thing I have to do that day. By the end of the summer the weeding will fall to the wayside too. My Father calls my style of gardening, "gorilla gardening." I hide the vegetables in the weeds to hide them from the animals.
(Laura Gullickson 1:40am June 9, 2015)
I am atrocious at parallel parking and forget about
asking me to judge distance or if a painting is hung
straight. I have horrible spatial reasoning capabilities.
And I have to give myself permission to "let things go"
instead of fretting over silly little things, plus when
dealing with my spouse and children, I need to pick and
choose the "battles"; sometimes I hear myself and in my
head I wonder where that's coming from??? LOL
(Patrice Eannucci 9:52am June 9, 2015)
2,000 words a day! Amazing! I'm really impressed. Now that I've reached the age called getting older, I allow myself to do chores whenever I feel like it.
(Anna Speed 3:11pm June 9, 2015)
I like to snack on sweets, diets and I do not get along.
(Deb Pelletier 9:15pm June 9, 2015)
I know I would find some dust bunnies, lol! I have things I know I have, but not sure where, so cleaning and reorganizing would help me locate them...
(Colleen Conklin 1:25pm July 5, 2015)
How could I not love a book with Rake in the title. You
motivated me to clean out my closet, Jade. That and I can't
find my favorite shorts.
(Morgan Wyatt-stamm 7:05pm July 5, 2015)
What did I find... ALOT...I lost my house a few years
back and had to put my stuff in storage. I had to
condense a LARGE 4 bedroom, living room, dining room,
kitchen, garage, 2 sheds into a 10X10 storage locker.
THAT was rough. I got rid of things I didn't know I had
in the attic, shed, or garage. I had a tall wardrobe box
full of empty collapsed boxes that was from my mother. I
found 3 mishmashed christmas trees, 4 sets of crutches,
empty toy boxes and some with broken/mutilated toys. and
SOOOO much trash. Old receipts, 20 year old tax papers
and the like. It was shocking how much junk we collected
that we kept and didn't get rid of. Amazing what it can
do to your memories.
(Tina Ullrich 9:48pm July 5, 2015)
If I started cleaning, I think that I would find the things
that I was looking for 10 years ago, but completely forgot
about!! I actually started to organize some of the items
that I had, and threw a few items away, but then my Father
passed away suddenly, and now I have some items from his
house to incorporate with mine in a small apartment. This
is no easy feat, when we've already tried to fit things from
a 3 bedroom home into a one bedroom apartment!! I think you
get the picture of what I'm up against. I think I'd much
rather read your book or listen to one while I'm cleaning.
Love the cover - as always!!
(Peggy Roberson 10:24am July 6, 2015)
I really need to do major cleaning in my closets and cabinets . I've got clothes that I keep thinking that I'll fit into and wear one of these days .LoL That will never happen . I'd probably find some of my kids baby clothes and blankets . There's so much stuff that I do need to get rid of . I know my kids would not want any of this stuff . I have to get in the mood to get rid and throw away things .So until then !!!
(Joan Thrasher 11:55am July 6, 2015)
You all understand! We collect so much stuff and then we
forget it about it. I tried to tell myself my kids would
want this stuff. HAH! They've got more stuff than they
need too. And for those who'd rather read than clean -- I
so get you! My friend suggested we start up cleaning
again. I said...uh...not right now. I'd rather hang out
and listen to audio tapes...
(Jade Lee 4:14pm July 6, 2015)
Each time we moved, we got rid of stuff, But we have been here
for a while. While cleaning up my boys old bedroom to have a
guest room now, I cleaned up the old toy box. Got rid of broken
or worn out things. My boys had a lot of car stuff when they
were you. When my grandson found that, he was like a pig in hog
heaven. Now it's the first place he checks out when they come
to visit.
(Nancy Luebke 5:00pm July 6, 2015)
We're in the process of trying to clean our house, but we
have a lot of stuff. We've been in this house for over 30
years...
(Karin Anderson 5:36pm July 6, 2015)
OMG. My house so needs to be cleaned out AGAIN! I hired a
gal many years ago to help me dig and toss. We found a
genealogy paper I had written for a class many years ago. I
had interviewed my husband's father who had come from the
Ukraine, interned in WWII Germany, and then settled in the US.
I copied it and gave it out with some old photos to all of the
kids in my children's generation. Every last child thanked me
for it.
(Marcia Berbeza 11:05pm July 6, 2015)
I need to clean my house,but it is so hot I tend to put it
off.
Marilyn
(Marilyn Collins 7:17pm July 7, 2015)
This isn't a theoretical question for me---we just moved and I have personally sorted and touched EVERYTHING we own (and lots we no longer own). I have given away boxes of things to the Salvation Army and have held back about 8 boxes for our church yard sale next month. The most nostalgic thing I ran across was an engraved cigarette lighter. I was never a smoker, but this lighter had memories...
(Flora Presley 8:25pm July 7, 2015)
I have been cleaning and throwing. At my age, I think the
kids will have to do it so I am. I am scanning old photos and
many are black and white so I am also learning some family
history.
(Leona Olson 9:29am July 8, 2015)
I am perpetually cleaning and throwing stuff away. I can't
stand clutter or dirt in my life.
(Denise Austin 2:41pm July 8, 2015)
I'd probably find a lot of things I had totally forgotten
about,some things I've been wondering where they were, and
tons of things I can get rid of and many more I should get rid
of (but probably won't).
(Diane Sallans 7:40pm July 8, 2015)
I have a bad habit of giving things away. The up side: smaller
storage space. Down side: sometimes regretting they are gone.
(Cecilia Rodriguez 8:03pm July 8, 2015)
I hope to find gift cards and money. By downsizing, I'm
going through papers and things and sorting gradually
sorting it all out.
(Alyson Widen 8:26pm July 8, 2015)
I have been cleaning....and oh, the things I have been finding! I found all the Christmas clearance bulbs and coloring books I bought from 2 Christmas' past! I looked for them everywhere last Christmas. I have found lots and lots of trash--six children accumulate a lot of that!
(Amy Morgan 9:14pm July 8, 2015)
I try to do this every year, giveaway stuff. . And I find all kinds of things. It's like I'm shopping in my own house.
(Deb Pelletier 9:30pm July 8, 2015)
Seriously, I'd find the floor in one bed room all the in progress projects get
put there when company is coming. We use to tease my cousin that she'd
move every year to avoid spring cleaning.
(Laura Gullickson 9:52pm July 8, 2015)
Nothing special coming up the rest of the month, but we did
take a short trip to Pigeon Forge (Smoky Mountains) and had
fun.
(Janie McGaugh 1:18am September 20, 2015)
Enjoy your trip.
Love your yoga pics!
(Virginia Clayton 5:36pm September 20, 2015)
Sounds like you are going to have a fun month (excluding yoga)!
(Arlene Downey 6:32pm September 20, 2015)
Enjoy the weddings and Italy. Nothing I am doing compares to those!
(Jane Goldsmith 8:08pm September 20, 2015)
I've wanted to read your latest book since it first came out, and
now that it's on sale, you give me no excuse now!! I'll have to
go check it out, along with your new website, which I'll be
checking out, after I make my posting. You always have a way to
make me chuckle with your remarks, and I know they carry over
into your books. Congratulations on your latest book, and I hope
the sales beat all of your expectations!! The cover is
sensational!!
(Peggy Roberson 10:56am November 5, 2015)
Registered users may leave comments.
Log in or register now!