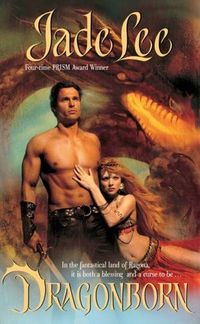 Purchase
One Protector...One Slayer... One Obstacle...LOVE! DRAGONBORN by Jade Lee
Dragons #1
Love Spell
March 2008
On Sale: February 26, 2008
Featuring: Kiril Mowbray; Dag Racho; Natiya Draeva
368 pages
ISBN: 0505527545
EAN: 9780505527547
Paperback
Add to Wish List

Paranormal | Romance | Romance Paranormal
ONE PROTECTOR
When dragon power flows through your veins, when dragon thoughts burn in your mind, you can accomplish anything. Natiya knows, for she carries one of the last eggs in the land disguised as a jewel in her navel. Day by day the Unhatched grows, and when at last it births they will be joined in a sacred and eternal bond. Gone will be the barmaid forced to dance for pennies; born will be Dag Natiya, revered Queen. Take her body or her soul, nothing will stop them.
ONE SLAYER
When dragon power flows through your veins, when dragon emotions trample your soul, you become a monster. So knows Kiril, for one destroyed his cousin. No matter how kind or joyful, all beings must succumb to the power of the wyrm. That is why Kiril vowed to destroy dragonkind—and he has almost succeeded. Only one egg remains. But there is an obstacle he did not foresee: love.
Additional Reviews
"Grabbing you from the very first words of the book, Jade Lee will lead you on an unforgettable adventure of action and passion. Where friends and foes are hard to discern and the outcome of a battle may very well affect the lives of an entire kingdom and beyond. Clear your schedule before you read, for DRAGONBORN will be impossible to put down once you start reading!"
Romance Junkies
Comments
2 comments posted.
Re: Dragonborn

A very interesting premise with lots of twists and turns. Hope there is a follou up.
(Lexi Carter 10:19pm March 25, 2008)
I'm writing the next book now! Dragonbound will be out in April 09. It's Sabina and the Copper's story. And I'm really excited about it!
(Jade Lee 10:21am September 9, 2008)
Registered users may leave comments.
Log in or register now!