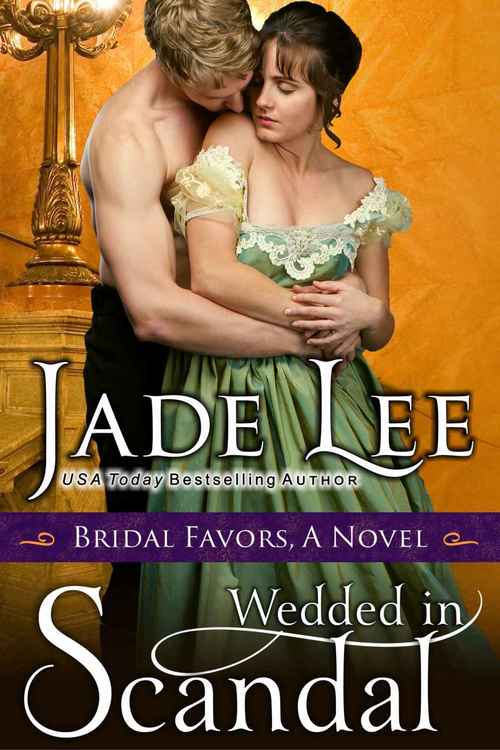 Purchase
Wedded In Scandal
Jade Lee
Bridal Favors #2
ePublishing Works!
November 2019
On Sale: October 22, 2019
Featuring: Robert Percy; Mrs. Mortimer
336 pages
ISBN: 1101560932
EAN: 9781101560938
Kindle: B07XQSMVMT
e-Book (reprint)
Add to Wish List

With her father cast from society as a liar and a thief, the ensuing scandal renders Lady Helaine unfit for marriage. Desperate to provide for herself and her mother, she adopts an assumed name and runs a dressmaker's shop specializing in bridal wear for ladies of high society. Helaine is happiest immersed in silk and satin but lives in terror that her true identity will be discovered and she will lose everything…again.
When Robert Percy, Viscount Redhill, encounters the mysterious Helaine he is entranced and sets out to weave a web of seduction sure to ensnare. Then he learns, too late, the heartbreaking truth of her sullied past.
Now to claim Helaine as his own, he must find a way to overcome the past. But what chance has love when a secret mistress becomes a scandalous wife?

Media Buzz
Good Morning Texas - Buy The Book - June 10, 2013

Videos
Bridal Favors
Comments
132 comments posted.
LOL! My big time wasters are Twitter, catching up on my favorite reader/author blogs and TV. I swear it took twice as long to unpack my things in my new house because I kept getting distracted.
(Stacie Deramo 12:24pm December 22, 2011)
I love to play video games and read. I spend way too much time on my computer visiting blogs and talking about books! My husband is threatening to disconnect the internet. But then I also like to read so he would have to lock me in a closet without light too! lol I'm sure then I'd find another way to waste my time.
(Patti Paonessa 12:47pm December 22, 2011)
I stay in bed sometimes, too. Once, I didn't get out of bed until 2pm when I'd
woken up at 9am. I spent that time reading.
I also like just going on the Internet. I go on one site, and it leads me to another,
and another, and another...I think you can see the pattern here.
Anyways, happy holidays!
(Hyunjin Jeon 1:51am December 22, 2011)
That whole post was made of win, I think! I'm such a procrastinator and I can really forget time when I get into something. I'll be searching IMDB for upcoming movies and browsing some discussions. It's sad to say I could spend hours doing that. I need to start watching Stargate SG1 again; also finish watching some of the unwatched Supernatural episodes. As for sleeping, I stay in bed 10 or so minutes after I wake up. Sometimes people think I'm still asleep and I catch some pretty interesting conversations.
(Darlene Stewart 8:00am December 22, 2011)
Spider - time just goes away!!
(Beth Elder 8:49am December 22, 2011)
Oh wow - where to start? LOL - I am a real procrastinator, as well, and would much rather spend time on the REALLY important stuff - checking in with everyone on Facebook - surfing cool book websites and getting into conversations there - or, give me a book and my Walkman and a cup of coffee and I am totally good to go - doesn't matter if the house is falling down around me -
(Felicia Ciaudelli 9:10am December 22, 2011)
Thank you for the wonderful surprise! I can't wait to read it. I usually always carry a paperback with me for those times I get a few extra minutes. However, I sometimes will waste time playing Jewels Star on my phone. It's addicitive. The good/bad part of it is, it's self limiting as it's eats up my battery.

Happy Holidays to you and your family!
(Christine Stack 10:05am December 22, 2011)
oh yeah, blogs and Stargate...all good things I do too! FB too, although I've turned it off today otherwise I'd never get to where I'm going today...REAL SHOPPING in an actual store! But I'll check in later. Keep the comments comming!
(Jade Lee 10:05am December 22, 2011)
Love the contest and the prize is awesome. Love your books and it amazingly with unique imagination. Paperback has will always be my favorite type of book to read. Thanks for the contest and prize.
(Anthonia Sharp 10:09am December 22, 2011)
I, too, am a procrastinator. I'll do anything before work.
Pogo is one of my favorite sites. I can't get enough of it. I
can spend hours on there doing nothing. Happy Holidays!
(Joanne Balinski 10:09am December 22, 2011)
i like the sound of this book
(Debbi Shaw 12:08pm December 22, 2011)
I would love to win your contest. Happy Holidays. nancy
(Nancy Reynolds 12:15pm December 22, 2011)
I probably check the weather forecast way too often, but as a farm wife, now retired, weather was all important. A book is always near at hand, but that is not time wasted.
Blessings,
Marjorie
(Marjorie Carmony 12:42pm December 22, 2011)
I see the connection in your routine and how you walked backwards through your morning to get to it. You made me laugh as I recognized my habits are ingrained, too.
(Alyson Widen 12:50pm December 22, 2011)
Jade - I've been waiting for you to get on here and blog for a long time!! You are on my TBR list, which is a little long at the moment, but you're in the top 10!! As for Pogo, I used to be an addict myself. I even have the Pogo butt to prove it!! I started there before they started to charge a fee every year to play and before they started with badges and minis. I made a lot of friends there. One even came to visit me, which was quite a thrill, since it was from England. Anyway, I can't play now for 2 reasons. One is lack of funds, and the other is being on dial-up. It's too hard to pull up the games. I don't consider them time-wasters if you take the time to take advantage of the chat rooms, too. Some of the people are really nice. You just have to feel them out for a while before you begin chatting. I would love to read your latest book, too. Have a wonderful Christmas, and a Very Happy New Year!!
(Peggy Roberson 12:56pm December 22, 2011)
Plain and simple - it's the computer/laptop - reading blogs, email, facebook.... then all of a sudden, it's lunch time!
(Cate Sparks 1:12pm December 22, 2011)
I love video games, anime, and of course to read read read...
Happy Holidays!
(Colleen Conklin 1:16pm December 22, 2011)
I spend way too much time just wandering around the internet--sometimes almost aimlessly---wasting time.
(Sue Farrell 1:16pm December 22, 2011)
I have always enjoyed all types of games and the computer makes it so easy - no strugging with people's schedules lol. I am definitely hooked on Bejeweled and now Words with Friends but there are many other games out there that I "waste" time on lol.
(Jeanne Sheats 1:16pm December 22, 2011)
It's hard to say what I do that's a time waster - if I learn even a tiny thing I consider my time well-spent - but if pressed, I'd have to say playing solitare on Pogo is a waste of time.
(Deborah Rosen 1:19pm December 22, 2011)
I love to be on my computer way too much. I also love to read. Thanks for giving me a chance to win your book. Happy Holidays to everyone.
(Linda Hall 1:30pm December 22, 2011)
The internet is definitely a big time drainer for me too. There is always something to look up or read that's more interesting than what needs to be done.
(Maureen Emmons 2:00pm December 22, 2011)
If I didn't limit myself to two hours a day on the internet I
would end up spending all day there playing games and
chatting. Mind you I still manage to 'waste time' by reading a
lot of books.
(Ilona Fenton 2:10pm December 22, 2011)
thank goodness there are others like me out there. found a new game the other day and I find tons of excuses to go into the computer room. Reading is taking a back seat this week....but soon will be back to that too. Merry Christmas everyone:)
(Barbara Studer 2:19pm December 22, 2011)
I spend time on my computer entering contests. I try to quit but then I win a little something. Just a small prize revs up the entry addiction.
(r w 2:39pm December 22, 2011)
Give me my computer and I am happy. I spend way too much time on it, but I'm addicted to all the authors and sites I keep track of. Next in line, is please, please, please, give me a book. I am perfectly happy with just those 2 things. Unfortunately, because of my addictions, there are too many times I should be house cleaning or something else, but here I am with a book or on my computer, and it's hard to go away from either one.
(Cathy Phillips 2:55pm December 22, 2011)
My favorite time wasters are Slingo and computer contests (just like Robin above). Today will be an entire day of waste because we are away from home visiting and everyone here has to work so . . . I get to enter contests and read. That is so much fun. Reading is NOT a time waster!
(Angee Bartlett 2:55pm December 22, 2011)
My alarm goes off half an hour before I have to get up. But I have a second set twentyfive minutes later, after killing the first I usually fall asleep again.

And I'm able to ignore the alarm of my husbands clock, he has to get up really early sometimes.
(Ute Heikaemper 2:56pm December 22, 2011)
I have to admit that I just love Angry Birds. It is just so much fun to play at any age. Thank You and Merry Christmas Everyone!
(Cheryl English 3:04pm December 22, 2011)
My number one time waster is the computer, I spend hours on it every day. I get about two humdred emails a day. Sales, author blogs, book blogs - which is where I get my TBR list. I just finished THE LANGUAGE OF FLOWERS, very good and I read about that of RIF. My biggest waste of time is the freebie/frugal sites. The second biggest time waster, I am ashamed to admit, is I take Nap's. I am always tired. Merry Christmas and a Happy New Year. I don't think it is a waste of time but I just bought every Laura Lippman book and plan on hitting those come January for a marathon. I also just downloaded two of your books on my brand new kindle.
(Kathleen Bianchi 3:18pm December 22, 2011)
Computer solitaire, definitely. It's so addictive.
(Theresa Hurley 3:26pm December 22, 2011)
computer games... angry birds especially... :)
(May Pau 3:39pm December 22, 2011)
MY GUILTY PLEASURE IS ENTERING CONTESTS...I AM IN IT TP WIN IT!
(Silvana Moscato 4:00pm December 22, 2011)
I'm addicted to playing spider solitaire. When I go online I start going through my emails, but before long, I've switched to playing spider solitaire. I just can't seem to leave solitaire alone.
(Carol Woodruff 4:27pm December 22, 2011)
My biggest time wasters are the computer, reading book/author blogs and daily news articles spotlighted on Yahoo, reading paperbacks, and my fav shows to watch on TV. I also enjoy browsing through our local library for new books hitting the shelves. Of course, everyone should feel guilty for slacking on the housework (cleaning), but the dust never ends or the dirty dishes! Bad habits once acquired, are hard to break. Thanks for the great blog and contest!
(Linda Luinstra 4:49pm December 22, 2011)
Playing on the internet is my favorite time waster. It can't be reading, because that is definitely time well spent. Thanks for your column.
(G S Moch 5:02pm December 22, 2011)
Playing games on the computer. Also doing jigsaw puzzles.
(Wilma Frana 5:12pm December 22, 2011)
Entering contests is my favorite way to kill time. I enjoy following you in your blog and on Fresh Fiction.
(Marilyn Legault 5:18pm December 22, 2011)
me it get up at 6am and take dog out fr his walk still jammie and then come in get soda i do not drink coffee and then open email and yea i check to see if if i won and then answer those email first then go and get dress about 7 30 so i am up all ready over 1 and half hr
(Desiree Reilly 5:59pm December 22, 2011)
These days it's playing Farmville on Facebook. That is a huge waste of my time.
Entering contests it not a waste f time. Neither is reading my books.
(Tammy Yenalavitch 6:03pm December 22, 2011)
Happy Holidays!! There are times that I start reading a book and the next thing I know I look up and hours have passed because I've just lost myself in the pages. Time waster, maybe, but time well spent definitely :)
(Sharon D 6:39pm December 22, 2011)
Sitting in front of the computer can be a time waster. I plan to be on for a few minutes and time slips away. Happy holidays.
(Kim C 6:46pm December 22, 2011)
I play video games and playing computer solitaire. I also enjoy entering the Fresh Fiction contests and doing blog contests. Hope to win.
(David Christian 6:57pm December 22, 2011)
Blogs and sudoku! When I can, I stay in bed and read in the morning.
(Mary C 7:49pm December 22, 2011)
I love reading a good romance book and playing video games on the computer.
(Mary Smith 8:08pm December 22, 2011)
I loved your post...it reminded me of how often I take all day to get nothing done :). Have a merry Christmas all.
(Robin McKay 8:17pm December 22, 2011)
I get up, get my coffee, turn the computer on and start with freebies, then emails, then facebook , then sweepstakes. When I get that all done (3 hours later) I try and do some work around the house . But I always end up back at the computer. If the computer is down then my next fave is reading. My husband loves sports and we only have one tv so....... Would love to win one of your books !

Thank you so much !
(Susan King 8:22pm December 22, 2011)
All those headlines on Yahoo.com, I go from one light news story to another and find hours have passed.
(Lisa Elwood 8:32pm December 22, 2011)
I like to read when relaxing ,and I also do crafts.
When I work on my computer it seems to take forever to get done. Happy Holidays
(Deb Pelletier 8:56pm December 22, 2011)
I love just browsing the internet and checking on all of my favorite authors. Now I can indulge because as a teacher, we just finished the semester and I can peruse for books until my heart is content (which never happens!)
(Renee Brown 9:06pm December 22, 2011)
The internet has got to be the biggest time suck ever! Happy Holidays!
(Tara Smith 9:19pm December 22, 2011)
I love the internet being able to keep up with all my favorite authors as well as finding new ones to read.I am a pogo person to I only have a few million tokens got hooked on facebooks bubble speed and havent played in awhile.If Im not working or reading then its most likely that Im online :O)Thanks for sharing with us today.Happy Holidays
(Wanda Flanagan 9:25pm December 22, 2011)
I like to get up an hour or more before my family and have quiet time playing
computer games to get my brain working for the day. In the evening I read an
hour or more after everyone has retired just for the peace and quiet. Don't get
me wrong I really like people and activity in my life but I have to have my quiet
tme just for me.
(Sandra Spilecki 9:28pm December 22, 2011)
Well I'm back from shopping with my daughters and I'm wiped! Glad you
all shared some of my favorite addictions too! I'm about to open a book
too! Hope you all managed to get a copy of Almost an Angel. Keep
commenting everyone. Free book available until Jan 7.
(Jade Lee 9:56pm December 22, 2011)
I have to check out all the blogs I subscribe too, go through all my good emails. Read just a few more pages. I can always get a better score on jewels if I try just one more time. All of these things are infinately more fun than doing something I'm supposed to be doing.
(Lisa Kendall 10:41pm December 22, 2011)
Sherry Lebow
My favorite time waster is playing games on Facebook. Happy Holidays
(Sherry Lebow 12:54pm December 23, 2011)
Clicking links on msnbc.com is how I pass the time seeing what is happening around the world.
(Lindsey Ekland 3:27am December 23, 2011)
Lately my time consumer is preparing for Christmas, from shopping and
wrapping, visiting and cooking, making cookies and trimming the tree.
Along with the normal everyday this is added to leave me exhausted.
(Carla Carlson 10:11am December 23, 2011)
My favourite time waster is the internet.
(Cheryl McEwen 4:52pm December 23, 2011)
My daughter has just moved into her first house. The house is quiet and I miss her terribly. But the next great cost will be her wedding dress. Can't wait to go shopping!!
(Barbara Hanson 4:44am April 3, 2012)
This book sounds like fun and the cover looks really good! I agree with you that the hero's in books are extremely important to how good the book is. A story can have a great plot and heroine but if the hero is not right it can really mess up the story and make it less enjoyable than it could have been (although the same can be said about the heroine of a story). I am looking forward to your book and hope you have a great day.
(Chelsea Knestrick 6:02am April 3, 2012)
Isn't it funny how we wish for something, and then, when that is achieved, we want things back the way they were.
And we must have our men in our lives!
Blessings,
Marjorie
(Marjorie Carmony 6:39am April 3, 2012)
From what I just read I do believe I'd enjoy your books. I was pulled in just looking at the great covers. I have a little boy who already charms all the girls/women he comes across. At only 8 yrs old I don't even want to think about how we haven't seen anything yet o_0
(Cindi Mitchell 8:38am April 3, 2012)
Looking forward to reading your books. I like it when women are portrayed in ways not standard at the time.
(Pam Howell 9:03am April 3, 2012)
um - I can't believe there's another Pam Howell - commenting minutes before me!
(Pamela Faye Howell 9:43am April 3, 2012)
LOL Pam! There's 2 other Jade Lees too. one is a very lovely singer. The other is a very lovely porn star. That's why my website is Jade Lee AUTHOR dot com.
(Jade Lee 9:58am April 3, 2012)
Sounds like a great series!
I'm with you, the hero makes or breaks a story. The heroines and stories can change but all the heroes must be have a strength, both in body and mind. Probably because that is my fantasy man. I don't like a man that is weak or soft.
Good luck and happy writing!
(Tracie Travis 10:34am April 3, 2012)
I love your books and agree that so much depends on how we perceive the hero can make or break my interest in the story.
(Lynne Hankins 10:42am April 3, 2012)
This book really looks so good i love all the books that you write I would love to win this . I cannot wait to read this.i love that the women are strong women and i love the fact that this book will be on the lighter side to.
(Denise Smith 11:14am April 3, 2012)
Hi Jade / Kathy - I love your books. I really would love to win this. My daughter
is only 13 - no no proms yet. I won;t even let her date!
(Tammy Yenalavitch 12:26pm April 3, 2012)
i have 60 girls in my class, im a math teacher of 9th n 12th grade. The girls always involved me in their ritual of 'finding great dresses' 4 prom. They made me mad. But, it was fun! I enjoyed the moments
(Rina Darmayanti 12:35pm April 3, 2012)
Never went to my prom... I jumped ahead and went to college early... looking forward to getting my hands on your historicals!
(Colleen Conklin 1:51pm April 3, 2012)
I am a fan of your books and I am looking forward to reading this new one. Please enter me in your contest.
Thanks.
(Joan OToole 2:01pm April 3, 2012)
I eagerly await your next book!
(Kelly Knapp 2:02pm April 3, 2012)
The Regency + Weddings is a winning combination. So much fun
with all that female interaction.
(Diane Sallans 2:04pm April 3, 2012)
Weddings are so fun, nerve-racking and busy-busy-busy. I have
gotten all 5 of my kids wedded, now I can enjoy the time with
others as they go through it.
Please enter my name, too.
(Mary Hay 2:09pm April 3, 2012)
This book looks like another one of your books I just have to read.. It has been 50 years since my prom, grand daughter is only 7 years old so that's another 9 or 10 years. But I am looking forward to winning and reading this book!!
(Joyce Bruner 2:31pm April 3, 2012)
Didn't attend my own prom. My daughter had no desire to go to her prom. Now said daughter is almost 25 and just started dating her first boyfriend. I've been pretty blessed through the years and am blessed even more now....
(Elaine Seymour 2:50pm April 3, 2012)
Hi Jade,
I love the fact that the stories are set in a Bridal Salon. I also love strong and independent women . I'm looking forward to reading Wedded In Scandal. I have 5 daughters and 2 sons. Only one daughter is at home yet,I'm so Prommed out (Is that even a word) and wedded out. lol But their memories forever.
Carol L
Lucky4750 (at) aol (dot) com
(Carol Luciano 2:57pm April 3, 2012)
thanks for the contest!

bamaforever @ hotmail.com
(April Kirkland 3:12pm April 3, 2012)
Love your books. I greatly enjoyed Wedded in Scandal.
(Phyllis Lamken 3:28pm April 3, 2012)
Sounds very good, thanks for the chance to win!
(Natasha Donohoo 3:39pm April 3, 2012)
I made my prom dress, and went with a friend. We had a nice time. I also like witty banter and lord that is a little arrogant.
(Deb Pelletier 3:47pm April 3, 2012)
Glad to hear about light-hearted teasing heroes! I went to prom both years with the guy I eventually married. It was lovely and I still remember the dresses in detail.
(Lisa Elwood 4:02pm April 3, 2012)
Oh just purchased my daughters prom dress. She is so excited.
Lovely to read about, too. :-)
(Sheila Eyre 4:12pm April 3, 2012)
I never attended any of my proms - I was not popular at all - LOL - my son went to both of his, though - and agree with you and other readers about how important the hero's qualities are.
(Felicia Ciaudelli 4:17pm April 3, 2012)
OMG.. my hubby just posted our prom/sweetheart's dances photos to his facebook... the prom dress is so staid compared to today's but the sweetheart's dance -- dress was reallly short--back in the late 60's a la mini skirts.. how did we sit in those things?
(Cate Sparks 4:46pm April 3, 2012)
No prom for me---I was the nerd--so I have to enjoy the prom scene through the descriptions of others. I like the idea that you lighten up a little on the heros for this book.
(Sue Farrell 4:51pm April 3, 2012)
Very great post! I absolutely can't wait to read Wedded in Scandal!
(Chelsea Brooks 4:54pm April 3, 2012)
Wedded In Scandal definitely sounds like a book that is going to be hard for me to put down---will definitely be on my reading list.
(Shirley Younger 5:04pm April 3, 2012)
Love your books. Can't wait to read Wedded In Scandal. Love to win the contest. Keep writing!!
(Sharon Extine 5:30pm April 3, 2012)
I have always thought that the part of Regency romance that really works is the bit of humor. Honestly, it was a period where everyone walked around with a stick up .... I won't even finish that thought. I am so excited about this book. Thanks for the chance to win a copy.
(Jennifer Beyer 5:36pm April 3, 2012)
Book sounds great and love the cover. Thanks for giving me a chance to win it.
(Linda Hall 5:41pm April 3, 2012)
Wow everyone! I'm so glad I've got some fans here! Hopefully, I'll meet some of you this weekend at my launch event in Dallas. And in the meantime, I'm really enjoying reading everyone's comments. Keep them coming!
(Jade Lee 5:45pm April 3, 2012)
I've never read one of your novel's but I love the cover's. I just bought one and haven't started it yet. This book sounds delightful. I love the idea of women owning a business in that time period. I really like a series, so I am looking forward to reading this one.
(Kathleen Bianchi 6:03pm April 3, 2012)
I like a dark tortured hero but the charmers are a lot of fun to read about.
(Maureen Emmons 6:18pm April 3, 2012)
Love your books. I can't put them down to start dinner. I want to read them while I am making dinner. My husband thinks that I am nuts. Oh well. lol
(Jinny Baldridge 6:44pm April 3, 2012)
My daughter is getting married May 26, and needless to say, we have been very busy as it gets closer and closer. She is hand making a lot of the things for her wedding to save on money and I am not the least bit crafty, LOL! I'm slowly learning to be. This week, we are making her wedding programs.

This giveaway would be ideal. I could read about others weddings and not have to worry about details :) Thank you for the opportunity to win Wedded In Scandal. Who doesn't love a strong heroine who wins the heart of a Lord with humor. I love to laugh and this sounds like it will deliver.
(Leah Weller 7:07pm April 3, 2012)
Sounds like a great series!
(Cheryl McEwen 7:33pm April 3, 2012)
I've got a 15 year old son, so prom won;t be quite the same for us-but then, he's just starting to notice girls-don't think he's figured out what to do with them yet! (LOL)
(Amber Kuehn 8:06pm April 3, 2012)
A boy serenaded your daughter, talk about guts! My daughter is almost 3, seems
so far away but I am sure it will happen before I know it. Thanks for the prequel!
I will have to check it out as Wedded in Scandal is in my TBR list!
(Lexi Hansen 9:02pm April 3, 2012)
when those children are born we _think_ we can see the future - but oh my gosh - I would have missed so many cool things if life had gone the way I thought it would! My kids have dragged me to places and events I never imagined existed and their lives have unfolded in ways I never predicted. So glad they let me go with them!
(Beth Fuller 9:11pm April 3, 2012)
Kids are a treasure. And a nightmare. and a wonder. And a zillion other marvelous adjectives!
(Jade Lee 9:13pm April 3, 2012)
Very good! I enjoyed your post and the books sounds interesting.
(Anna Speed 10:00pm April 3, 2012)
Someone once told me that kids are your greatest joy and your greatest disappointments. I agree with that.
(MaryAnne Banks 10:22pm April 3, 2012)
If you wrote it, I'm sure that it's going to be a really good read. I was never able to have any kids (doctor's orders), so I don't know what it's like to go through Prom Night preparations. Looking at your picture, you don't look old enough to have a Daughter in college, let alone have 2 more that are old enough to be Prom age!! I'm looking forward to your book, and think the cover is beautiful. Congratulations on what I'm sure is going to be another great one!!
(Peggy Roberson 10:34pm April 3, 2012)
Five years ago my daughter got married. Looking for a bridal gown was a trial. Most of the gowns looked great on her because she has a good figure, but she was so fussy she drove me nuts. She wanted a corset style gown with no train, no lace, and a full skirt. We finally found a gown she liked but it had a train which we had removed. She probably tried on over 100 gowns ( all of which were beautiful), before we found "the one".
I've watched the reality show Say Yes To the Dress a couple of times and found the antics of the brides to be interesting.
Hopefully your girls will find it fun and easy to get their special bridal gown when the time comes.
(Monica Vargo 10:38pm April 3, 2012)
I like the idea of a woman of those times having a viable livelihood. I'm hoping I win this one!
(Dolores Feagin 10:49pm April 3, 2012)
@Peggy -- I look young in my photo thanks to the magic of trick photography! Trust me, I'm old enough to have 2 kids in college!
(Jade Lee 11:07pm April 3, 2012)
I read the excerpt from both these books and they sound fantastic! My son just got married last October and that was another life change for me. I have my youngest daughter who is just leaving home now and now reading these excerpts made me think of her next step. And I thought all those proms nights were tough. I love to read all your heros in their different walks of life. Keep writing so I can keep reading them. Thanks
(Margie Gagarin 11:08pm April 3, 2012)
I enjoyed readng your post & the excerpt. Sounds like my kind of read!
(Jessie Llewellyn 11:34pm April 3, 2012)
I have one daughter and she went to two proms. It was really a lot of fun watching her turn from my little girl into this beautiful woman. My two sons went through the prom thing too and they spent almost as much time getting ready as my daughter did. My youngest just moved out and I miss all the excitement.
(Kathleen Yohanna 11:42pm April 3, 2012)
I am a fan of your books and my daughter is only 7 but she is already showing signs of being girly girly can't wait till she is 15 yrs and we make her Quiencianera sort of a coming out party that we Mexicans do for our girls super fun and almost as expensive as wedding. Look forward to reading your new book.
(Macaria Lopez 12:04pm April 4, 2012)
have 5 sons so missed all of that.....love the regency settings
(Barbara Studer 2:07am April 4, 2012)
If you have a hero in the story that is commanding, & the rest, it's going to be a great read.
(Mary Preston 3:17am April 4, 2012)
My daughter and I didn't have a chance for all of that with the shifts I was working. Perhaps with my granddaughters. Also I'm working on gaining entries for a giveaway so... Have you read The King's Mistress by Sandy Blair yet?
(Miranda Wood 4:08am April 4, 2012)
I live in Spring Formals this time of year, thankfully my son will be going to Prom (not my girl) - I definitely think it is much easier for boys - I help raise my younger siblings and the bridezilla has no comparision to the promzilla
(Carla Carlson 3:45pm April 4, 2012)
This is one of the books I'm hoping to pick up at RT next week in the Book Fair. Crossing fingers one way or the other!!

Later,

Lynn
(Lynn Rettig 4:53pm April 4, 2012)
Sounds realistic with all the nerves and delights going on at prom. I hope to get my hands on this one soon.
(Alyson Widen 8:53pm April 4, 2012)
Congratulations Jade! Best wishes too! Sounds like a great book to read. Sometimes we want to change our identities to find better, but changing has it's own problems too. Good luck on the book-it sounds great.
(Theresa Smith 9:50pm April 9, 2012)
I hope you enjoyed Dallas! I grew up there, and I miss "the city" so much!
And, have a WONDERFUL birthday!!! Have fun! And, as my dad used to say, "If you can't stay out of trouble, at least be safe." :)
(Sandy Fielder 12:53pm May 2, 2012)
Oh, I forgot my prom story. I went to the junior prom with a young man that I had been "in love" with for several years. He danced my favorite dance with one of my friends. And it was one of the few "slow dances" the band knew!!! Needless to say, I didn't marry that one! And, my daughter is getting married next January. We have had a BLAST looking at dresses!
(Sandy Fielder 12:56pm May 2, 2012)
OMW I loved the book...Thank you so much for sending it to me!
Nothing like a great scandal to keep the imagination going ;)
(Angela Ivey 8:36pm July 26, 2013)
I thought the dress was very pretty, and would have chosen
#3, since I really can't make out #4 very well. The shoes
are very nice, too. I do have one question to ponder,
though. In traditional weddings, the Mother of the Bride
usually wears pink, and the Mother of the Groom wears Blue.
Since it's obvious you don't wear pink, and I'm aware that
it's a formal affair, why didn't you opt to wear a dark
color instead of black? It isn't a funeral, and with your
dark hair and deeper skin tone, you would be a knock-out in
a deeper color. Your coloration is just like mine, and you
would look so good in a wine color, or something that would
compliment the bridal party. It's just a thought.
(Peggy Roberson 10:20am June 5, 2014)
The wedding colors are blue and pale yellow. (they're U of
Mich students). So...the dark blue gown I picked (#4) works
with the wedding party. I had no idea that MOB usually wears
pink and MOG wears blue!
(Jade Lee 12:15pm June 5, 2014)
I saw some of the pix on FB...love what you chose!
(Denise Holcomb 4:23pm June 5, 2014)
Mother of the Bride should wear colors to compliment/coordinate with colors of the wedding. Colors a shade or two lighter or a shade darker than the bridesmaids. Traditional or formal weddings should be longer hemlines which are more dressy and these dresses are lined. Shorter lengths (non-traditional) are fine for informal and outdoor weddings. Mothers may choose to wear a "matronly" color like beige, taupe, camel, tan, or gray. If the floor-length gown is strapless and the wedding is in a church, it is best for the mother to choose a small jacket, bolero, or something to cover the shoulders during the ceremony. The most traditional colors for Mothers of the Bride were always pale pink, beige, sage green, and baby blue. It is advised not to wear black, red, or white, so you don't look like you're attending a funeral (black), don't stand out (red), and don't look matchy-matchy and blend with bride (white). It is advised that Mother of the Bride consult with Mother of the Groom about color she has selected so Grooms Mother can select her color which will be different. I think the gown you chose is perfect! I really like it, and you'll look nice! Hope this helps a little with uncertainties you may have.
(Linda Luinstra 6:29pm June 5, 2014)
I love all your dresses/corset. I think #4 will be perfect
for the mother of the bride, and the shoes you chose are
adorable! I've never heard of the pink/blue tradition,
either, and don't think I've ever seen it done.
(Janie McGaugh 10:26pm June 5, 2014)
Jade - I happened to check back today, and wanted to let you
know that the tradition I spoke of went back years ago. I'm
thrilled to learn that she's picked U of M colors, since I'm
a big U of M fan!! I live in Michigan too, and had to
chuckle, because when I think about dresses like that that
are available out in the area where I live, you'd be lucky
to find one!! I live in a small farming community, so you
can use your imagination here. You'll look beautiful in
dark blue, and can let the Mother of the Groom look for her
maize dress. Not everyone can wear that color!! It should
be a wonderful wedding, and all my best to your Daughter!!
(Peggy Roberson 10:10am June 6, 2014)
Actually, we tease my daughter about picking U of M colors,
but the truth is that the groom is red/green color blind. So
he can only see blue and yellow. That's the real reason behind
the choice, but we still always say... GO BLUE!
(Jade Lee 10:13am June 6, 2014)
love the color's
(Peggy Quidor 1:55pm June 7, 2014)
You get to wear whatever makes you feel so fabulous and wonderful that you are not self-conscious, you're confident and happy happy happy for your daughter and her beloved! Love the dress you two picked and so very glad you're wearing those gorgeous shoes and not me!
(Beth Fuller 7:49pm June 7, 2014)
Registered users may leave comments.
Log in or register now!