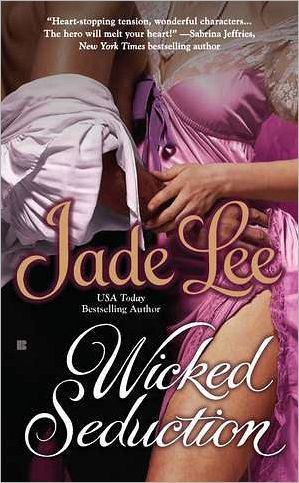 Purchase
Wicked Seduction
Jade Lee
Kit Frazier returns to England after seven years on a pirate ship. But finds himself unexpectedly at sea and caught in a swirling attraction to Maddy, who must choose between a respectable future and a wicked seduction.
Wicked series #2
Berkley Sensation
March 2011
On Sale: March 1, 2011
Featuring: Kit Frazier; Maddy
322 pages
ISBN: 0425240150
EAN: 9780425240151
Kindle: B078SJZ5PC
Paperback / e-Book
Add to Wish List

Other Editions
e-Book (October 2015)
A MAN INTENT ON JUSTICE...

After seven years of battling for survival on a pirate ship, Kit Frazier returns to England to right a wrong and make peace with what he lost. But once in London, he finds himself unexpectedly at sea, caught in his swirling attraction to the beguiling and elusive Maddy.

A WOMAN DETERMINED TO BE FREE...

Maddy will do anything to escape the desperate circumstances of her life, and helping her cousin Rose catch the man of her dreams seems an easy enough task--until Maddy meets the handsome pirate captain Kit. The dashing rogue has only two purposes: to rescue the boy in his care and to seduce Maddy into his bed.

A LOVE WITHOUT END

With each heated encounter, Kit pulls Maddy off her stated course. But when treachery threatens them all, she will have to choose between a respectable future and wicked, wonderful seduction.
Videos
Comments
104 comments posted.
Re: Wicked Seduction

Jade Lee you do it again every time. I love the way you write your books.
(Anthonia Sharp 10:18am January 11, 2011)
I don't normally have this problem because I do not have
deadlines like that but I do feel the anxiety that has
caused me to snap at my family. I actually was told by my
husband to go to the doctor and get some "happy pills" I did
and am able to manage it a little more now. I do end up with
the walls built around me and in certain places in the house
and finally I just give up and throw "everything" away. I
feel bad for my kids when I get like this cause usually an
innocent toy gets tossed if it is in my line of sight. I
really hope you recover soon from your "Deadline Psychosis"
:) BTW... I checked out Wicked Surrender and it sounds
amazing!!!!
(Leagh Christensen 10:23am January 11, 2011)
Jade Lee: Loved the interview...interesting...and I'd love to read your books!
(Leanna Morris 10:25am January 11, 2011)
Romance is always a plus in any book. The bonus is the characters act differently than planned and each has thier own wicked way of acting out or doing something out the normal.
(Anthonia Sharp 10:44am January 11, 2011)
Never count out love in any relationship and always have a back-up plan.
(Anthonia Sharp 11:06am January 11, 2011)
Jade,
I have not read any of your books and would love a chance to win... I am so glad that you family always loves you even when your inner beast comes out...
Thank you for sharing with us.
Kelly
(Kelly Mueller 11:33am January 11, 2011)
Love is uncondentail and it canovercome any task or trial in the face of true despair or evil.
(Anthonia Sharp 11:35am January 11, 2011)
Jade -

I think I should become a writer so I have a logical reason for that pile of papers that covers my kitchen counter. You know the "to be filed" pile that makes it difficult to cook, write a note, find the phone book, find the phone?

I decided to simply blame it on the males in my household (otherwise everyone but me) and tell them it's a "girl" thing (okay I'm in my 60's so many it's a "senior moment".

Stick to your story that it's because of a deadline - now if only I could use it as an excuse - hmm, maybe there's a writer in me somewhere if only I could find a blank piece of paper to start!
(Jeanne Miro 11:36am January 11, 2011)
I've been on happy pills. They help! But mostly, it's the
love and understanding of my family. As for Jeanne's to be
filed pile...I actually have TWO BOXES of stuff to be filed.
Plus two more piles. Erp. I like that it could be girl
thing (though actually, my husband is just as bad).

THanks for the kind words everyone. And keep those comments
coming!
(Jade Lee 11:48am January 11, 2011)
I am still working on writing and i have so many ideas that if i do not write them down i will forget them and i have to start over again. I hope iw ill become a writer, i love books and i love to write.
(Anthonia Sharp 11:53am January 11, 2011)
I loved your description of your work day and relationship with your family. It's left a smile on my face.
(Anna Speed 12:09pm January 11, 2011)
I guess I need to become a writer also - like Jeanne above. I don't even have a family to blame for the mess in my home office. I know there's a microSD card adapter that I need in that jungle somewhere. So now I'm off on safari......
(r w 12:14pm January 11, 2011)
Anthonia! You know what it takes to be a writer? You just
sit down and write. Being a writer is not dependent on
publication or approval or anything other than your
willingness to sit down and do it. So...just do it!
(Jade Lee 12:15pm January 11, 2011)
"I don't suffer from your madness. I hope you recover soon."
I suffer my own personal hell, with my mom, my dght and husband who all do not get along I have to split my time visiting each one when I come home from work since I am the only working it is rough. My Husband suffers the most but I'm working on that on one. Welcome the wonderful, Crazy, downright rotten time on earth due to the current economy and every one being layed off at the same time. So all I have to say is "Stop the world I want off this crazy ride!"
(Cj Swier 12:58pm January 11, 2011)
I have heard similar stories told about my MIL, a now
retired romance author. My understanding is that she didn't
come out of her office for months at a time when she was
writing. And yes, she handed keys and credit cards to my
husband, who was a teenager at the time.

My husband is a writer and he tries hard to be aware of his
potential to do this too. However, it cuts into his writing
greatly. It will take him learning that it's OK to stay up
and write. I'm capable of going to bed and sleeping on my
own. Or with the dog. And I'm ok taking care of things
while he's preoccupied. So, spending a little less time
with me now is fine if it will get him where he wants to be,
writing full-time and not working a full-time job as well.
I fully support that. Any tips on getting this across to
him?

As for me, well, I work well under pressure. But I hate
being late. I snap and snarl if I think I'm going to be
late anywhere, anytime.
(Amy Rogers 1:21pm January 11, 2011)
I don't suffer from your madness, but now I know what to
expect from my daughter in the future :D
(Ilona Fenton 1:36pm January 11, 2011)
How grateful we readers for the imagination of you writers!
Blessings,
Marjorie
(Marjorie Carmony 1:50pm January 11, 2011)
I don't suffer from your madness. I hope you recover soon.
Too funny.

You must have been really into it to give your teenage daughter carte blanche with your purse!
(Anne Muller 2:06pm January 11, 2011)
I'm an accountant and every year-end, deadlines turn me in to a *itch. I growl at everyone, including the dog.
(Sue Farrell 2:43pm January 11, 2011)
:) I enjoyed reading your post!
(Colleen Conklin 2:48pm January 11, 2011)
Fortunately I do not have the deadline problem, at least not anymore since retirement! Yahoo, it is something to look forward to so there is hope.
(Elizabeth Parzino 3:03pm January 11, 2011)
That was funny!!! Haha!!!

Thanks for sharing some of your madness with us.

I must say that I am very much used to interruptions...it's a part of my life. With a hubby and eleven kids, can't get around it, so I just go through it...sigh!!!

Valerie
in Germany
(Valerie Bongards 3:14pm January 11, 2011)
I do not have your problem at all, but thank you for giving us a view of your life with a deadline looming. I have read several of your books and have enjoyed each one very much. I would love to have this one...
(Joyce Bruner 3:25pm January 11, 2011)
It sounds like you've got a tolerant husband -thank heavens he
understands the madness that can overtake a writer when
they're in the zone. For all I know, I could be agreeing to
buy my daughter something completely out of my price range
when I'm there!
(Margay Roberge 3:49pm January 11, 2011)
Oregon--my only advice is to keep telling him and telling
him it's okay. eventually, he'll start to believe you.

And yes, everyone, thank you for enjoying my particular
madness today! It was snowing today so I holed up and wrote
11 pages. I'm very proud of myself. And hubby will be too
since i"ll actually smile at him tonight!

Keep the comments coming! I love reading them!
(Jade Lee 4:25pm January 11, 2011)
Please, please recover soon because that will mean we have another of your
great books to read!! CONDOLENCES TO YOUR FAMILY!!!!!!
(Sandra Spilecki 4:34pm January 11, 2011)
I am new to your books but I love what I've read so far.
It is always comforting when the people who love you stand by you no matter what enean when we are being the big B
(Vickie Hightower 4:47pm January 11, 2011)
OMG! Too funny!! Although I must admit, I totally do the same types of things when on a deadline for my classes! I find myself spending almost every available moment in the studio, whether ceramic or photographic, and I don't eat well, don't sleep well (sleep, what's that?), don't get laundry done until absolutely forced to (i.s., the last pair of jeans is walking around the bedroom by itself), and so on.

I don't give anyone free access to my purse because for one thing, there usually isn't anything in it worth giving, and for another, I don't have anyone to give it to, but otherwise, yeah. I've don't a lot of those things.

Later,

Lynn, laughing away!
(Lynn Rettig 5:15pm January 11, 2011)
We all have bad days. But family usually forgive.
(Deb Pelletier 5:19pm January 11, 2011)
I have had my moments of beastliness. It's family - all is forgiven.
(Mary Preston 5:27pm January 11, 2011)
I really enjoyed Wicked Surrender so I am glad that you have more stories coming even if others must suffer.
(Maureen Emmons 5:37pm January 11, 2011)
Love finding a new author!
(Linda Daley 5:43pm January 11, 2011)
hi jada i follow you on her and face book and may be twitter i am not sure but your books sound great and the people will be great wish you the best and hope to win one one day
(Desiree Reilly 6:23pm January 11, 2011)
I don't suffer from Deadline Psychos, but I do tend to procrastinate; well, sometimes, occasionally, maybe. Yes, I do. Then it's the OSM -- what have I done. Or didn't do?!? Same thing, but just different situations. *head desk*
(Cynthia Netherton 6:27pm January 11, 2011)
Deadline psychosis sounds like an interesting way to lead into a story. The heroine gets into the psychosis, all her roomies leave while she keeps writing, then when she emerges, she runs into...
(Carol Drummond 6:47pm January 11, 2011)
I'm in it to win this great book!
(Silvana Moscato 6:55pm January 11, 2011)
sometimes I think deadline pressure squeezes more out of our brain cells, sometimes painfully, but finally gets the job done.
(Diane Sallans 7:06pm January 11, 2011)
Deadline psychosis seems like a reasonable conclusion to most
other deadline activities (English papers, taxes, FDA filings,
open heart surgery, etc.).
(S Tieh 7:23pm January 11, 2011)
totally love this read; since i a bad (or good) procrastinator, I have this deadline often in my life!!!!
(Barbara Studer 7:38pm January 11, 2011)
I don't know about Deadline Psychosis, but I'm less able to deal with stress. I once put my car keys in the refrigerator, and then had a melt down when I couldn't find them! When I gave up, got the spare keys and grabbed my lunch to go to work...there they were.
(Michele Lawrence 8:09pm January 11, 2011)
Yes, I do go crazy, not as a writer, but others deadlines. I think we all honestly do. Maybe the craziness is part of the way that you write, and you need it. That might be something for you to think of.
(Debra Simning-Chapman 8:21pm January 11, 2011)
It sounds like a pretty stressful life with all those deadlines, I look forward to this book.
(Kathleen Bianchi 8:28pm January 11, 2011)
I have to confess that I feel guilty for devoting so much time to my work or my dogs (dog shows) and taking the time away from my son when I'm facing deadlines. I don't remember ever causing him or anyone physical harm... but I can see where it could get so crazy that could happen. It can get really crazy sometimes.
Thank you for this contest today!
(Linda Townsend 9:01pm January 11, 2011)
I know when I'm really stressed at work I tend to get short tempered and bitchy. At home, I definitely have a short fuse. So, I can relate!
(MaryAnne Banks 9:02pm January 11, 2011)
I don't have deadlines like you do but I feel like I am always racing the clock and calendar.
Usually when I start snarling a bit everyone treats me better because I rarely snarl and they know it takes a lot of abuse for me to go to the dark side.
So I know how your feel.

Good luck managing your deadline psychosis.
(Gigi Hicks 9:20pm January 11, 2011)
Yes, I do believe that many times, we end up hurting
the ones we love...Hopefully, they forgive our madness/
psychosis! Many thanks, Cindi
jchoppes[at]hotmail[dot]com
(Cindi Hoppes 9:38pm January 11, 2011)
Jade. I am so like you, minus the food boxes!! lol For months now, I have been trying desperately to get caught up with my e-mails. My life is quite hectic here because I am a caretaker where I live, plus I help with a volunteer knitting class once a week. Between looking at patterns on line, and the mail I receive from sites, as well as dear friends who seem to decide to "love" me all at the same time, cause a vicious cycle for me. At the present time I have over 500 pieces in my inbox, and I'm determined to look at every piece if it kills me!! My Husband doesn't understand at times, and having dial-up service slows me down. On the days he is more understanding means lunch or dinner dates at the local McDonald's so I can get some high speed downloading done, which helps a lot. I've actually been down in the 300's, which was such a treat for me!! I've even thought about being an author, and would probably pattern myself after you. Congratulations on your new book!! I'm sure it will do well, and I will find time to read it - I promise!
(Peggy Roberson 10:58pm January 11, 2011)
My thoughts went immediately to something my son said one time. I over heard him telling someone one time that when his Mom gets into a good book and he tries to talk to me, all he gets is noises in response.
(Christine Stack 11:09pm January 11, 2011)
A little madness can be a good thing. Keep up the good work.
(Ginger Hinson 11:20pm January 11, 2011)
I have experienced those reactions! And I took note for the next time my deadlines loom...
(Robin Daily 12:43pm January 12, 2011)
Whew, it's a good thing I have neither husband nor children to interrupt me in my misery; either I would be a goner or the others. No, no, I've never written a book, but I remember writing term papers or letters, filling out forms and applications under deadline conditions, and your jeremiad rings very true. I'm still hoping to get around to writing my Christmas/New Year's wishes and am sitting here in very similar conditions as you described. My health is always rather indifferent and I feel most comfortable lying down, unless I surface to watch the newscasts or try to catch up on e-mail a bit. You can't do much writing lying down. It's a good thing my one attempt at writing a story ended ignominiously more than 45 years ago.
(Sigrun Schulz 12:57pm January 12, 2011)
Jade I have always loved your stories. You do write interesting tales and I enjoyed making you part of the Cindy club LOL
(Cindy Olp 3:02am January 12, 2011)
Wow, everyone! Glad to hear I'm not alone in my psychosis!
And that for those who have a more sane life, they can at
least reassure me that family still loves me even when I'm
nuts.

Sigrun--I once had a rib infection that kept me on my back
for 2 months. Sitting was hideous, standing okay, lying
down perfect. So I ended up pulling my computer onto the
floor with me and learned how to type on my stomach. Very
odd, but it worked for as long as I needed it to. But i can
sympathize. It's hard to work while lying down. I'm much
too prone to close my eyes then...
(Jade Lee 2:22pm January 12, 2011)
A deadline is a promise to finish, but that's not always kept since life throws a few detours along the way.
(Alyson Widen 1:48pm January 18, 2011)
I think we all live in a fantasy world at times, it is how we cope and how we will good things to happen!
(Darci Paice 12:05pm March 2, 2011)
I always wondered if others were talking to the characters in their heads. Thank heavens, I'm not alone. I love the way your characters are so alive and vibrant. Makes me want to move right into their world. Well, maybe not permanently but you have created the gateways that let me enjoy them for a while. Not long enough to be bored by them just long enough to savor them like a glass of truly fine wine.
(Angela Bartlett 2:40am March 2, 2011)
It's good to know that I'm not the only one slightly obsessed (and possessed) by characters I create in my books. And yes, I talk to them and most importantly they talk back (though admittedly, this has almost always improved the story).
(Birgit Lehner 3:58am March 2, 2011)
No, but it sure makes for great reading!
(Pamela Stewart 5:59am March 2, 2011)
I don't think you are clinically insane. I think that this just shows that you have a wonderful imagination that will never allow you to be bored with life. I wish I could write stories like authors of the books I love, but I guess my imagination is not that great. Oh well, at least I can read the stories of other people's imaginations.
(June Manning 6:34am March 2, 2011)
somedays, it is my fantasy that keeps me going when times get rough; till the real world smooths out for us:)
(Barbara Studer 7:45am March 2, 2011)
We all have those imaginary characters in our heads and it is fun to daydream putting yourself into those characters at times. If only I knew how to put my imagination into words, I would put them into books as well. So are you insane? Absolutely not!
(Dawn Staniszeski 9:05am March 2, 2011)
You found a wonderful way to share your fantasy. Keep it up.
(Jo Jones 9:08am March 2, 2011)
Never met anyone with such real fantasies.....I get lost in my books, feel like I'm a part of the story, but outside of that, I don't get that way. I think about them, and maybe daydream a little, but not to your point! But, in the end, I don't think you are mad! :)
(Veronica Jarvis 9:30am March 2, 2011)
I think you're possessed, not crazy. I think that's why you put so much detail and love into your characters because they seem so real to you. I can't wait to read about Kit! I must admit I wasn't a fan of his in the 1st book, but since he's been through so much in this book he definitely sounds more interesting. I plan on being at your signing at Rose's Bookhouse and will see you then.
(Renee Pajda 9:40am March 2, 2011)
Hey, if you get to experience your imagination that well and still realize that it's not reality, then I say enjoy it. Why not? You get to have a lot of fun and nobody gets hurt. I'm gonna try not to think about it too much because I think I might actually get jealous. And I used to think I had a vivid imagination....
(Amy Petty 9:45am March 2, 2011)
Hmm...is it evil of me to think that if they do lock you away that will take away so many worldly distractions and allow for much more free time to put out these lovely books? *g*
Either way..I think any reader/writer has more than the usual little 'voices' breaking out at times.
(Theresa Newbury 10:10am March 2, 2011)
Wow, I adore Historical Romance books and, always get deeply involved in the book I am reading. I become the "lady" and the hero becomes "my man". It's wonderful to be given the opportunity to read these wonderful books.
(Diane Diamond 11:15am March 2, 2011)
I think I was more prone to act out like that with my heroes
when I was younger. I've learned to control it!
(Margay Roberge 12:09pm March 2, 2011)
I can turn a character on and off even when I am not reading about him!
(Kathleen Bianchi 12:26pm March 2, 2011)
I think everyone is crazy/possessed to a certain extent. Some people just more so than others. You fall into the latter category. But since you are able to share it with us, I'm not going to worry about your sanity. I'd rather you stay the way you are!!

Later,

Lynn
(Lynn Rettig 12:29pm March 2, 2011)
looks like a good read
(Debbi Shaw 12:44pm March 2, 2011)
I talk to the TV even more than I talk back to a book character. My cats say: "Here she goes again!".
Blessings,
Marjorie
(Marjorie Carmony 12:46pm March 2, 2011)
I wish I had the imagination you have that is so vivid that it seems real---I love to escape into books that I read, but it never gets THAT real.
(Sue Farrell 12:55pm March 2, 2011)
I can identify with everything you said. I read books and tend to put myself into the character of heroine who will be swept off my feet by the hero. All of the characters are fantastically real to me. I think it is totally normal for an author and reader to do that.
(Cathy Phillips 1:16pm March 2, 2011)
I think certain books can certainly sweep you into them further than others and watching my 6 year old daughter play by herself certainly tells me some peoples imaginations are truly bigger than others. Therefore, unless were all crazy, I don't think it's maddness just a GREAT way to escape this crazy world for a while.
(Tammy Sommervold 1:29pm March 2, 2011)
LOL! I don't think you are crazy. I think we all could stand to indulge our imaginations a little more. I think that is why a true book lover obsesses over their books. It is almost like you loan us your imagination for the time it takes to finish a book. I don't think you are crazy, just luckier than most!
(Stacie Deramo 1:36pm March 2, 2011)
I believe what we ourselves think is crazy is just part of what makes us unique; to have a creative side that allows you to place your ideas on paper is just a part of that uniqueness.
(Diane Chenier 2:07pm March 2, 2011)
If that is madness may it never end. I've been looking and looking for an author
who can both experience all that you said and share it with me the way you do
in your books. Madness--NO Great authorship--ABSO-darn-lutely!!!!!!!!
(Sandra Spilecki 2:16pm March 2, 2011)
Channel your creativity any way that is right for you... let your characters come to life! :)
(Colleen Conklin 2:41pm March 2, 2011)
Scientist say we only use what? ..one tenth of our brain power. I think you are an extremely creative artist who uses more brain power than the rest of us. I just wish I was psychic and could see your friends too!
(Christine Stack 2:43pm March 2, 2011)
I don't think you're crazy. I think all writers must have a great imagination to write those exciting books.
(Wilma Frana 3:57pm March 2, 2011)
I don't think that it's madness. I think that you're a person that is so in tune with things around you, that you actually feel things more than the average person. The sensitivity factor is in high gear, and it's to your benefit, since you are the author. This is such an advantage and gives you an edge over other authors. It also gives more of a raw feel to a story line. You can get "down and dirty" with the characters, and really know how they feel!! To have that edge is a gift, not a sickness, so consider yourself blessed. Congratulations on your book. It sounds like another winner!!
(Peggy Roberson 4:10pm March 2, 2011)
Not madness as I perceive it, more of a creative bent.
(Mary Preston 4:17pm March 2, 2011)
Nothing wrong at all with fantasy in your life...as long as it
doesn't actually take over your life. I think you are very
creative with your fantasies...keep on writing!
(Leanna Morris 4:41pm March 2, 2011)
i have seen other authors say they speak to there heros. I say if it works then good for you. It sounds like a lot of fun too lol

Lisa B
(Lisa Boggs 4:58pm March 2, 2011)
Not madness,some people really want to be part of the story. Be it a reader or writer.If only for a couple of hours.
(Deb Pelletier 6:17pm March 2, 2011)
I don't thing this is a case of madness. I'm just glad that it results in great books :)
(Leni Kaye 6:25pm March 2, 2011)
I love your books! Fantasy! Can't put them down!
(Ann Unger 6:37pm March 2, 2011)
I don't think it's madness but if they haul you off you'll have
all your loyal readers by your side egging you on.
(Lisa Richards 7:06pm March 2, 2011)
I think we all have fantasy tgat we dream of. It is what keeps us all sane. We put ourselves into the story because in real live we would not dream of doing some of these things.
(Diane Castiglione 7:10pm March 2, 2011)
I think as a writer you have to go somewhere in your fantasy's or dreams to be creative and write. The last few days I find myself somewhere else at times. No I am not crazy and nether are you. Just creative. Keep it up....Keep them coming. Thank you
(Barbara Ryan 7:50pm March 2, 2011)
It's fun to get into a pretend world; look at how many people have second lives in cyberworlds. As long as you know what is fantasy and what is real, how can it be crazy?
(Carol Drummond 8:31pm March 2, 2011)
I think most of us talk to ourselves and have our own individual thoughts and fantasies, as far as I'm concerned your are neither possessed or crazy. Neither! Whatever you are doing it appears to be working..your readers enjoy your work. Keep the books coming!
(Angela Howell 9:00pm March 2, 2011)
I don't think you are crazy or possessed - I think you are blessed. Blessed with a wonderful imagination and immense creativity. And we are the recipients of those blessings. Needless to say, I enjoy your books. Thank you.
(Karen Cherubino 9:36pm March 2, 2011)
I like your kind of crazy and possession :)
I think it's being able to interact with your characters like you do allows you to be a good writer.
(TinaMarie R 10:19pm March 2, 2011)
I like your kind of crazy! I think You write good books and the readers like them. Keep them coming!
(Brenda Rupp 10:42pm March 2, 2011)
I love to read books and go into the story. It gives me a chance to get away from the real world. Thanks for giving me a chance to win your book.
(Linda Hall 11:24pm March 2, 2011)
As long as you realize it's fantasy, then you're not crazy. Just be careful not to let your husband get too jealous of the characters.
(Ginger Hinson 11:40pm March 2, 2011)
Sorry I didn't get on here yesterday. Got lost with my next hero. He's
gonna solve a murder and find love. But he's just so quirky I was having
so much fun with him I forgot all about this blog! See. It's a sickness!
But I can't seem to stop it so what the heck....I'll just enjoy it! Thank you
for not calling the men in white coats on me. Though yes...I probably
would end up writing more! And good advice on not letting my husband
get too jealous!
(Jade Lee 8:16am March 3, 2011)
Jade, you are such a dynamic writer and I love your books. I love the way you develop your characters in a way that the reader feels they have actually met!

I'd love to win a copy of Wicked Surrender.
(Jeanne Miro 10:45am March 3, 2011)
Fantasy is so much better than reality. I Love your books & find it interesting that your characters are so real to you. They become real to me & as I read I interact with them too. So no you are not mad, just vividly imaginative.
(Felina Pence 12:15pm March 3, 2011)
Thank you everyone! It's so nice to hear people like my books! btw, my
new hero Samuel says hello and would I please stop talking to you. He
was just getting to the good stuff... Seriously, he's actually one of my
more demanding heroes (and that's saying something). I keep trying to
make him more Richard Castle, but he's coming out more like Sherlock
Holmes. And he thinks Castle is a fool. But I LIKE Castle. But Samuel
really, really doesn't. How do I get into arguments with imaginary
people??????
(Jade Lee 2:54pm March 3, 2011)
What a wonderful imagination you have...all the better to give us wonderful heroes to read about.
(Ann Garland 1:29am March 8, 2011)
Possessed is not crazy, it's being compelled to tune in to the artistic expression that most people ignore. The imagination can be a wondering thing, but sometimes the things we dream about are frightening to even put down on paper.
(Alyson Widen 12:21pm March 8, 2011)
Registered users may leave comments.
Log in or register now!