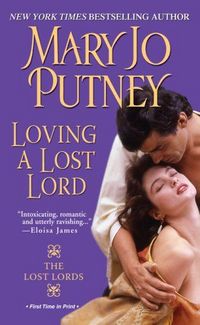 Purchase
A passion begun in fantasy has become dangerously real - and completely irresistible.
Lost Lords #1
Zebra
July 2009
On Sale: June 30, 2009
Featuring: Adam Clarke/Adam Lawford, Duke of Ashton; Mariah Clarke
352 pages
ISBN: 1420103288
EAN: 9781420103281
Kindle: B0085TK6D4
Paperback / e-Book
Add to Wish List

Battered by the sea, Adam remembers nothing of his past, his ducal rank, nor the shipwreck that almost claimed his life. However, he's delighted to hear that the golden-haired vision tending his wounds in his wife. Mariah's name and face may be familiar, but her touch, her warmth, feel deliciously right.
When Mariah Clarke prayed for a way to deter a bullying suitor, she didn't imagine she'd find the answer washed ashore on a desolate beach. Convincing Adam that he is her husband is surprisingly easy. Resisting the temptation to act his wife, in every way, will prove anything but. And now a passion begun in fantasy has become dangerously real - and completely irresistible.
The Lost Lords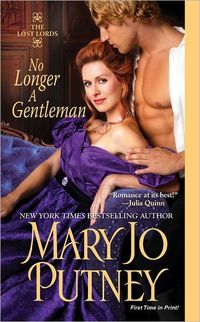 No Longer A Gentleman
#4.0
Amazon.com | BN.com | | |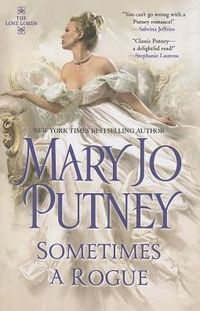 Sometimes A Rogue
#5.0
Amazon.com | BN.com | | |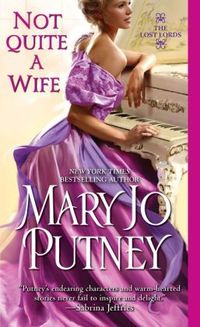 Not Quite A Wife
#6.0
Amazon.com | BN.com | | |
Comments
44 comments posted.
Hi there! Yes, sometimes I notice that alot of books that I read (and I do read ALOT of books!!) have similar or same sounding plots, but they are usually different enough that it doesn't bother me. Most of the time it's not even by the same authors, just similar plots. I'm bad to "stalk" the Wal-Mart boxes for new releases! They are so slow putting them out. Have a great weekend.
(Martha Lawson 5:41pm June 27, 2009)
I also read a lot and am not really bothered by plot similarities. Didn't someone say there are only so many stories..it just matters how you tell them. I find it is the author's voice that I enjoy. I do look forward to my favorites, with Loving A Lost Lord on the list.
Cheryl Ricin
(Cheryl Ricin 6:44pm June 27, 2009)
Cheryl, I think I've heard the same thing about there being only 3 stories. A while back Mary Balogh and 3 other authors used the same plot -- it involved old lovers being reunited in inns. It wasn't the same inn, of course, but the same story told in different voices and honestly, if you didn't realize they were doing this, don't think you would have recognized the stories.

I thoroughly enjoyed Chase's new book -- thought it her best yet, but then I haven't read too many of hers lately.

Now, to settle down and spend the week-end on a good book or two. It's too hot to get out from under the a/c!
(Betty Cox 6:52pm June 27, 2009)
According to my writers group which has been meeting for 20 years before I came 3 years ago, there are mainly 2 plots. The first plot is going on a journey, the second plot is coming back from a trip. I believe a lot of stories are a good fit with variations of this criteria.
(Alyson Widen 7:02pm June 27, 2009)
Now and again I may notice that the plot has been done before, but I agree with a previous post that when you have a good author voice the journey is still good. When I have an author I have been following for years, I look for, and enjoy, how their voice and way for telling the story changes over the years. I think what I object to most, and what has stopped me from reading an author, is when the author seems to give up and create the same formula for their books because they know that is what the publisher, reader, made for movie people want. They don't grow or tell the story differently- it's just rote, and that is when I stop reading.
(Sara Edmonds 7:32pm June 27, 2009)
I don't really mind that a plot has been done before, but does it have to be the same month. Several times there have been books that sound so much alike that you wonder if the authors called each other up and discussed the plot (or maybe they had a wine party and forgot who was going to use that plot this month?) :>)
(Karin Tillotson 10:30pm June 27, 2009)
I personally feel drawn to the same plots.
But I never tire of them because no two
authors tell it the same way.
(Sue Ahn 10:50pm June 27, 2009)
I try to just immerse myself in the
story, but like you I start thinking
afterwards. There are just so many
plot lines out there and just so much
you can do with them, so there are
bound to be moments of de ja vous.
There is one really well known author
who was my first romance author and
still my favorite. One thing I noticed
early on was she has the same 3 sex
scenes in each of her books. The
names and the place are different but
that is all. I haven't had time to read
her last couple of books, so I don't
know if that is still the case. It really
isn't a problem, just funny.
(Patricia Barraclough 11:30pm June 27, 2009)
It is jarring when I read a book and am overly struck by simiarities to other books by the same author. There is an even more annoying situation. I have read an anthology by a single author and each story is of a set of different couples. The author had an unusual/uncommon phrase that was used by each of the heroes in the set of stories. It was annoying.
(G. Bisbjerg 11:34pm June 27, 2009)
I try to mix up my reading so I don't get the feeling of reading something familiar. So if I just read a Regency I might read a contemporary next.
(Leslie Gladnick 3:34am June 28, 2009)
I have noticed that. There are a few authors I can think of (not naming names) who do this and that can be very off-putting. As a reader, I am always looking for something new, something challenging. I don't want to read the same story with different names and settings. If I wanted to read the same story, I'd just reread the original book. As a writer, I like to observe how others keep it fresh and try to discern how they keep it new and don't retread the same story ground.
(Margay Roberge 7:50am June 28, 2009)
Recently I read a 2-book series and the plot lines of both books were so similar that while reading the second book I felt I was re-reading the first book. That's not good. Is that a sign of no real imagination? Don't know but both books received lots of kudos. To be fair, they were well-written, but the distinct similarities threw me. But maybe that's just me.
(Karen Haas 11:45am June 28, 2009)
I have noticed that my self. Most of the time this doesn't bother me, but sometimes you think your getting something different and your reading the same thing. When this happens I get in a reading slump.
(Gail Hurt 1:05pm June 28, 2009)
I don't mind if authors write books that sound similar.

What I don't like and what I have found sometimes is when an author rehashes an old plot and just puts it in a different setting and gives the characters different names.

I love many genres, so hop around a lot when I'm getting tired of one. When I go back to that genre, then it seems fresh and new again and I enjoy it more.
(Valerie Bongards 1:24pm June 28, 2009)
Having just finished Mary Balogh's new series (out of order, I might add!), I can say that, yes, she does use similar plots for the four books, but the differences between the books definitely out-weigh the similarities. Now, if she'd only write a fifth one, giving us Constantine's story!! Sigh ...

Later,

Lynn
(Lynn Rettig 2:06pm June 28, 2009)
There are so many wonderful books coming out right now. I am looking forward to Loretta's and Mary Jo's new books, as well as Julia Quinn's and Toni Blake's.

I read so much that I run across similarities all the time, but each author has a different voice so it doesn't bother me. I tend to alternate reading historicals and contemporaries so things stay fresh.
(Cheryl Castings 3:49pm June 28, 2009)
I've run across a number of similar plot lines and for the most part it doesn't put me off. What DOES frustrate me is the buy a book and fid that I truly have read it before but it's been released with a different cover photo and I just didn't realize i.
(Jill Hayden 4:45pm June 28, 2009)
Yes sometimes when I am reading I will wonder if I haven't just finished this book no so long ago; the realize it's by a different author. I don't mind since when continuing to read I start noticing the differences in the styles of each author or the different twist that unravels as I keep reading
(Diane Sadler 5:06pm June 28, 2009)
Similar plot lines don't bother me so much except when I read a book and it makes me remember another book like it and I have a devil of a time remembering the other book's title. Also, getting a book and then discovering I've read a previous release of the same book is annoying. I really appreciate those first time in print seals that are on the new Nora Roberts' books. Very helpful.
(Summer Sharp 7:43pm June 28, 2009)
I must be an idiot! I can't at the moment recall reading any book, and thinking I've read somethign very similiar before.

However, I do recall hearing that there are only so many plots in the world, and therefore they get told again and again and yet again!

With my comment you now have more comments than I had when I came over here!
(Sandi Shilhanek 9:53pm June 28, 2009)
I love reading a variety of genres but too I have my favorites like historical. The under that have favorites like arranged marriages and rogues, so I'm gonna look for those themes too so I may read more of similar themes but each book is so unique in itself! I love it!
(Cathie Morton 10:03pm June 28, 2009)
I have just found out about DOG ON IT and am looking forward to the read. But I have to agree about Loretta Chase's book. She has such a good knack about writing situations that it just doesn't matter if you have the a simular story before - its gonna be good!
(Vicki Patterson 1:14pm June 30, 2009)
I am drawn to all paranormal! But I do have faves and well...I totally understand the stalking and package ripping! lol
I pre order months in advance for some and stalk Walmart for those release days and let me tell ya sometimes they dissapoint! How could they not have it!
Reading is awesome and my fave addiction!
(Chris Jones 5:18am July 1, 2009)
Hi MaryJo!! I love to escape into a historical romance. I just love the history back then, the society, especially in regency, Victorian, etc. They make such wonderful comfort reads for me because I can be just into that world when reading and its a great feel. I'm totally excited about your new book. A huge congrats. I have many favorites of yours, and WILD CHILD is on the top!
(Cathie Morton 2:24am July 6, 2009)
Hi, Cathie!

Thanks for stopping by. THE WILD CHILD was one of those magical books. For years I'd had in mind this fey figure of a flaxen haired girl in a garden who could speak, but didn't.

And ever since I wrote Dancing on the Wind, which had female twins, I'd wanted to do a book about estranged male twins where one has to go to the other for help that he can get nowhere else.

One day those two idea crossed, and BINGO! I wrote that book in 5 or 6 months, which made it one of my fastest, and I was happy how it turned out.

As you say, historicals are so good for escape!
(Mary Jo Putney 10:54am July 6, 2009)
I can't wait to read your newest release! I love historical romance because it is an escape to a time of such pomp (for the wealthy!). I think part of the attraction is the seemingly endless list of rules people had to live by and how often they broke them that makes it interesting as well. Congrats on your new book/series.
(Sharla Long 12:56pm July 6, 2009)
Hi Mary Jo,

Historical Romances are my favorite genre and is nearly 100% of my reading. Your post has made me chuckle over a couple of things:

You said:
They probably both needed a good bath' reminds me of the differences between the 2 Pride & Prejudice films...in the first, everything seems to be pristine & sweet-smelling but in the remake, we see the dirt, in the streets, in the houses, on the clothing, even their hair looks dirty and we can imagine they all needed that bath!

Now with so many of your latest heros & heroines suppose to be dead, reminds me of a scene in an Alias episode: Sydney (speaking about her arch enemy Anna Espinosa) 'She's suppose to be dead.' And Jack in his usual deadpan manner responds 'So are a lot of people.'

Great post Mary Jo and I'm looking forward to getting my copy of LALL!
(Karen Haas 1:01pm July 6, 2009)
I enjoy historical fiction - until I ask myself questions about bathrooms, heat, fridges, etc.
(Karin Tillotson 1:09pm July 6, 2009)
Mary Jo I have been a fan of yours for years and have turned other readers onto your books. I love both historical and contempary. When I read your books you allow me to travel to places I will never be able to go and to dream of places I might someday be able to see. Your writing style is such a visual treat that I feel as If I have just come from a vacation when I read your books. I love all of your characters and the troubles they seem to over come and I feel I have usaually gained some historical knowledge along the way.
(Annetta Stolpmann 1:36pm July 6, 2009)
How nice to hear from so many readers! I think we're all quite selective in the way we visit the past in historical romance, and really, that's the way it should be for a fantasy escape!

Karin, having lived in England, I can tell you that it's not usually hot enough to spoil food quickly. Even when I lived there in the 70s, not all houses had refrigerators, or if they did, they were itty bitty. There was lots of daily shopping for fresh food--which is something we're coming back to in this country!

Annette, I figure that most historical romance readers like to learn some interesting hew tidbits along with the story. In LALL, it's diving bells. *g*

Sara--I'm writing as fast as I can!!!!

MJP
(Mary Jo Putney 3:40pm July 6, 2009)
Some of the first "adult" books I read were historical novels, mostly written by men. So I've always had a penchant for history and learned a lot from these novels. When I discovered historical romances in the mid-1970s, I was thrilled to be able to combine history and romance. Though I like reading contemporary romances, especially the ones with suspense elements, anything historical usually trumps those.

I also loved THE WILD CHILD, but I was disappointed with the rewrites of THE RAKE AND THE REFORMER (THE RAKE) and THE ROGUE AND THE RUNAWAY (ANGEL ROGUE) It meant more to me when the heroes decided not to make love in the original books, meaning: presumably not before the wedding.

But that's just my opinion. I know most readers live for the love scenes, but I like to know that sometimes the heroes can be morally strong enough to wait for sexual fulfillment. *grin*

I'm certainly looking forward to the newest ones.
(Sigrun Schulz 4:00pm July 6, 2009)
Hi! Can't wait to read Loving a Lost Lord. Got it on order at my library (I'm the librarian) and all my "ladies" love your books! So do I!
(Martha Lawson 10:24pm July 6, 2009)
Sigrun, the sexuality level was one of the major differences between traditional Regencies and Regency historicals, and I did those rewrites deliberately because my publisher wanted to reissue the books, and I didn't want the books to fail reader expectation. Which meant more graphic, though I did my best to make it plausible.

Actually, even in the original Rake and the Reformer, there was a love scene, but the revision did aim at more sexual tension. Revising created slightly different stories. But the esence was still the same, I think.

Libraries rock, Martha! I hope you and your ladies enjoy Loving a Lost Lord.
(Mary Jo Putney 11:18pm July 6, 2009)
Your stories hit just the right notes for
me. Historicals allow you to, as you
say, go over the top with certain plot
elements. Modern communication and
speed of travel, really spoil a lot of
plot possibilities. Keep up the
wonderful writing. A touch of magic,
danger, romance and mischief make
your books a delight.
(Patricia Barraclough 11:35pm July 6, 2009)
I love following heroes and heroines through romps in history in settings that anchor time, place and the classes of cultural moral of the period. The past seems richer in detail than the present, because changes can happen only in the future, everything else is wishful thinking.
(Alyson Widen 12:43pm July 7, 2009)
Hi Mary Jo!
There is no escape more wonderful (and affordable - ;) ) than a historical romance novel.
:)
G.
(Genella deGrey 1:54pm July 7, 2009)
Thanks, Patricia. There is so much you can't do in the age of cell phones! The past is another country, and it's wonderful to visit, even if it wasn't to live in.

Alyson, I agree that bringing real history into historical romance enriches the reading experience. I like to research at least one new subject per book, and it's usually more.

Genella--I think the romance genre flourishes because sometimes women need to escape their nearest and dearest without actually leaving the house. *g* Viva escapism!!!
(Mary Jo Putney 8:34pm July 7, 2009)
I love historicals and can I please tell you how happy I am that you are writing them again.
I know paranormals are popular but I wish some of the authors I love would throw us a historical novel "bone" once in a while!
I love regency and turn of the century novels the best.
(Mari M. 8:47pm July 7, 2009)
Mari--

Of course I'm glad you're happy! I've heard similar sentiments from other readers. And now I've found another outlet for writing fantasy (which I really do like writing) by selling a young adult historical fantasy trilogy. All's well that ends well. *g*
(Mary Jo Putney 9:50am July 8, 2009)
I agree with you. my English ancestors were probley sheep sheerers or chamber pot cleaners something like that. but i love to read about the snob's of the ton and how an uneducated or even educated, poor woman can bring them to their knees. Angle rouge was my first book to read of yours and i loved it so much i started collecting all of them. now that i have read each and every one i would have to say my favorite would be Thunder and Roses. it's like you had put so much of your heart in that book. so i just wanted to say thank you for all the wonderful stories.
(April Kirby 9:17am July 16, 2009)
OMGosh I love MaryJo have everyone of her books except this one I'll keep an Eye out for it .
(Ann w 12:23pm July 29, 2009)
I love Mary Jo's books this one sounds so good can't wait to read it, I loved the review today, thank you
Penney
(Penney Wilfort 12:40pm July 29, 2009)
After reading the excerpt, Ill definitely read this book. I'd love to win a signed copy.
Lorraine
[email protected]
(Lorraine Larose 12:44pm July 29, 2009)
I believe that's why we have favorite authors, the stories they come up with and the plots they devise, even though they are using a formula with their books
(Diane Sadler 7:58pm July 30, 2009)
Registered users may leave comments.
Log in or register now!