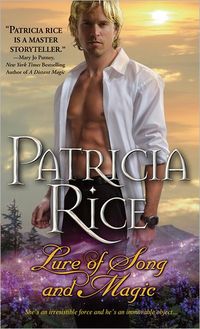 Purchase
She's an irresistible force and he's an immovable object...
Sourcebooks
January 2012
On Sale: January 3, 2012
Featuring: Syrene Malcolm; Dylan Ives
352 pages
ISBN: 1402255748
EAN: 9781402255748
Kindle: B0064CPREW
Paperback / e-Book
Add to Wish List

Her voice was a curse...
When Dylan "Oz" Oswin's son is kidnapped, the high-powered producer will do anything to get him back. Desperately following an anonymous tip, he seeks help from a former child singing sensation called Syrene, only to find she's vowed never to sing again. Immune to her voice but not her charm, Oz is convinced she holds the key to his son's disappearance—and he'll stop at nothing to make her break her vow.
Only he can make her sing...
She knows the devastation her talent can bring. There's more than a child's life at stake, but Syrene cannot unleash her dangerous siren's voice upon the world, even for a man who is impossible to deny...
Comments
34 comments posted.
This sounds like something different and I am very interested. Magical is awesome. I think that we all have the ability to be magical and I do believe that some people "know" things and sense things that other people just don't. I think children especially have that ability.
Thanks for the great post.
(Patti Paonessa 11:03pm January 12, 2012)
Yes, I do believe in psychic abilities. I've had multiple examples in my
family. For example, my sister dreamed that red was green and green wa
red for several nights in a row. After several days, she came to a stoplight
and was confused about going on green. The guy behind her honked and
she was just starting out when a semi zoomed around a blind corner and
ran the red. She was shook up and pulled over. The guy that had honked
pulled over to thank her. How do you explain it was really dreams that
saved you?
(Lynda Smith 11:55pm January 14, 2012)
I do believe in psychic abilities and have witnessed examples from family and friends.
(Mary C 6:46pm January 16, 2012)
Yes,there are a lot of magical things in the world. The magic of a bud turning into a beautiful flower, an egg becoming a beautiful bird, the birth of a darling puppy or kitten, and on and on. There have also been times when I thought of someone out of the blue and then found out they had problems I could help them with. One needs only to look for magic and they will find it.
(Gladys Paradowski 2:06am January 18, 2012)
First, I want to Thank you for having this contest. After reading about your book, I am totally intrigued and hope I am the lucky one to win it. I think everyone has some psychic ability but very few people realize they have this gift or know how to use it. I would love to learn more about it myself someday, but in the meantime, enjoy reading books that include psychic ability or magic. I agree with Gladys, you only "need to look for magic" and you can see daily. Good Luck Everyone!
(Cheri Minott 2:51am January 18, 2012)
I am a bit of a doubting Thomas - I would have to experience it to believe it. B ut I love reading novels about it!
(Barbara Hanson 8:22am January 18, 2012)
I am totally and completely interested in this book. It sounds really good. Hope to read it soon. Hope you have an amazing day and keep writing. :) You sound like a great author
(Meghan Anderson 9:05am January 18, 2012)
I agree with Barbara. I am a doubter, you need to show me. I
need to be able to see it.
(Joanne Balinski 9:05am January 18, 2012)
The premise of your book is really intriguing. I would love to win a copy. Best of luck with it - and happy 2012.
(Nancy Reynolds 10:24am January 18, 2012)
Interesting concept. :) Well, it's hard NOT to believe in magic when you have a baby. The problem is that not all of us can use it or feel it.
(May Pau 10:50am January 18, 2012)
I am really liking the sound of your book...have not read anything by you and am grateful for the chance to win one of your books... magic sure I believe!
(Colleen Conklin 12:24pm January 18, 2012)
I love that you have brought the descendants of the Ives
into today :-}
I have been a huge fan of yours for years, and I'm delighted
you are continuing with your terrific books!
Paranormal abilities exist. Paranormal events happen. Events
in my life have proven that to me despite my best efforts to
explain them away with current logic and science.
Magic is defined differently depending on personal belief.
I don't discount anything, keeping an open mind (but not so
open that my brains fall out.
(Diana Troldahl 12:25pm January 18, 2012)
I am a believer in psychic abilities--I think we all have them to some extent. I think I have experienced some messages from beyond---and a whole different feeling comes over me when it happens.
(Sue Farrell 12:31pm January 18, 2012)
Your book sounds compelling. I love the cover art.
(Robin McKay 12:33pm January 18, 2012)
Believe!!!
Blessings,
marjorie
(Marjorie Carmony 12:38pm January 18, 2012)
Oh, yes, there is so much magic in the world - and agree with the others here that we all have magical/psychic abilities of one sort or another. :-) And THANK YOU so much for the opportunity to enter your contest!!!
(Felicia Ciaudelli 12:49pm January 18, 2012)
This book sounds exciting. You always come up with a fascinating slant.
(Anna Speed 1:11pm January 18, 2012)
I agree with the other posters, I believe in the magic of the natural world and the extraordinary magic that sometimes touches us.
(Lisa Elwood 1:52pm January 18, 2012)
Now this sounds like a lot of fun... I'm a firm believer in magic... Thanks for a great contest too!!
(Cate Sparks 2:30pm January 18, 2012)
I love your books! That said I am very fond of psychic abilities and magic in
books. Yes I believe in psychic abilities (we all have some psychic ability no
matter how small) and any form of magic gets my attention (not the tricks of
magic shows even in Vegas). Naturally I will be looking for this book to add to
your others on my shelves.
(Sandra Spilecki 2:45pm January 18, 2012)
I really don't know if I believe in magic or ESP or not, but I do know that there are many things yet to be explained that could be explained by those things. Problem lies with proving them!
(Carol Gowett 2:47pm January 18, 2012)
Your book sounds very interesting. I have read several of your books and have enjoyed them. Thanks for giving me a chance to win your book.
(Linda Hall 2:52pm January 18, 2012)
My definition of magic is pretty loose too. Magic to me is a new born baby, unicorns, and the check that comes in the mail just when I need it. The world would be less fun without magic. I believe.
(Kathleen Yohanna 3:08pm January 18, 2012)
I believe in the possibility of magic - there are somethings
that haven't been explained by mainstream science, and maybe
never will be.
(Diane Sallans 3:42pm January 18, 2012)
I am a believer in psychic abilities--many people have this. I am unsure why it happens more strongly for some people than others with actual visual details. I have experienced this phenomena myself at times. More so, if something bad or dangerous is about to occur. It's a repetitive, strong persistent feeling, that I visualize and can't get out of my mind, prior to it happening for anywhere from one to two days to a few hours away. Because, I know what will happen, I try to avoid it, because before when I didn't, it happened every time, exactly how I thought it would. Only, at one time, did it actually benefit me. I kept thinking about how much this test I needed done, at the Dr. cost, and I couldn't afford to have it done at the time. In my thoughts, the Dr. was telling me, not to worry about it, there'd be no charge. This procedure on my vocal chords was quite expensive to check for polyps (which I'd had done once before). I kept thinking, what a stupid dream that keeps popping into my head. When I got to the doctor, the following day, I told him just to look at my throat and not to do any tests, since I had no insurance or funds for this. He said, "I'm not busy right now, let's do this, and I'm not going to charge you anything!" I nearly fainted. I thought this is unbelievable, since I have never been to any doctor that did anything for free! I was so shocked, I almost told him about my premonition, but when he took me into the room for the testing and his nurse was present to help him, I chose not to, thinking it might not be good for him, if it got around the clinic. So the possibility of magic is everywhere. Thanks for the great contest, and I own several of your great books!
(Linda Luinstra 5:24pm January 18, 2012)
I don't really believe in magic but a lot of things are unexplained.
(Dani Brantley 6:31pm January 18, 2012)
THE LURE OF SONG AND MAGIC looks wonderful. I love a little magic in my life. I think there is magic in the most unexpected places. A warm hug or a kind word can be magic for example. It's not all treasure & gloss.
(Mary Preston 7:14pm January 18, 2012)
I think that what we call Magic is different dimensional laws that we just don't understand yet.
(Kathleen Conner 7:15pm January 18, 2012)
I too have a loose definition of magic. So, yes, I believe in magic.
(Jennifer Beyer 8:32pm January 18, 2012)
I have to experience it to believe it, but that doesn't mean I don't enjoy reading about magic. Enjoyed your blog.
(Sheila True 8:50pm January 18, 2012)
i do believe in magic!!
(Jennifer Beck 8:53pm January 18, 2012)
Yes, I believe in magic. I believe that each one of us hold a special kind of magic inside of us. We just have to learn how to use it. Some of us might have "special talents." We might have psychic ablilities and be able to see into the future, or are able to make some sort of predications in general. Others just have a magic about them that make them lucky. Perhaps others are just magic because they bring a happy spirit into a room, so as I said, everyone has magic inside them. I'll be looking forward to reading your book. The cover is very powerful.
(Peggy Roberson 9:04pm January 18, 2012)
I believe in magic, the elements, life, and those things that can't be
explained. I lived in fairy tales as a girl and had grown up on a property
the inspired and fed my imagination. To this day a breeze, or fairy rings
can be magic. I also believe in some people having a.gift, being able to
"see" or witness the past or future, that they can look beyond the veil. I
think all of us have certain abilities if we open ourselves up. Things like
calling someone who was thinking of you or picking up to dial you,
hearing your child's cry when they are in school, the messages are there
for everyone to grab and open themselves up to.
(Carla Carlson 11:57am January 19, 2012)
I believe in some sort of magic and when in a room of healers can feel the power of intention and trust the honesty in their minions.
(Alyson Widen 3:05pm January 19, 2012)
Registered users may leave comments.
Log in or register now!