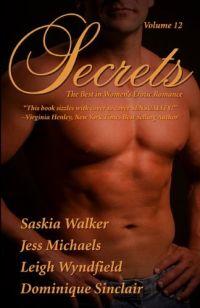 Purchase
Red Sage
July 2005
315 pages
ISBN: 0975451626
EAN: 9780975451625
Trade Size
Add to Wish List

Summer Lightning by Saskia Walker: Sculptress Sally Richards is in heaven spending an idyllic getaway on a secluded cove, and then she spots a gorgeous Adonis walking naked on the beach. What more inspiration does a girl need? When Julian Keswick finds an attractive woman shacked up in his cove, it's his manly duty to check her out. But what will Julian do when he finds that she's secretly been using him as a model?
Aphrodite's Passion by Jess Michaels: When Selena Kelsey flees Victorian London just before her evil stepchildren can institutionalize her for hysteria, Gavin Fletcher is asked to bring her back home. Feeling beholden to the family, he agrees. But when he finds her living on the island of Cyprus with a group who worship Aphrodite (the Greek goddess of sensuality and sex), his need to have her begins to block out every other impulse, including duty and even personal safety.
WHITE HEAT by Leigh WyLndfield: Raine has spent the last few years avenging her murdered team, but the cost has been high. She's hiding in an icehouse in the middle of nowhere from one of the scariest men in the universes. Walker escapes from a burning prison, staggering to safety. Imagine their surprise when they find out they have the same man to blame for their miseries. Passion, revenge and love are in their future.
Good Girl Gone Bad by Dominique Sinclair: Raised a good girl, Reagan's dreams are finally within reach. First she needs a topic for a four-segment article. Setting out to do research, nothing could have prepared Reagan for Luke, or his offer to teach her everything she needs to know about sex. Fighting the inner good girl, Reagan explores being bad under Luke's guidance. Licentious pleasures, forbidden desires--inspiring the best writing she's ever done. Only now women across America are reading about Reagan and Luke's encounters. And he has no idea...
Comments
No comments posted.

Registered users may leave comments.
Log in or register now!