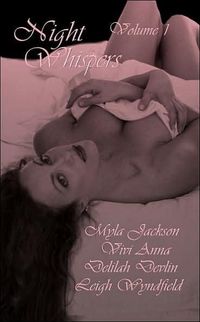 Purchase
Volumne 1
Whispers
October 2006
On Sale: September 30, 2006
312 pages
ISBN: 0978536886
EAN: 9780978536886
Trade Size
Add to Wish List

Paranormal | Romance Erotica Sensual
Dark Heat by Leigh Wyndfield
What would you do in the dark heat of a dungeon when a man offers his protection in exchange for passion you'd never dreamed possible?
When healer Caelan angers her King, she's thrown into prison where she bargains her body to a warrior awaiting execution for a crime he didn't commit. Garron's very name means protector, and he's willing to trade protection to get his hands on a woman who smells like freedom and tastes like passion.
But their special powers unite, turning lust into something unforeseen. Soon they are forced to choose between freedom and their growing love in the dark heat of the night.
Sanctuary by Delilah Devlin
In the post-Apocalyptic future, a woman rancher runs a last refuge for human survivors of a nuclear winter in West Texas. When the security of the sanctuary is breached, she must place her trust in one of the creatures freed by perpetual darkness.
In a post-Apocalyptic future with cities decimated by man- made disease and nuclear winter, people have fled to rural areas to become the prey of criminals, werebeasts, and vampires. Rancher Kate McKinnon runs "Sanctuary"-- a last refuge on the western frontier. While driving her surviving wranglers and integrating refugees into their self- sufficient refuge, she escapes her responsibilities the only way she has left--via Hamm radio to pockets of other survivors. One man, Ty Bennett, is her confidante and she thinks she might be falling in love with him. Although they've never met, he seems to know her heart.
On a patrol to siphon gasoline to run the ranch's generator, Kate and her cowboys are surrounded by a werepack. After she's rescued by a small band of militaristic "brothers" she brings the wounded home only to discover she's brought vampires into the refuge. Ty is the man she's poured her heart to on the radio. Already half in love with the human woman, Ty offers added muscle to her defenses. Fighting his own nature and appetites, he seeks redemption for his many sins.
Can Kate get past her prejudice and choking responsibilities to trust him with their lives, even as she succumbs to his seduction?
Tempting by Myla Jackson
Invasion of the Body Snatchers meets Buffy the Vampire Slayer.
Sisters and elite members of the Paranormal Investigative Agency (PIA) use themselves as bait to discover who's kidnapping beautiful young women. When one of the sisters disappears, the other turns to a vampire, a breed she's sworn to kill, for help.
Elite Paranormal Investigative Agent, Reggie Gallagher, hates vampires. After dozens of beautiful women are kidnapped off the streets of Houston, Reggie and her sister set themselves up as bait to catch those responsible for the disappearances. The mission goes sour, her sister vanishes, and Reggie is surrounded by a rabid pack of vampires only to be rescued by another one of the long- toothed creatures of the night. Forced to accept his protection, she bides her time with the sexy beast until she can get back out on the streets to find her only living relative and bring the bad vampires down.
When the woman he thought he loved turned Nicolae Kovac into a vampire over four hundred years ago, he swore he'd never trust another woman with his heart. Then he saved a hell cat from a band of vicious vampires only to find himself falling for her hot temper and fierce love for her family. Together Nicolae and Reggie must find the missing sister and deal with the evil threat behind the disappearances while fighting their growing attraction for each other.
Awakening by Vivi Anna
Branlyn Carmichael has been having dreams. Sensual, hot dreams about a stranger with long, blond hair and pale eyes. A stranger, yet, he is somehow familiar. Nightly he visits, awakening not just her body, but also her memories. Memories of her childhood home and the horrible tragedy she witnessed there.
After fifteen years of running, it is time to go back to face her past. She can no longer deny the events she has seen or her connection to them.
When she returns, she finds her dream man waiting for her not in her mind but in her bed. He is flesh and blood, claiming to be her protector, sent to shield her from a dark seductive power that wants to possess her body.
The closer Branlyn comes to the truth, the further she races from reality. Soon she is spiraling down into a place of darkness where vampires are real, and a battle is raging between two factions of the same world. Caught in the middle, she finds safety and passion in her guardian's arms. She is drawn to him like no other. It is within him that she discovers the secret to end the war. However, there is a price to unlock it…her soul.
Comments
No comments posted.

Registered users may leave comments.
Log in or register now!