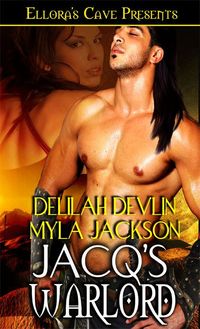 Purchase
Ellora's Cave
June 2007
On Sale: June 20, 2007
352 pages
ISBN: 1419905864
EAN: 9781419905865
Paperback
Add to Wish List

With proportions that would make Xena weep, Jaqueline Frazier despairs of ever finding a lover she won't squash like a bug. Everything changes the day she ignores an itty- bitty warning regarding the use of a family heirloom and finds herself swept off her feet by a knight in not so shining armor, back to the twelfth century. Eeek! No toilet paper, no cell phones and no junk food! Embroiled in the adventure of a lifetime yet forced to accept the protection of the overbearing beast of a man, Rufus of Rathburn, Jacq struggles to find her place in the past while searching for a way back to the future. In the meantime, she aids Rufus' war cause with a little 21st- century ingenuity. Nothing like shaking up the warlord with lessons in bomb-making, guerilla tactics and the joys of sex.
At first unwilling and downright ungrateful, Rufus begins to see merit in Jacq's odd ways. Perhaps because of her eccentricities, Rufus learns of a love and lust that break the barriers of time. But will their love be strong enough for Jacq to plot a different future in the past?
Comments
No comments posted.

Registered users may leave comments.
Log in or register now!