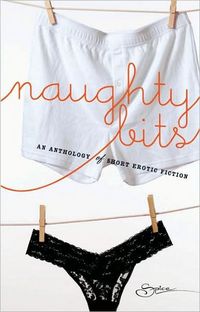 Purchase
An Anthology of Short Erotic Fiction
Spice
March 2009
On Sale: March 1, 2009
496 pages
ISBN: 0373605382
EAN: 9780373605385
Paperback
Add to Wish List

Naughty bits is the first-ever compilation of breath-hitching, leg crossing, pulse-quickening short erotic fiction from the editors of SPICE BRIEFS. Penned by some of the genre's best authors, including Megan Hart, Delilah Devlin, Jodi Lynn Copeland, Kimberly Kaye Terry and Sarah McCarty.
These fifteen provocative, flirty, haunting—but always arousing—erotic encounters may be brief, but each one is guaranteed to be the naughtiest part of your day!
On a sultry night in the French Quarter, alone in a room thick with desire, she is able to channel the wanton mating of the couple down the hall — each kiss, each sensation, each stroke is as real to her as if she were the one being ravished. In her desperate arousal, she unconsciously calls out to him, until he is at her door, in her bed, knowing fully what she wants and how to satisfy her completely…
Letting Go
Invite Me In
Gilt And Midnight
Come Back To Me
Forever Yours
Dark Moon Gathering by Alison Paige
As a wolf, she was intoxicated by his scent, his strength and power. As a woman, she was overwhelmed by his passion and his beauty. But as the leader of her werewolf pack in the absence of a surviving alpha male, Mattie Bainbridge was required to select a mate at the next Dark Moon Gathering, and Anthony Ricci was just too risky a choice. Might he follow in his Purist father's footsteps and force his domination upon all the females of her pack? Or would he mate with her alone, and respect the ways of her pack? Anthony was determined to convince Mattie to choose him…and when it came to seduction, he had a limitless bag of tricks.
Comments
No comments posted.

Registered users may leave comments.
Log in or register now!