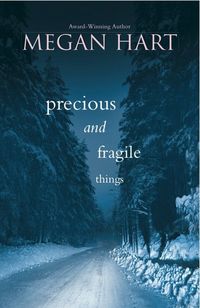 Purchase
Precious and Fragile Things
Megan Hart
MIRA
January 2011
On Sale: January 1, 2011
Featuring: Gilly Soloman
400 pages
ISBN: 0778329240
EAN: 9780778329244
Kindle: B00ALTVILU
Trade Size / e-Book
Add to Wish List

He's not about to let her leave. And she cannot stay.
Gilly Soloman has been reduced to a mothering machine, taking care of everyone and everything except herself. But the machine has broken down. Burnt out by the endless days of crying children and menial tasks, and exhausted from always putting herself last, Gilly doesn't immediately consider the consequences when she's carjacked. With a knife on her throat, her first thought is that she'll finally get some rest. Someone can save her for a change.
But salvation isn't so forthcoming. Stranded in a remote, snowbound cabin with this stranger, hours turn to days, days into weeks. As time forges a fragile bond between them, she learns her captor is not the lunatic she first believed, but a human being whose wasted life has been shaped by secrets and tragedy. Yet even as their connection begins to foster trust, Gilly knows she must never forget he's still a man teetering on the edge. One who just might take her with him.
Comments
48 comments posted.
Re: Precious and Fragile Things

I always like to have a regular read in between my romances or I get overloaded and the book sounds pretty interesting.
(Amanda Boyer 2:10am December 17, 2010)
The story sounds very captivating. Definitely going on my TBR list in short order.
(Joanne Reynolds 6:16am December 17, 2010)
I actually checked it out on the web site yesterday, and it's very interesting - the kind of novel I like to read. Was thinking of buying it, but winning would be nice! :-)
(Joanne Huspek 8:46am December 17, 2010)
This sounds like a fantastic story that needed to be told. Its amazing how a story can take hold, take over and consume. I'm sooo looking forward to reading it; winning it? THAT would be fantastic! Either way; it WILL be on my bookshelf!
(Jennifer Smith 9:21am December 17, 2010)
Love Megan's books....She has a great way to put words
together!! Thanks for a great contest!!
(Corinne Bridges 10:12am December 17, 2010)
I've read what you put on your website.It seems to be dark and twisted. The
book.Which is good.Each one of us has a dark and twisted piece inside. At
least I do acknowledge that I have it and it's easier for me to think I am not
alone in not being so bright and shiny all the time.I can imagine becoming to
despise what I wanted the most. Felt bit and pieces of it. At times. Would love
to read your fiction book.Harsh journey without the risk of losing anything I
hold dear, at least I hope so...
(Agava Lee 10:19am December 17, 2010)
Just finished your novella in Naughty and Nice and thought it was great.
(Maria Munoz 10:29am December 17, 2010)
I just read "Naked" and "Everything Changes" and loved both. Look forward to this book too, though the theme sound a bit dark, bt I've read 2 other books lately with the same theme, diff takes, so it would be interesting to see how this one goes.
Tks a lot.
(Clio Teixeira 1:36pm December 17, 2010)
Have to add your name to my list... this book sounds really interesting... thanks for sharing!
(Colleen Conklin 2:04pm December 17, 2010)
This does sound like a different kind of read than I am usually reading...but your description certainly hooked me and it sounds like a real emotional read too.

Valerie
in Germany
(Valerie Bongards 2:20pm December 17, 2010)
Adding to my TBR list!!
(Michele Powell 3:47pm December 17, 2010)
Megan, may I ask you what gave you the inspiration to write such book and at that time in your life? the theme seems really intriguing and does sound very different than your later stuff.
(Clio Teixeira 3:58pm December 17, 2010)
This books sounds so interesting. Congratulations on seeing it published.
(G S Moch 4:33pm December 17, 2010)
"Precious and Fragile Things" sounds wonderful. I look forward to reading more.
(Mary Preston 5:03pm December 17, 2010)
Sometimes Old is New!
Blessings,
Marjorie
(Marjorie Carmony 5:21pm December 17, 2010)
This book sounds interesting. :)
(Patti Blount 5:21pm December 17, 2010)
"Precious and Fragile Things" sounds like a book that would make us examine ourselves and our motives--I think I might like it.
(Sue Farrell 5:24pm December 17, 2010)
The book sounds refreshing after reading too many predictable romances!
(Brenda Rupp 6:36pm December 17, 2010)
I like to pick up a book sometimes that not romance or
suspense. sometimes different is exactly what I want to read.
(Lisa Richards 6:43pm December 17, 2010)
This book poses some interesting questions and has catch my interest.
(Leni Kaye 6:44pm December 17, 2010)
@Brenda Rupp I would not say MH books with romacne it them are predictable.
She always mekes my doubt a thousand times happy eneding is goona be happy
not saying a word about the plot...
(Agava Lee 7:22pm December 17, 2010)
books are my down time love reading
(Brenda Hook 7:22pm December 17, 2010)
Precious and Fragile sounds great. Hope it is wonderfully successful. Have a wonderful holiday ladies.
(Phyllis Lamken 7:26pm December 17, 2010)
I love the title too, very fitting as to all that is near and dear to all that could disappear in the blink of an eye. Life is that way too - precious and fragile.
(Clio Teixeira 7:43pm December 17, 2010)
Precious and Fragile sounds like my kind of book. Its on my TBR list and Thanks for the chance to win a copy. Merry Christmas!
(Teresa Ward 7:48pm December 17, 2010)
Your bio and books sound very interesting. Are you any closer to having a studio interested in making a screen play?
(Nancy Van Orden 8:02pm December 17, 2010)
This sounds like a book that will make you think. I enjoy reading different kinds of books, and I think this one sounds really good.
(Debbie Penny 8:05pm December 17, 2010)
Sounds like you put down what many people feel like at some point. I would like read this book very much!
(Linda Pillow 8:37pm December 17, 2010)
I just finished reading both of your excerpts, and they took my breath away!! This is the type of book that I've been looking for -- not the daily romance where the woman falls into his arms. I wanted a book with an intriguing story line - a page turner, and I believe that's what you just wrote!! I can't wait to read it, and will definately be telling my girlfriends about this book, if it turns out as good as I think it's going to. Have a Merry Christmas, and a wonderful New Year!!
(Peggy Roberson 8:53pm December 17, 2010)
The storyline has me intrigued!
(Robin Daily 9:43pm December 17, 2010)
I really like the sound of this book.
mom1248(at)att(dot)net
(Patsy Hagen 10:06pm December 17, 2010)
The book reminds me of the saying "watch what you wish for you might get it". It sounds like a very interesting book that I would like to read.
(Joe Bianchi 10:11pm December 17, 2010)
I take it three months is how long Gilly is held captive?
(Kathleen Bianchi 10:31pm December 17, 2010)
I've got goosebumps after reading the excerpt of your book.
It is a story that should be read slowly and thought about.
This will be on my list of reading.
Merry Christmas Megan to you and yours.
(Rosemary Simm 11:01pm December 17, 2010)
I love romance but also like mystery and suspense. This book sounds like a great suspense story and I would love to win. Thanks for this opportunity to enter giveaway.
(Brenda Hill 11:37pm December 17, 2010)
The book sounds good. Thanks for giving me a chance to win it.Happy Holiday's to everyone.
(Linda Hall 1:35am December 18, 2010)
Very interesting plot...hope I win!
(Diane Pollock 9:04am December 18, 2010)
I will certainly want to read this one too!!
(Maria Antunes 10:03am December 18, 2010)
Thanks everyone for commenting!

To answer some questions, yes -- three months is how long they're together. And as for why I felt compelled to write the story...

Um, I had small children! ;)

I hope if you give the book a chance, that you enjoy it.

Thanks again, everyone.

M
(Megan Hart 10:17am December 18, 2010)
sounds like i will love it
(Debbi Shaw 11:23am December 18, 2010)
Thanks for the feedback Megan. I will definitely have to read this book bc as a mom of young children, I feel that I can empathize with the heroine's overwhelming feelings- describe in the blurb- and I've read the excerpt- bt then, the story seems to go a completely diff. way - darker- so I don't know...could it be every mother's fantasy and worst nightmare all wrapped up in one?? LOL...I can't imagine being separated from my kids for 3 months though.
So, need to check it out for myself...I have "Naughty and Nice" on my Kindle. I just LOVE Brandon...I want him for Christmas...hahaa..may not mind going away with HIM for 3 months.
Happy Holidays!!:)
(Clio Teixeira 12:24pm December 18, 2010)
Clio -- I often write about what I'd like to happen or what I'm terrified of happening. PAFT was the terrifed part.

Brandon...is the first kind. :)

M
(Megan Hart 2:26pm December 18, 2010)
I usually read these life-changing stories. They are inspirational and full of hope. It is also about self-discoveries to be a better person.
(Kai Wong 3:10pm December 18, 2010)
Gotta check this one out too!!
BTW: Brandon is great but I still have a thing for Alex Kennedy. I've read all his books and I still feel like I don't know him. M., are done with him or do you think there is more to him? I want more!!:)
(Sophie Vad 4:23pm December 18, 2010)
Well, I suppose it is cathartic to write about what we fear. It is amazing how many real life, terrifying, news of kidnapping that have been in the news lately- such horrible situations like the Elizabeth Smart case or the young woman in CA and the woman in Austria- the last one inspired another amazing book called "Room". Anyway, the topic is timely.
As for Brandon...sigh...lucky Leah, lucky Leah is all I can say. LOL.
Tks Megan.
(Clio Teixeira 7:20pm December 18, 2010)
I often think books that have that happy romantic ending are full of crap. I hate to see the end when the writer has forced that man and woman hookup to lead to a permanent happily ever after. Statistics show we aren't making it as permanent pairs and yet we think that we have to read books that show us how perfect love is. On the last page there's this need to show us the woman pregnant or holding a baby with a soft smile on her face when she sees her man. Isn't it refreshing, every once in a while, to see them walk away from each other without heartbreak?
(Christina Harrison 8:57pm December 18, 2010)
Christina: You make an interesting point -- but a book's not a "romance" if it doesn't have that Happy Ever After ending. On the other hand, I personally like to read all kinds of books, not all of them romance, and I always appreciate it when a book ends the way it should (happily or not.) I don't always write romances and often have what could be called ambiguous endings...but I always try to make the endings right for the story.

Sophie: Yeah, Alex. He's a very very popular character! I don't have any plans for him at the moment but that doesn't mean he won't have other stories.

Clio: Yeah, I have Room on my wish list. Since I wanted to write a book about that situation. LOL!! I guess I'll have to write something else now. :/
(Megan Hart 10:43am December 19, 2010)
I like the premise and the promise in your book, it sounds like a real page turner.
(Alyson Widen 7:36pm December 27, 2010)
Registered users may leave comments.
Log in or register now!