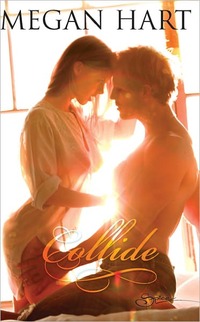 Purchase
Harlequin Spice
June 2011
On Sale: June 28, 2011
352 pages
ISBN: 0373605579
EAN: 9780373605576
Hardcover
Add to Wish List

FORCED TO CHOOSE BETWEEN LUST AND LIFE…
SHE'LL TAKE LUST.
A childhood accident left Emmaline vulnerable to disturbing fugue states that last only minutes, but feel like an eternity. The blackouts are unsettling but manageable…until she meets Johnny Dellasandro. The reclusive painter gained notoriety in the '70s for his debauched lifestyle and raunchy art films. His naked body has achieved cult status, especially in Emm's mind— she's obsessed with the man, who's grown even sexier with age. Today Johnny shuns the spotlight and Emm in particular...until she falls into a fugue on his doorstep.
In that moment she's transported back thirty years, crashing a party at Johnny's place in his wild-man heyday— the night is a blur of flesh and heat that lingers on her skin long after she's woken to the present.
It happens again and again, each time-slip another mind-blowing orgy, and soon Emm can't stop, though every episode leaves her weaker and weaker. She's frightened by what's happening to her, but she's even more terrified of losing this portal to the Johnny she wants so badly. The one who wants her, too, and takes her— every chance he gets.
Comments
1 comment posted.
Re: Collide

When I read "mind-blowing orgies" in the 70's, I assumed Collide contained some element of sexual adventure. So I was surprised to find that the story had much more in common with a traditional male/female romance. COLLIDE is a well-written and fascinating tale of the relationship that develops between Emm and Johnny on two levels. In present day, he is the older artist and former B-movie star who catches her attention. In the fugue states she falls into as a result of a childhood brain injury, he is the you young, passionate, and lost Johnny of the movies. I really liked Emm and Johnny together, past and future. I enjoyed to "time travel" element and the uncertainty about what was really happening to Emm. The story had strong erotic elements, though orgies were only implied ;-)
(Maria Munoz 12:31pm May 29, 2011)
Registered users may leave comments.
Log in or register now!