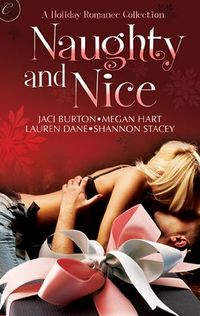 Purchase
Carina Press
December 2010
On Sale: December 6, 2010
ISBN: 1426890826
EAN: 9781426890826
e-Book
Add to Wish List

Romance Erotica Sensual | Romance Anthology
Holiday Sparks By Shannon Stacey
House-sitting for her parents seemed like a good idea, until the microwave blew up and the lights went out.
Now Chloe Burke thinks upgrading the electrical system of her childhood home while they are away would make the perfect Christmas gift. Fortunately, there's an electrician in town who can get the job done by the holidays.
Scott Quinn has wanted to get his hands on the Burkes' wiring for almost as long as he's wanted to get his hands on their daughter. Chloe didn't notice Scott back in high school, but she's noticing him now, and soon they're indulging in a little festive fun: no strings, no expectations. After all, Chloe plans to get out of this goldfish bowl of a town and back to her real life in Boston by New Year's.
But Chloe and Scott discover they enjoy each other's company just as much out of bed. Could their holiday fling turn out to be the real thing?
All She Wants For Christmas By Jaci Burton

Big Star, Small-Town Christmas
Country singer Riley Jensen would never have returned to her small Missouri hometown if her publicist hadn't come up with the scheme to tape a Christmas special there. So she never would have known that the man who broke her heart at eighteen-causing her to flee to Nashville-was now a widower with a seven-year-old daughter. Riley has ten years of angst-filled hit songs and Grammy awards to prove she doesn't need Ethan Kent. But suddenly, she can't help thinking of all she gave up by running away...
Ethan Kent knew Riley had the talent and the drive to make it as a singer. He also knew she wasn't going anywhere if she stayed in their nowhere town for him. Then one night and one huge mistake sent her running on the road to fame. Which doesn't mean he ever stopped loving her...
But with so much separating them, can Riley and Ethan find their way back together one magical country Christmas?
Unwrapped By Megan Hart

Naughty is Nice
Newlyweds Leah and Brandon Long are finally taking a honeymoon. But just a few days into their Christmas-in-Vail vacation, Leah takes a tumble on the slopes, severely spraining her ankle. Being stuck indoors isn't so bad though: the luxurious chalet boasts a hot tub and cozy fireplace. Besides, sitting with her feet up while Brandon serves her in every way a man can serve a woman is exactly how both of them like to spend their time.
Leah would be in heaven, if only Brandon didn't insist on playing with the dynamic of their relationship. With kinky sex and deep conversation the only things on the agenda, Leah can't avoid the discussion of how things might change. Will she be ready to take their marriage to the next level in the New Year?
Believe By Lauren Dane
Their First Christmas, Bound Together...
All Jude wants for Christmas is Rori, all to himself. It's their first holiday season as a couple, and staying home, seeing friends and family, means they'll be surrounded by the memory of Rori's late husband. It's time for Jude and Rori to create their own traditions. Time for them to fully explore their most intimate desires to dominate and submit.
Rori is thrilled when Jude whisks her away to a luxury resort in the mountains. Spending Christmas away, just the two of them, is the perfect time to show him she's ready to give herself to him completely...
Comments
1 comment posted.
Re: Naughty and Nice

This was my first Carina Press anthology, and I am happy to report that I thoroughly enjoyed all the stories. I have already started looking for books and novellas by these authors. I hope Jaci Burton will be giving each of the remaining Kent boys his own story. The "nice" stories were romantic and tender, with just a little spice. The "naughty" stories were hot and focused on passion within a marriage. If you're like me and enjoy treating yourself to a holiday story, I highly recommend these four which can be purchased as an anthology or individually (if you prefer to choose between nice or naughty).
(Maria Munoz 5:42pm December 17, 2010)
Registered users may leave comments.
Log in or register now!