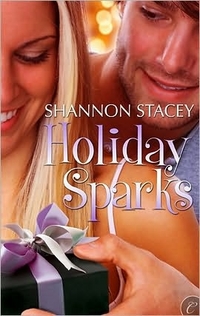 Purchase
Carina Press
December 2010
On Sale: December 6, 2010
Featuring: Scott Quinn; Chloe Burke
ISBN: 1426890850
EAN: 9781426890857
e-Book
Add to Wish List

House-sitting for her parents seemed like a good idea, until the microwave blew up and the lights went out.
Now Chloe Burke thinks upgrading the electrical system of her childhood home while they are away would make the perfect Christmas gift. Fortunately, there's an electrician in town who can get the job done by the holidays.
Scott Quinn has wanted to get his hands on the Burkes' wiring for almost as long as he's wanted to get his hands on their daughter. Chloe didn't notice Scott back in high school, but she's noticing him now, and soon they're indulging in a little festive fun: no strings, no expectations. After all, Chloe plans to get out of this goldfish bowl of a town and back to her real life in Boston by New Year's.
But Chloe and Scott discover they enjoy each other's company just as much out of bed. Could their holiday fling turn out to be the real thing?
Comments
32 comments posted.
Re: Holiday Sparks

I am thankful for HEAs in romance stories, Alpha males who are tender-
hearted, and heroines who are feminine but stick up for themselves....

My fave pie is pumpkin or pecan. Delish!

Congratulations on your release!
(Deb H. 9:23am November 24, 2010)
This is such a special time of year that I celebrate by reading my romances. They are perfect for the cold blustery weather and make me appreciate my hubby and family. In today's world HEA is just what I need.
(Rosemary Krejsa 9:38am November 24, 2010)
My fav thing about romances are the HEAs... no matter what the characters go through, the get their HEA!
My fav pie is my grandmother's recipe for pumpkin pie!!!
Wishing everyone a wonderful Thanksgiving!!! Enjoy! :)
(Colleen Conklin 12:34pm November 24, 2010)
Romance is still on the agenda at 81.
Blessings,
Marjorie
(Marjorie Carmony 12:34pm November 24, 2010)
What I like best are Historical romance and then paranormal and I read them year round,But I do love the holidays and all the family time. My Favorite pie is pecan and carmal apple.
(Vickie Hightower 12:46pm November 24, 2010)
I just like it when an author captures that bright shiney and new feeling you get in a new relationship. If they can capture that I'm in!
(Michele Powell 1:15pm November 24, 2010)
I love the HEA and the journey there. It brings hope. I think the sex scenes are helpful too...I know our sex-life has gotten a lot better...hehe!!!

Valerie
in Germany
(Valerie Bongards 1:28pm November 24, 2010)
I enjoy romantic novels because they are usually light and have happy endings and I can relax and just enjoy.
(Sue Farrell 1:51pm November 24, 2010)
Tomorrow I'm going to be thankful for romance novels because I won't have to watch TV! I've always loved reading but since getting married that pleasure has gotten be thru some very tough times - baseball season, football season, soccer, etc. First it was my husband and then sons growing at home. They both left and got married but since the addition of cell phone and the internet they can all be watching the ball game in different states and still be in constant contact! Thanks for all the wonderful romance books that have kept me from unplugging the TV and putting it the closet - backward (which in the past I have threatened to do).
(Jeanne Miro 1:52pm November 24, 2010)
love the romance and passion. More than that i love to read it.
(Anthonia Sharp 1:57pm November 24, 2010)
This is my kind of book, one that ends happily ever after. Friends laugh at me when I check the end of a book before buying it.
(Anna Speed 2:17pm November 24, 2010)
I love romances for the HEA's and they are a great way to escape from the everyday.
(Valerie Cubsted 2:40pm November 24, 2010)
Life without love is like running out of air.
(Mary Preston 5:07pm November 24, 2010)
They're a great form of entertainment that can be taken anywhere and enjoyed. The stories are funny, emotional, filled with suspense and I love reading them.
(Leni Kaye 6:22pm November 24, 2010)
I just love good story telling.
(Maria Munoz 6:40pm November 24, 2010)
I know I will enjoy this book, this is the kind I live to read!
(Joyce Bruner 6:47pm November 24, 2010)
Romance warms me up and makes me feel nice and muhy!
(Diane Sadler 7:23pm November 24, 2010)
When I pick up a good book, I get buried nose first (upside down as I 'dive' in) up to my toe nails in it. I am not 'here' any more. I am in the book. I love to read.
(Donna Erwin 7:36pm November 24, 2010)
The reason I love romance novels is because for that part of time that I'm reading the book, if it's well written, not only can I forget things that are on my mind, but I can put myself in the place of the main character at times, and pretend that I'm her, living a wonderful, life with no cares in the world, with a man who has no faults (usually). The parts I can get lost in can't be written in this section, of course, but it's easy to get lost in a book, and I've placed myself in many a book. After the hardships of losing my house a couple of years ago and having to live in a pop-up camper for a while, it isn't hard to do. lol Even reading Benji would be romantic at that point, but all kidding aside, I'm sure every woman would love to be a main character at one time or another.
(Peggy Roberson 7:50pm November 24, 2010)
I love a HEA ending too! And the thrill of infatuation .

I love chocolate pie
(Sharon Stogner 9:08pm November 24, 2010)
I love my Mother In Law who we brought home to die instead of putting her in a nursing home. It is difficult but a definate labor of love. She is still able to tell us she loves us, or where it hurts, which helps us help her. We don't know how long we'll have her but we will always be happy we did this.
(Brenda Rupp 9:16pm November 24, 2010)
I love the HEA endings in romance books. Reading romance books helps me keep a positive attitude! :)
(Anna McKenrick 11:33pm November 24, 2010)
Happy Thanksgiving!
(Joelle Beebe 8:29am November 25, 2010)
I'm a sucker for romance novels. They give me hope there is a guy out there for me.
(Pam Howell 11:38am November 25, 2010)
I am so thankful for my family and that we've found a wonderful place for my 88 year old mother to live. I read romances because I love that everything turns out wonderfully in the end.. So much of real life doesn't -- but romances holds out the hope for everyone... Give me chocolate pie.. well just give me chocolate!
(Cate Sparks 6:08pm November 25, 2010)
You about covered it. Knowing that everything in the story will work out. If I want real life, I will watch the news (or my family drama). I love the HEA endings. I love knowing the couple will end up together.

And I love pumkpin pie. Well, you asked ;D
(Victoria Colyer-Kerr 8:54pm November 25, 2010)
I love historical romance because it takes me away from my everyday life of hard work, messy house and teenagers!
(Molly Wilsbacher 11:01pm November 25, 2010)
romance novels are great escapes from the everyday living. Pumpkin pie is the best and homemade apple pie runs a close second if the crust is good.
(Alyson Widen 12:05pm November 26, 2010)
I love all romance books they are a perfect escape from the day. Thank you
(Barbara Ryan 1:28pm November 26, 2010)
It makes me feel that there is still a chance for romance for me, somewhere out there, probably standing in my favourite chocolate shop, looking at the handmade truffles and deciding to buy me a box! Oh, well. I can dream, can't I?

As for pie, French Silk does it for me.

Later,

Lynn
(Lynn Rettig 2:24pm November 26, 2010)
Romance gives me hope. Especially romance where the heroine is not a beautiful cheerleader, but an ordinary girl who doesn't always realize her own worth. There are plenty of us out there!

But not only do I enjoy reading romance, I enjoy writing it. I love writing that special story which is uniquely mine, and sharing it with the world.

And pie...chocolate creme, cheesecake with whipped cream, and good ol' apple. Mmmmmmm.

Thanks for posting.

GA Lanham
author An Unlikely Place
www.scalesnailsanddragontales.com
(Georgia Lanham 9:20pm November 28, 2010)
I am thankful for Romance books and happy ever after, for in real life, it's not always that way......so many bad things happening in our world, war, death's, global changing, etc........so I love to snuggle up with a nice romance books with a happy ending.......yes, it brings peace and comfort for me.
(Joanne Bozik 3:10pm November 29, 2010)
Registered users may leave comments.
Log in or register now!