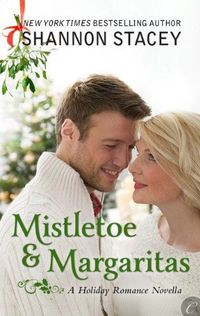 Purchase
Carina Press
December 2011
On Sale: December 10, 2011
Featuring: Claire Rutledge; Justin
ISBN: 1426892764
EAN: 9781426892769
Kindle: B005Z1CUK2
e-Book
Add to Wish List

Other Editions
e-Book (December 2011)
Heating up the Holidays
Claire Rutledge still believes in love, despite losing her husband. So, after two years, she's not surprised by the steamy dreams telling her it might be time to start moving on. But she didn't expect her friend Justin to have the starring role.
Justin McCormick has loved Claire since the moment he first saw her, but his best friend got there first. Now that Claire is ready to move on with her life, Justin is finding it harder than ever to hide his true feelings. And when they both get caught up in the holiday spirits at a party, their simmering mutual attraction boils over into a night neither of them can forget…
Comments
43 comments posted.
I lived in New England for 52 years and have been in FL for 12 - I'd move back to New Eng. in a heartbeat but hubby loves it here! Of course I'd have to take a 3 month vacation during Jan, Feb and March.
(Karen Gervasi 7:40am December 10, 2011)
I'd love to go back to Ireland and take a month off and explore Scotland too and Germany.
(Molly Wilsbacher 9:18am December 10, 2011)
I have lived in Pennsylvania and Illinois. I don't mind some change in season so I don't think I'd move where it is always hot and sunny. But I would like to live where it doesn't get under 32 very often.
(Patti Paonessa 9:50am December 10, 2011)
Absolutely some place warm all year long. I cannot sta the cold, snow and ice. One day hopefully I will be where it is always warm...
(Dawn Staniszeski 9:50am December 10, 2011)
I like the 4 seasons. I lived in NJ until 11 and I didn't notice how much more snow NJ gets than IL. I'm thankful I live in IL when I hear about how bad the winters have been on the east coast in the last few years.
(Anne Muller 12:07pm December 10, 2011)
I would love to live in Switzerland, in the alpes to be more specific.

And yes you get the changeof seasons there.
(Ute Heikaemper 12:21pm December 10, 2011)
I've lived in the North all my life, and wouldn't change it for the world - but then again, the furthest South I've ever been is Tennessee. That state is beautiful, but I was always happy to return home. Even with my health problems, the cold weather affects me to the point that I have a hard time walking, but I wouldn't change the glistening snow that I see out my window for anything in the world. I love to watch the birds out my window, too, as well as the deer. Now that I'm in the country, I'm more appreciative of the seasons. I'm disappointed that this is another digital book contest, because I don't own an e-reader, and won't be getting one any time soon. Have a Merry Christmas and a Happy New Year!! I really enjoyed your post today!!
(Peggy Roberson 12:21pm December 10, 2011)
Um..... haha if money is no concern can it be no concern ever? Cuz... I'd totally live in a subtropical area on the water. Although I'm insanely partial to fresh water. Is that even possible/does that exist?
And then I'd just travel to places if/when I wanted weather. I do love having four seasons, but I think I'd love having the choice of when I get those seasons most of all. :P I absolutely adore spring and fall though. All the budding flowers and trees, and the changing colors. <3 I think I'd be pretty okay living in some fabulous waterfront estate in Australia or NZ though. Heh. Because it'd be such a sacrifice. :X
(Elle C 12:26pm December 10, 2011)
FOR ME, IT'S THE BEACH , HANDS DOWN!
(Silvana Moscato 12:33pm December 10, 2011)
I live in south Texas now, and it's fine. I grew up in south Louisiana, and really, Shannon, the alligators don't come into the backyard all that often! I think where I would choose to live would be based on people--next to family, especially grandkids--more than seasons or climates.
(G S Moch 12:36pm December 10, 2011)
I love the 4 seasons... I have not seen snow in years and miss it...
(Colleen Conklin 12:57pm December 10, 2011)
The comments made by GS Moch could have been written by me. I agree completely with them, even to the section about being from southern Louisiana.
(Anna Speed 1:10pm December 10, 2011)
I lived in Virginia most of my life except for a number of years in Paris, France.
The damp cold of Virginia went through my bones and Paris, while a gorgeous
place is almost always chilly even in the summer. When I was a little girl, I
found out that there was a place in the U.S. that did not have cold winters. It
was called Florida. I swore to myself that I would live there one day. Well,
now we are retired and living our dream here in south Florida. I love it! Yes,
up north the trees in autumn are pretty and a snowfall is lovely, however, I'm
happy just to experience it all by photo! Love warm weather!
(Connie Fischer 1:26pm December 10, 2011)
Give me the change of seasons. I can not imagine not having the senses missing out on leaves, snow, spring bulbs and the 4 seasons in general.
(Alyson Widen 1:31pm December 10, 2011)
If I never saw another winter I think I would be okay with that so I would pick Hawaii for my dream place to live.
(Maureen Emmons 1:35pm December 10, 2011)
I occasionally like the change of seasons - but if in my fantasy world I could go anywhere - do anything - hop on my private plane & go to Australia when I'm tired of being COLD or HOT - basically go wher I'm in the mood for :)
(Pamela Faye Howell 1:54pm December 10, 2011)
I wouldn't miss winter actually... It's hard to miss it in Toronto when you see it ALL the time.... I would love to live in a warm place all year around...
(May Pau 2:19pm December 10, 2011)
Hi Shannon, I live in central Florida and this is where I plan to stay. Yes, the summers do get hot, but in October the weather does change and fall sets in. Our winters are mild and the tees and shorts are only for the snowbirds. There is no snow and for the few days that it really gets cold, I can tolerate it, it kills the outside bugs. Florida
has such different areas, but this is where I love living.
(Rosemary Simm 2:33pm December 10, 2011)
I have always dreamed of living in Europe, to live in Sicily where my family is from, to explore the Aeolian Islands and the Amalphi Coast. I currently live in So. Fl. and love it, the colors, the ocean, the slight tempature changes in winter - I feel better in my body, mind, and spirit. I used to live where I couldn't find my car under the snow for days, and the cold would settle in and I would never feel warm.
(Carla Carlson 3:25pm December 10, 2011)
I love Christmas stories at this time of year.
(Marilyn Legault 3:45pm December 10, 2011)
Although I love the warm weather, I do love the changing
seasons. But I have always wanted to live in Paris, France.
(Margay Roberge 3:55pm December 10, 2011)
I'd love to move to a warmer climate during the winter.
(Wilma Frana 4:23pm December 10, 2011)
I'd like to live where you can enjoy all four seasons.
(Mary Smith 4:51pm December 10, 2011)
Hi Shannon! I've lived in both MN. and WI., so I'm familiar with and do enjoy the four seasons of the year. However, when it's bitter cold or we have huge snowfalls and blizzards, I'd love to be living in Hawaii or in a tropical place with warm breezes and a beautiful beach to relax on! I can remember many times the minus zero temps in MN. and frozen car doors (no fun)trying to get to work or getting out of work and having to keep a shovel in the trunk to shovel my way out to get my car out to make it home. But I can't complain about the other seasons and fall being so beautiful with all the color of the trees on the bluffs which is so breath-taking. Wish you were offering a paperback over ebook format for your giveaway, since I don't own any type of e-reader, and I'd love to read this book. Merry Christmas!
(Linda Luinstra 5:11pm December 10, 2011)
I'd pick Ashville, NC... It's lovely, has seasonal changes, close to the coast, yet not flat like a pancake..
(Cate Sparks 5:18pm December 10, 2011)
i have lived in many places but the best place is fl.. what can beat the sunshine ..
i live we have seasons. it's a great place to live with interesting people and lots
of history.
(Teri 6:28pm December 10, 2011)
I grew up in New York, but sa a military wife, spent 24 years living all over. Now I live in Florida. For me, I love the seasons.
(Robin McKay 6:49pm December 10, 2011)
germany or maine
(Jennifer Beck 8:26pm December 10, 2011)
I am a New Englander thru and thru. Give me the seasons! I have lived here
almost 70 years, have traveled the country and still New England is home. Where
my husband is is where my heart is.
(Sandra Spilecki 8:44pm December 10, 2011)
I've lived all over the US. I need the changing seasons too. I couldn't live where it is warm and sunny all of the time. I think it would freak me out.
(Stacie Deramo 9:37pm December 10, 2011)
i lived in ny I live in colo now I love the 4 seasons
(Kathy Weber 9:40pm December 10, 2011)
While living in Nebraska the four seasons can change week to week. If I could eliminate winter, I'd stay here in eastern Nebraska; but since I can't I'd choose to live in Hawaii.
(Joanne Hicks 9:56pm December 10, 2011)
I;m torn - I like the four seasons, but I miss the warmth in Southern California
too. You book sounds great - I love a friends to lovers story. Off to buy it.
(Tammy Yenalavitch 10:09pm December 10, 2011)
People often tell me I'm nuts, because I was born in Florida, currently live in Delaware, and my hubby and I have already purchased retirement property in Maine. We figure, it's just as easy to be indoors with the heat on than to be indoors with the air conditioning on. :)
(Donna Holmberg 11:10pm December 10, 2011)
I would prefer it if it's sunny year round, somewhere tropical.
(Jan D 11:20pm December 10, 2011)
Hubby and I were born and lived 42 years in the midwest. We now live in phoenix. I would not trade it. When we go back to illinois to visit and it snows, its fun. As long as it isnt too much and not too cold. haha We are the silly ones that now shiver when it is 70 degrees. haha But we love it here. And in january, when we are sitting in the lovely sun in our shorts, we remember why we love it so much.
(Lisa Hutson 12:01pm December 11, 2011)
I prefer warm weather for I love to work in the yard.
(Gladys Paradowski 12:14pm December 11, 2011)
I love having four seasons. Of course, I've never known anything else. I would hate to live where it's hot most of the time. My favorite seasons are spring and fall. I love all the oolors and also the cooler weather.
(Carol Woodruff 12:15pm December 11, 2011)
I'd live at the beach, the more tropical the better. I don't think I could ever get sick of the sea.
(Tara Smith 3:09pm December 11, 2011)
I am an East Coast person - lifetime resident of the Philly area - and will take the uncomfortable heat any day of the week - and would love a home "down the shore"!
(Felicia Ciaudelli 7:14pm December 11, 2011)
I live in the foothills of NC and would not change it for
the world. We definitely have seasons, snowy weather and hot
pool weather. I don't like alligators or 2 feet of snow!
While we NEVER have the alligators on occasion we do get
bitterly cold weather with 1 foot of snow. This means I
don't leave the house but pile up next to the fireplace or
woodstove with a pile of books till the thaw happens.
(Lisa Richards 8:09pm December 11, 2011)
I'd like a place where it is 70 degrees and sunny all the time. Maybe Hawaii would be good for me. But then I'd miss my snow here in Minnesota---except we have no snow this year and brown in so depressing.
(Sue Farrell 11:14am December 12, 2011)
I love living in Florida. Though it is middle of December,
we're wearing shorts and tank tops still during the day. And
in the evenings, we through our windows wide open to welcome
the chilled air!
(Angeles W 3:55am December 14, 2011)
Registered users may leave comments.
Log in or register now!