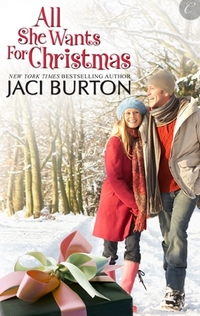 Purchase
All She Wants for Christmas
Jaci Burton
Carina Press
December 2010
On Sale: December 6, 2010
Featuring: Ethan Kent; Riley Jensen
ISBN: 1426890877
EAN: 9781426890871
e-Book
Add to Wish List

Big Star, Small-Town Christmas
Country singer Riley Jensen would never have returned to her small Missouri hometown if her publicist hadn't come up with the scheme to tape a Christmas special there. So she never would have known that the man who broke her heart at eighteen—causing her to flee to Nashville—was now a widower with a seven-year-old daughter. Riley has ten years of angst-filled hit songs and Grammy awards to prove she doesn't need Ethan Kent. But suddenly, she can't help thinking of all she gave up by running away...
Ethan Kent knew Riley had the talent and the drive to make it as a singer. He also knew she wasn't going anywhere if she stayed in their nowhere town for him. Then one night and one huge mistake sent her running on the road to fame. Which doesn't mean he ever stopped loving her...
But with so much separating them, can Riley and Ethan find their way back together one magical country Christmas?
Comments
9 comments posted.
Re: All She Wants for Christmas

I really like to read this book for I like small towns myself, I live in a small kinds town, I know my 2 neighbors but not like I did when I was gorowing up, but we do watch out for each other. I live in the country, but these days are changing where were all too busy to get to know each other, but I like the quietness that we have here. Happy holidays to you and I'm going to look for your book..
(Carole Fiore-abshire 7:56am December 7, 2010)
I, like you, grew up in a large town. I thought that was my lot in life up until about 3 years ago, when fate put me in a small town. I wouldn't give up my life for anything now!! I have new friends, as well as a new way of looking at life. This is also a farming community, so I've done a complete 180, as far as getting used to things around here. There's really no such thing as running up to the corner store, or walking down a paved street. When it gets dark, you can't see your hand in front of your face!! When you look at the sky at night, it's almost as if you can reach out, and grab a star for your very own!! You'll have to take me out of here kicking and screaming!! I'm never going back to the city to live again! Give me the one stop light town any day!!
(Peggy Roberson 12:37pm December 7, 2010)
Living in a small town myself really draws me to this story. I grew up in a village but when I was in junior high my family moved to a city. Moving to a city across the country for college and than another move and marrying in another city, I was thrilled when my husband and I moved to a small town before we settled down to have children.

While one still lives in the area the other moved and even though he lives in a city he and his wife decided to settle in an area that has that "small town feel". There is something about the sense of community that a small town has that can't be duplicated in big city life. The sense of feeeling safe in your neighborhood where neighbors become family and watch out and care for one another, are there to join in your celerations,encourage you when times are trying and support you through illness and sometimes are even the family you might never have had.

Thanks for setting your families in "my kind of town" - I can't wait to read it!
(Jeanne Miro 1:07pm December 7, 2010)
Hi ladies, and thanks for commenting. I totally agree about small town life. It's
just a slower pace, warmer atmosphere and a chance to really get the know the
people you live around. I love living it and writing about it. :-)

Happy Holidays to you!
(Jaci Burton 1:59pm December 7, 2010)
Small towns generate a different vibe in fiction as in life.
(Mary Preston 4:41pm December 7, 2010)
I live in a small town and have lived in small towns all my life at times it's great and at time's not so great but our town is close and we stand by one another when in need but we also know more anout one another then I would like but you have to take to good with the bad.
(Vickie Hightower 6:01pm December 7, 2010)
I loved bringing up my children in a small town, less than 10,000 people lived there. You knew so many, talked to everyone you saw, met at different functions and hung out at parks and school meetings together. And my children always had friends to hang out with, to study with and have fun. I miss that.
(Diane Sadler 9:12pm December 7, 2010)
I thought my hometown was small, but at 13,000 people it kept the flavor of a small town with a village square and Main Street of Broadway. I like reading about small towns too and how everybody knows stuff practically right away.
(Alyson Widen 2:59pm December 8, 2010)
I grew up more at my Grandmothers home than mine. She lived in a small town, still does and I would sit in her window seat at night over main street and watch people come and go. My Grandpa was the editor and owner of the newspaper and they had an apartment over the press office. I loved that small town and still do! I love reading about them!
(Brenda Rupp 11:18pm December 8, 2010)
Registered users may leave comments.
Log in or register now!