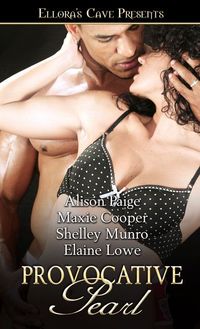 Purchase
Pearl
Ellora's Cave
September 2009
On Sale: September 20, 2009
232 pages
ISBN: 1419959883
EAN: 9781419959882
Paperback
Add to Wish List

Romance Erotica Sensual | Romance Anthology
Soul of the Seaby Alison Paige
The perfect pearl, a sea's soul, given by her true mate, can bind a mermaid to the man and the sea forever. Marina never wanted to be bound to anything. But then she meets Michael Sandbar, a human she can't resist and can only have if she gives up everything she never thought she wanted.
There's no place Michael Sandbar would rather be than the open water hoping his childhood fantasy love, a mermaid he saw years ago, isn't a fantasy at all. But when he meets Marina, he'll have to risk everything, body and soul, to have her.
The Last Pearlby Maxie Cooper
She's known simply as Pearl, a master in the art of sexual pleasure whose services are sought after by men from all over the world. Many apply for her training, but only a few are chosen. Once accepted, an applicant receives intense one-on-one training in the art of lovemaking, with full access to Pearl's home, her vast sexual knowledge and her body.
For one man, that's not enough. Unbeknownst to Pearl, her newest student has been fantasizing about her for years. But for Rafe to claim Pearl as his own, he'll have to school his teacher in opening her heart — one of the hardest lessons of all.
Lovers at Lastby Shelley Munro
Pearl's master plan to catch a rich husband — results so far…A for effort, F for success.
Justin Collet wants way more than friendship from Pearl. He craves love, laughter and hot, down-and-dirty passion. A life partner. All he needs to do is convince Pearl.
A broken relationship, a few drinks and a string of pearls. Comforting Pearl takes a turn into carnal territory. Heat blossoms between them, fiery and consuming. Sweet kisses inflame and erotic whispers tempt. It's all or nothing for Justin as he seduces Pearl into agreeing they're lovers at last.
Sea of the Pearlsby Elaine Lowe
Standalone sequel to Seeds of Garnet.
After a company shakeup, cast-iron bitch Ivani Gorl finds herself powerless and on the edge of a nervous breakdown. Time for rest and relaxation. Saving Lake Silith on planet Lithos presents a beautiful challenge.
Hydrologist Garom Sesh is also at the lake. But he doesn't just live for the water, he breathes in it. A merman, Garom resents being chained to this planet. Though the water is silky, the pearly pebbles stuck in his gills are driving him mad!
Nothing lots of steamy, wet sex won't fix. And Ivani is more than willing to work very, very closely with him.
Comments
No comments posted.

Registered users may leave comments.
Log in or register now!