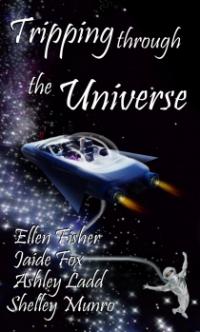 Purchase
New Concepts Publishing
August 2005
Featuring: Captain Steven T. McNeill; Chyna Lin; Ekim Ramuk
ISBN: 1586085972
e-Book
Add to Wish List

Romance Erotica Sensual | Romance Paranormal | Romance Anthology
Take a romp into a future gone wild.... Boldly going where no woman has gone before, four women sift through the rubble of disaster in search of love and passion....
Farthest Space: The Wrath of Jan by Ellen Fisher: Stranded on a remote planet with Captain Steven T. McNeill, the galaxy's biggest playboy, and facing deadly dangers that include starvation and large, hungry saber-toothed cats, Vaish's deepest desires should be survival and escape. So why do her desires seem to focus on how sexy her captain is instead?
Earth Girls Aren't Easy by Jaide Fox: Rebel Earthling, Chyna Lin has just been "presented" the "opportunity" by alien King Darion Jatara to bear his children. She has two problems with that. One--he's a real ass. Two--she has every intention of escaping.
Fully Functional by Ashley Ladd: Shannon tests Gregg's new "smart" house and androids to get closer to Gregg, even though it's against her better judgment to trust the mad, if hot, scientist. Things get crazy when the randy butler android tries to prove how "fully functional" he is, the bots hold her prisoner in her own house, and they plot world domination. Only Gregg can save her--the same man who sent remote control cars crashing through her living room and caused her hair to catch on fire.
Interplanetary Love by Shelley Munro: Ekim Ramuk, of the planet Nidni, is famous. Women are falling all over themselves to bed Nidni's greatest lover, but Ekim has a dark secret. He's a virgin. When a drunken impulse leads to Carly into signing up with a dating agency she's expecting the worst. Instead, she ends up with Ekim--a god on two legs. There has got to be something wrong with this picture...
Rating: Contains graphic language, explicit sexual content, and violence
Comments
No comments posted.

Registered users may leave comments.
Log in or register now!