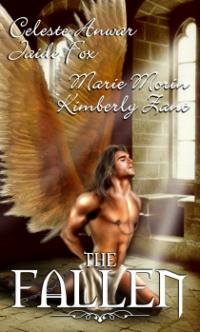 Purchase
New Concepts Publishing
August 2005
Featuring: Kylee; Danielle Logan; Nicole
ISBN: 1586086251
e-Book
Add to Wish List

Romance Anthology | Romance Paranormal | Romance Erotica Sensual
Before the dawn of man they walked the Earth. In time they passed through the gateway where no man could follow, but the Fallen, those who have lost favor, are banished to Earth until they can redeem themselves… Throughout time man has seen them as gods, above themselves, but despite their powers, they are a warlike race and once more a battle has begun for power.
Fallen Angel by Marie Morin: When Kylee's quest for justice leads her into the dark underworld of the city, two worlds collide and the Elumi, Gabriel, drawn unwittingly and unwillingly into her private war, becomes her sword of vengeance. But is the price too high?
Archangel by Jaide Fox: When scientist Danielle Logan inadvertently breaches the gateway, Archangel Kirin, guardian of the gate must stop her from opening the gates of Pearthen to human invasion--or die. He discovers, though, that Danielle is surprisingly determined to protect her invention. She will take convincing.
Blood Sin by Kimberly Zant: Nicole is a woman with a mission: retrieve the 'golden' seed of an Elumi known to flourish even in the womb of a woman unable to conceive. Gideon refuses to donate, which leaves her no alternative but to steal it. The vengeance of an infuriated Elumi, she discovers, can be ... interesting.
Dark Thrall by Celeste Anwar: Banished from his beloved Pearthen forever, Raphael can no longer bear his solitude. Desperation to end his loneliness drives him to search among humans for a life companion, a woman to bestow his child upon. Isabel isn't particularly thrilled to have the honors, especially when she discovers her hunk has wings and some very bad baggage.
Rating: Contains graphic language, explicit sexual content, profanity, forced seduction, and violence.
Comments
No comments posted.

Registered users may leave comments.
Log in or register now!