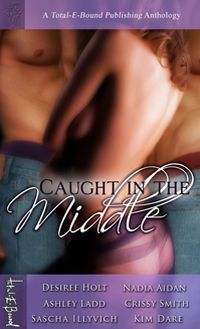 Purchase
Total-e-bound
May 2009
On Sale: May 1, 2009
ISBN: 1907280715
EAN: 9781907280719
Paperback
Add to Wish List

Romance Erotica Sensual | Romance Anthology
Swingtime by Desiree Holt
Lanie Burrell had heard about group sex, but how would she handle being thrust into the middle of a hot Saturday night party?
Lanie Burrell was shocked to discover the reason Cody Hawkins was the only other neighbour on their private little cul de sac. He needed the privacy for the swinging parties he hosted featuring the kind of uninhibited group sex she read about in the erotic books she reviewed. At the moment they were the most exciting part of her sex life.
Then Cody invited her to one of his parties, and she found a wildness within herself she hadn\'t known existed. And an attraction between herself and Cody that exploded like a big bomb on a short fuse.
Charity\'s Auction by Ashley Ladd
When Char bids on and wins both sexy doctors Hunky and Hottie in her hospital\'s charity auction, she knows exactly what to do with them and it\'s not tidily winks.
Although head nurse Char Reynolds is desperately head over heels for bad boy Dr. Dexter Graham, he\'s moved on. Still she gets caught up in bidding for him at the hospital\'s auction for the new children\'s wing and wins. His smug expression drives her to also bid on and win the very hunky Dr. Ben Price, Dexter\'s nemesis and to plan a very naughty, very sexy night with both men.
Between Tooth and Paw by Kim Dare
Caught between two dominant men until they learn to settle their differences, all Jasmine can do is submit - and enjoy.
Thrown in between the future alpha of all the werewolf packs and the next head of all the vampire clans - the entirely human Jasmine Neal is charged with the task of helping the two younger men to forget their differences and set aside their hatred for each other.
Offering Stafford and Hayden her submission is easy. Offering them her body brings her nothing but pleasure. But she\'s only been sent to submit to them for one night. When the council of elders return to discover if their scheme to settle the men\'s differences is successful, she knows that the joy she finds with the two men will be over.
Mating Season by Nadia Aidan
Two master vampires, one werewolf in heat, and the primal spell of the full moon - it\'s definitely mating season.
Detective Collette Talbot is happily overworked and up to her knees in cases. With the busy life she leads, she doesn\'t have the time or energy to find a mate and settle down to have his pups. But with her mating season just a week away she may not have any choice because when she goes into heat every lycan within a mile of her will be at her door. Good thing she has two sexy candidates in mind that would be perfect to help her out with her little problem.
Two master vampires, one werewolf in heat, and the primal spell of the full moon - it\'s definitely mating season.
Magical Ménage by Crissy Smith
Non-practising witch Madison Montgomery can\'t decide between the vampire and werewolf...is it possible to have them both?
Madison Montgomery craves and wants two very different men. Instead of choosing one, she avoids both. Tired of waiting for her to make up her mind, Master Vampire Dante and the local wolf pack\'s Alpha Tom come up with an agreement of their own. If she won\'t choose one of them, she\'ll have both.
The pleasure she\'s given is more than she ever thought possible. One night will never be enough. If she thought it was hard to pick one of them as a lover, once she has them both, it is next to impossible to imagine being without both of them. When Madison gets a visit from the past, Dante and Tom have to work together to keep her safe. Once that is accomplished, they just have to talk her into permanently accepting a threesome.
Trouble for Three by Sascha Illyvich
One hot woman, two incredibly handsome gentlemen, how can this get any better?
Fed up with stupid men who can\'t decide what they want, Anneke leaves work one afternoon and ends up going out with a few girlfriends only to spy two cute guys watching them. Specifically, they\'re both paying attention to her.
Wondering what it would be like to have them both to herself, Anneke arranges to meet the guys sans her girlfriends just so she can get into a little trouble on her own!
Comments
No comments posted.

Registered users may leave comments.
Log in or register now!