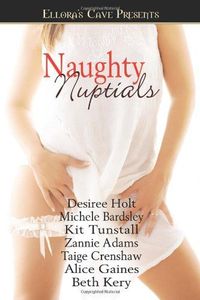 Purchase
Ellora's Cave
December 2009
On Sale: November 30, 2009
ISBN: 1419959298
EAN: 9781419959295
Trade Size
Add to Wish List

Romance Erotica Sensual | Romance Anthology
Once Upon a Wedding by Desiree Holt
Loraine McIntyre longs for just one weekend to let down her hair and find a man who will help her live out all her fantasies before her conventional wedding to her very conventional fiancé and continuing her very conventional life. Despite Stuart's protests, she knows she has to do this or she'll always feel she missed something in life. Goodbye Loraine, hello Rainie. And hello Joe, the sex god with lion's eyes she meets at the beach. Hopping on his motorcycle with him, she roars off to a weekend of the wildest sex anyone could ever want. But things are not always what they seem and life is about to hand Rainie a few surprises.
Bride Portal by Michele Bardsley
Mary Wolmack has lost her job, her dignity, and the key to her apartment. Cursed with being a "fat chick", she can't believe the hunk across the hall is interested in her. When he announces he's an alien prince whose people honor women of size, she realizes she's lost one more thing – her mind. Matthew Adams, aka Tek, Crown Prince of Kratania, has traveled through a magical portal to find his soul mate, the woman foretold to become his queen. When Mary refuses to believe they are meant to marry, he picks up the challenge to prove he's not an Earther, and takes her to his world and shows her all the ways Kratanian men honor their women.
Wrong Groom by Kit Tunstall
While in Vegas for her best friend's wedding, full–figured Jayne Daux decides to live a little and indulge in her greatest fantasy–a one–night stand with an incredibly gorgeous, sexy man. Patrick Maynard fills the bill magnificently. Patrick sets out to give Jayne a night to remember. He thinks Jayne is perfect and longs for more time to show her just how sexy she is. To make her see herself as he sees her. He relishes her ample curves, which bolsters her shaky self–image and allows her to shed her inhibitions for their one glorious night of hot, anything goes passion.
Comments
No comments posted.

Registered users may leave comments.
Log in or register now!