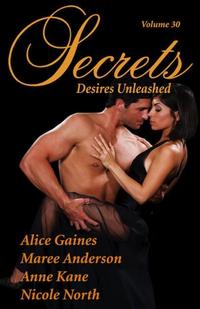 Purchase
Secrets #30
Red Sage
August 2011
On Sale: July 31, 2011
ISBN: 1603100105
EAN: 9781603100106
Trade Size
Add to Wish List

Romance Anthology | Romance Erotica Sensual | Erotic Anthology
Cox Club – Alice Gaines
At the urging of her best friend, Andi Crawford visits an exclusive club in order to find some sexual satisfaction after her divorce. The last person she expects to find at a place like Club Cox is her overbearing ex-husband, Blake. But, he's there and as tempting as ever. Can she maintain her independence, or will she surrender to the intense physical pleasure only he can give her?
Kat On a Hot Tin Roof – Maree Anderson
Workaholic architect, Jace Burton, inadvertently flashes Kat Meyer, who later turns up at a crucial meeting…and seduces him in the bathroom. She's one of the designers vying to impress him. And boy, is he impressed to discover her prowling his house—naked. Kat has no clue what's causing her nocturnal wanderings. And when Jace discovers she's the victim of a zodiac curse, will he fight to keep her, or run for the hills?
Kellen's Conquest by Anne Kane
Orphaned as a child, Mia's most cherished dream is to settle down and have a family of her own. Kellen may be the sexiest man in the known worlds, but he's AlphElite and when they settle down, it's with one of their own kind. When someone sets him up to kill her, Kellen decides to kidnap her and keep her by his side until he's sure she's safe. They traverse the stars, stopping to fight off a sentient reptile and enlist the help of Kaelin's teammates to find out who wants her dead, and more importantly, why.
Scoundrel in a Kilt by Nicole North
Brodie, Chieftain of Clan MacCain, is a dark, sensual Scottish scoundrel who loves nothing more than being a selkie shape-shifter, even if he has been cursed by a witch of the dark arts. Stunning modern day supermodel Erin Schultz blazes into his 1621 world like a falling star. Though he's certain she will shatter life as he knows it by breaking his curse, he can't resist her tantalizing seduction.
Comments
47 comments posted.
Super excited about your contest!!! Hope I win!! Good luck everyone!!
(Elizabeth Rodriguez 12:21pm August 25, 2011)
Hi Elizabeth, I'm excited, too -- this is really cool! Thanks so much for stopping by and reading my post.

Hugs,
(Maree Anderson 12:50pm August 25, 2011)
Hi I love the outline of your book and intend to read it soon. My cat is also a Alfie (but not for the same reasons as you named yours). The funniest thing he has done recently is get under the floor boards on the second floor and skittered about chuckling to himself. We were in the room below with our other cats who stalked up and down the room looking at the ceiling they were sure there was a rat in there! It took us hours to get him to come out the small hole he had found in the floor boards.
(Linda Guest 3:19am August 25, 2011)
One time we had to live way in the wilderness, taking my pampered, fat, male cat into the far reaches of his anxiety as he could go.. and myself, to be honest. There were snakes (copperheads to greet me at the front door), racoons (climbing onto the high deck at night), bats, spricket (spider+cricket creature), mice (which the cat kindly shared his food with), but the worst was while fumigating out of the attic dropped spiders bigger than any I have ever seen - my cat who was sitting atop the back of a chair leaped higher and ducked lower than I have ever seen him before or since.
(Carla Carlson 4:32am August 25, 2011)
OMG, Linda, that would have totally freaked me out for sure! My mom's cat has a habit of lurking in the ceiling. She's gotten herself stuck in all sorts of weird little tight spots. Just as well her "Daddy" is a builder, and knows how to get her out, LOL.
(Maree Anderson 6:31am August 25, 2011)
Carla, I'm cracking up at your description. Poor puss! And poor you! Still, at least your cat has enough sense not to try and eat the spiders.... unlike mine *eyeroll*

I don't mind spiders -- generally. But really big ones? *shudder*. When we lived in Wellington, we were haunted by huge big brown spiders--Huntsmen spiders, I think they were called Nothing worse than looking up at the ceiling while you're in the shower and finding one looking right back at you. I'm sure I got my first grey hairs around about then *g* And I'd often find one in amongst the washing that had gone into the clothes dryer -- all curled up and thankfully, dead. I don't miss those those things one bit!
(Maree Anderson 6:38am August 25, 2011)
I love fruits basket. That brings back some memories. I like that it inspired one of your stories.
(Pam Howell 7:57am August 25, 2011)
This books sounds great. The funniest thing my siamese Mittens ever did was one day I took out some frozen chicken breasts to start making dinner, had to go to the bathroom so I stuck them in the sink and dashed to the bathroom. While in there I heard banging, it sounded like someone was trying to break into our house. I quickly came out of the bathroom and went through the kitchen to the front door and saw Mittens in the sink. She had gnawed through the plastic bag and had eaten a corner of the frozen chicken breast. Crazy cat! On another quick story after taking the muffins out of the oven I set them on the table to cool. Went to get dressed and when I went back into the kitchen Mittens had eaten all of the tops of the muffins right off. Congrats Maree on your book.
(Christine Arcidiacono 9:14am August 25, 2011)
As a cat lover I will have to read this one!
Blessings,
Marjorie
(Marjorie Carmony 10:00am August 25, 2011)
The cutest funny thing my cat ever did was climb into the Christmas tree and fall asleep---I found him there when I got home from work.
(Sue Farrell 10:39am August 25, 2011)
This is one fantastic giveaway.
(George Ferris 11:10am August 25, 2011)
I was moving and asked my mother to watch my cat,Patty for a few days. She isn't the nicest person in the world, and I didn't know she was planning on making my cat stay in her bathroom. Apperantly, my cat would flush her toilet, and my mother had to go in and jiggle to handle to stop it from running. Patty, would escape from the bathroom when she opened the door. I guess this went on a few times, and my mother got tired of it and called me. So, I told her to let her out of the bathroom. She wouldn't,so I told her to stop going in there. As soon as she got off the phone, Patty turned on the water in the sink. Yes, I think my cat may be smarter than my mother sometimes.
(Debbie Penny 12:27pm August 25, 2011)
I was owned by a couple of black and white cats who both loved to pose. Any time they would see a camera in my hands (which, since I was taking a photography class was pretty often), they would start preening and posing and being too utterly cute for words. Those pictures keep them in my memories now, years later.

Many thanks for sharing your owner (Alf) with us!

Later,

Lynn
(Lynn Rettig 1:05pm August 25, 2011)
the bug you can have it any day but i can say you have some great covers on the books and would love to read any and all of them
(Desiree Reilly 1:25pm August 25, 2011)
I would love the chance to win this an ebook from your backlist. I look forward to collecting new authors, and I am very excited to getting to know your writting styel. Thanks! and best of luck to everyone!!
(Elizabeth Rodriguez 2:17pm August 25, 2011)
Love animals...have had many pets through the years... My parrot Oscar used to fly over to my bed in the morning and nibble on my nose and ears to wake me up...
Love anime, have not really gotten into manga yet... checked out some Naruto...
(Colleen Conklin 4:25pm August 25, 2011)
The funniest thing my dog has ever done was we were sitting around my sisters pool and our dog must have circled it a million times during the day. He was just calmly walking around the edge and just fell in. We were hysterical he just kind of tipped over and splash. I've never seen anything like it. Thanks for the great post and giveaway.
(Patti Paonessa 4:50pm August 25, 2011)
i love when my cat and dog play thru th esliding glass door until someone gets their nose smasshed...they do it quite regularly...on hot days i think that cat actually laughs at the dog....
(Chele Blades 4:52pm August 25, 2011)
Omigosh, I've just gotten up to check my emails (it's morning here in NZ) and these are fantastic stories! Thank you so much for sharing and helping me start the day with a smile! I have to go do the school run, now, so I'll be back to read them through in more detail, and talk to y'all in an hour or so. Have a great day/afternoon/night...
(Maree Anderson 5:14pm August 25, 2011)
One of my cats loved to rip and chew up rolls of toilet paper when he was a kitten. One day he was wrestling a MONSTER roll of toilet paper complete with growling. It was actually a roll of paper towels which was longer than he was. What. a. mess. I still ocassionally come home and find a roll of paper towels shredded and all over the floor and he's 4.

This same cat loves foam ear plugs. I had a pair in one night, and as I slept they fell out. He comes out of the bedroom growling with something in his mouth. I pry his mouth open and there was a foam ear plug. He knows which drawer I store them in and tries to get in it. He can smell them in my backpack when I bring some home and I find his butt and tail sticking out of the pack as he's hunting them down. He loves to play fetch, I throw and he actually brings them back. We would play fetch for over an hour a day when he was younger, 10-15 min. in the morning is enough for him now, but he still plays with it by himself, tossing it into the air with his teeth. When they get really punctured and ratty, I let him drawer dive for a couple of new ones. He's even "washed" them in the toilet.

Every once and a while a wily ear plug escapes the house and I find it in the apt. hallway or my car or in my backpack. I'm merciless and back it goes into play.
(Anne Muller 5:44pm August 25, 2011)
Speaking of bugs...my male cat(Mick-named after Mick Jagger-can you guess why?)was out on the deck the other night enjoying the outdoors(that's as far as he gets). I was sitting in the living room reading(of course) when I heard this horrible buzzzzzzing. I looked at the sliding glass door to the deck, Mick had this huge cicada hanging out of his mouth. The cicada was frantic to get away. Once Mick saw me he MEOWED...bye,bye cicada.
(Margaret Murray-Evans 6:16pm August 25, 2011)
The family cat 'Monkey',would go with my mom to the corner store . The reason being ,she would forget to pick up catfood, sometimes. So Monkey waited by the store's door ,then would meow when she saw mom come out. At that point mom would say "Oh! Monkey I forgot your catfood." And she went back in for the catfood. Monkey was a smart cat.
(Deb Pelletier 6:46pm August 25, 2011)
Pam, my daughter and I started reading Fruits Basket at the library and got hooked on it. Then we went to Armageddon, the SciFi convention, and found the entire series on DVD. Epic Win! I've gotten behind on the Manga series, and DD tells me the ending differs a bit on the Anime version, so I'm eager to catch up at some stage and read the Mangas from start to finish.

Christine, your Mittens sounds like a real character. Maybe she really wants to be called Muffin? LOL. Our puss has eaten through a plastic shopping bag to get to the meat inside when I got distracted and left it out on the bench. And she has been known to lick an empty margarine tub or two in her time. She's such a worry.

Debbie.... ROFL! Yep, I would say it was definitely your puss 1, your mom 0 (maybe even negative figures *g*)

Lynn, your tale of cats posing for cameras reminds me off this saying I have on an SPCA magnet: "Thousands of years ago, cats were worshipped as gods. Cats have never forgotten this." Yep, I'd say that just about summed it up.
(Maree Anderson 8:20pm August 25, 2011)
our cat hops like pepelapew the skunk from Warner Brother's cartoons. Your book sounds great.
(Pam Kinsey 8:26pm August 25, 2011)
Desiree -- thank you! I have been very lucky with my covers. Red Sage have allowed me a huge amount of input on From The Ashes and Scent Of A Man especially -- basically they let me pick the main stock photos that were used! And that's how I discovered that the cover model used for From The Ashes is ex-UK Gladiator and bodybuilding champ, Sam Bond. He's a lovely guy. He even let me interview him on my blog.

Elizabeth -- thanks for stopping by, and feel free to check out the excerpts on my blog or my Facebook author page. I've been told I have quite a strong "voice" and I'm aware it might not always appeal to people, so I try to post long excerpts to give readers a sense of the style. Scent Of A Man for instance, is my take on a historical, so it's very different from the sarcastic "modern" style of my other books. A reviewer once mentioned "Valley girl" style of speech, but I'm not quite sure what that is! It's just me being me, LOL.

Colleen -- the budgie we had we I was a kid used to do the same thing as your parrot, Oscar. And Joe-Brush (as we called him) used to be a real chatterbox. He talked very well indeed. He once got a hangover after perching on the edge of my dad's rum and coke-filled glass and having a drink. Mom had to haul him out of there. And the next morning, we found him with his head stuck under his bell in his cage, and he could be heard saying quite clearly, "Poor Joe. Poor Joe." I'd forgotten that until now. What a hoot! Poor Joe, indeed.
(Maree Anderson 8:31pm August 25, 2011)
Patti -- LOLOL! Did he have a hang-dog expression when he crawled out of the pool? Sorry, couldn't resist. But they do look dreadfully embarrassed when they are caught out like that, don't they? Our old cat, Hazel, used to nap on the arm of the chair, and then just fall off and lie there on the ground looking dazed-- all, "Huh? What just happened?" Poor old thing.

Chele -- oh yes. Your cat will definitely be laughing at the dog. I love dogs, but sometimes I'm sure they're just put on this earth to amuse our cats.

Anne -- earplugs? Really??? OMG, that's hilarious! Can't wait to tell my kids that story when they get home from school. And do y'all have the "Rolly" dog loo-paper ads on TV? It's one of those cute wrinkly dogs that look like they have yet to grow into their skin. And the things Rolly gets up to with rolls of loo-paper.... Way cute! But sure am glad I don't have to clean up that mess. Bet you're glad your puss has decided earplugs are more fun to play with *g*

Margaret -- ah yes. I'm not looking forward to cicada season. Minna (our Ocicat) might look like a lazy puss, but she's darned quick! We'll have cicadas left all 'round the house this summer, I'm sure.
(Maree Anderson 8:40pm August 25, 2011)
Marjorie and George, thanks so much for stopping by and leaving a comment. I appreciate it very much!

Deb--Monkey is one very smart cat indeed! That's above and beyond mere "cupboard love" don't you think? If only cats could talk... or perhaps not. It might be rather scary--and very humbling! LOL.

Pam-- a hopping cat? That's totally awesome! I remember that cartoon, so you're comment is giving me such a great visual right now. I'd love to see a video of your puss up on YouTube--bet you'd get heaps of views! Actually, my editor for Kat On A Hot Tin Roof, Judith, sent me a video link after she contracted the novella of a real live "cat" burglar. This puss was just like "Slinky Malinki" from Lynley Dodd's story. It stole all manner of things and trotted home with each item in its mouth. You'd have to see it to believe it *g*
(Maree Anderson 8:51pm August 25, 2011)
We had a cat that didn't get the concept of windows. When a hummingbird would come to visit he'd jump off the back of the couch and right into the glass of our picture window. No matter how many times he'd do that, he wouldn't learn. We even moved the feeder so they wouldn't feed at the window, but I swear they knew they could torment him and would perch in front of the window to "guard" their feeder!
(Theresa Dunlap 9:03pm August 25, 2011)
My favorite Manga character is - Pen Pen (Evangelion)
(Shirley Younger 9:22pm August 25, 2011)
Gerald, the cat, used his claws and threw Gainsburgers down from on top of the refrigerator. He and Barney,the dog, had a real feast while we were on vacation. We kept finding bits of that food behind doors and all over the house. I called them "Partners in Crime."
(Alyson Widen 9:37pm August 25, 2011)
Yey, one day contest and I made it!!! Hope I get to enjoy your
book soon! :)
(Brandy Mills 9:45pm August 25, 2011)
My cat Monroe is a Maine Coon. He is a gentle giant except
at times he becomes an attack cat. He doesn't like when my
mother visits as he considers the guest bedroom his. He sits
in the doorway and hisses at her and swats at her ankles.
This is funny since she takes her cane and shakes it at
Monroe and tries to get him to move. We have to come and
move Monroe so my mom can go in the room. Monroe does this
every time my mother leaves the room.
(Gayle Oreluk 9:47pm August 25, 2011)
Just wanted to say hi. Don't know what manga is and don't really have any pets, so I shall not enter the contest. But all the pet stories area cute and I like how ALF got his name. (I have too much outdoor wildlife to have animals inside.)
(Carly Carson 9:56pm August 25, 2011)
My dog is a little loco. When she gets wet she runs through the house in circles and bites the furniture as she runs by. But the best part is when she is running full steam and can't turn fast enough so she jumps and rebounds off the furniture in her way. It is wild and you better get out of the way.
(Jennifer Beyer 10:16pm August 25, 2011)
Theresa, oh noes! That is just kinda tragic. Those rotten birds. Talk about teases.

Shirley -- thanks for the recommendation! I'll check it out. I'm rather partial to the Vampire Knight series, too.

Alyson -- what a duo! I'm totally impressed by the working in tandem thing. I don't think my cat would share. She's ALWAYS hungry. She'll even eat fish-food if it's left out *eyeroll*

Brandy -- yay! Nice to see you here, and I'm glad you made it!

Gayle -- I love Maine Coon cats! I first heard of them in Julian May's "Saga of the Exiles" books. Rogi Remillard had a Maine Coon called Marcel and I was intrigued enough to find out about them. Our Minna is an Ocicat--a rather neurotic one, since she had a bit of a tough life before she "found" us. She's got some definite doglike traits--loves lying on her back with her paws in the air. Very elegant--not!
(Maree Anderson 10:22pm August 25, 2011)
I love Fruit Basket... esp. Kyo. :) I also like another manga call His and Her circumstance... and Special A. Both are my favorite
(May Pau 10:30pm August 25, 2011)
Carly -- Hiya! *waves* Thanks heaps for dropping in and reading my post!

Jennifer -- OMG, that's soooo funny. Dripping wet doggie careening around the place and running right over the furniture.... I wouldn't be able to quit laughing!
(Maree Anderson 10:37pm August 25, 2011)
May -- Kyo's my favorite character, too! He makes out like he's all staunch, and bites everyone's head off, but he's desperate to be included, and so terribly wounded. Oh, and I'm making a note to check out Special A, and His and Her -- that last one rings a bell. Bet my daughter will be able to tell me all about it *g*
(Maree Anderson 10:41pm August 25, 2011)
SOUNDS LIKE A GREAT BOOK, CANT WAIT TO READ!!!!
(Jennifer Beck 10:41pm August 25, 2011)
Sounds like fun. I always enjoy reading "cat and mouse" stories.
(MaryAnne Banks 10:43pm August 25, 2011)
We were camping, and it was literally 10 seconds before we were about to leave. It was also dark out. My husband was hooking the camper onto the ball of the truck, and our dog Bandit decided to go to the bathroom one final time. Little did I realize while I was following behind that she was going to run into a skunk and get sprayed!! When she came right back, the smell was awful!! Since we were all closed up and on the way out, we got into our little pick-up truck, and drove towards the shower area. My Husband jumped out with the dog, and gave her a quick rinsing down. When he got back in with her, of course she wanted to lay in my lap, and it smelled a bit better, but you could smell how the showers were reeking of skunk as we pulled away. I pulled out my perfume, and sprayed a little on her to try and neutralize her. We drove to a convenience store on the way home for some tomato juice. We had a 3 hour drive home, and it was bad and amusing at the same time. When we pulled in, we stripped down at the door, and got Bandit in the tub immediately. It's a good thing that she loved baths, because she jumped right in, and was actually trying to lick the tomato juice as we poured it over her. She passed away a little over a year ago, but that's just one of the amusing things we miss about our girl.
(Peggy Roberson 10:46pm August 25, 2011)
We had a dog that loved to chase a ball. Once when the ball went up the wall he tried to climb up the wall after the ball. He was very surprised when he fell on his back.
(Lisa Kendall 10:54pm August 25, 2011)
Hi Jennifer & MaryAnne -- thanks so much for dropping in and reading my post! Hope you enjoy Kat & Jace's story. It was a whole heap of fun to write and the first story I ever plotted before sitting down to write! Pity the characters didn't exactly stick to the plot *g*

Peggy--yikes! I've never had a close encounter with a skunk but I imagine that would have been dire! Tomato juice really works, huh? Good to know. And as my brother's dog used to eat cherry tomatoes straight off the vine in the garden, I can just imagine Bandit licking the juice off herself. What a great memory. Thanks so much for sharing it!

Lisa--dogs are so very focused on the prize at times, aren't they? Bet it wouldn't have even occurred to your pup he couldn't run straight up a wall until he landed in a heap on the ground. Bet the astonished expression on his face was priceless *g*
(Maree Anderson 11:15pm August 25, 2011)
HI Maree! Love the premise of this new book and such a fun topic. I have a shepherd dog I call Marley #2. Worst dog ever. She met me at the door one evening after work with a pack of cigarettes in her mouth, my house was trashed, muddy and the furniture was eaten. She once ate an entire sneaker whole. Vet said she had an iron stomach! Gotta love her!!
(Jennifer Probst 1:56pm August 26, 2011)
You are a new to me author and this sounds amazing. The bug you can keep. *shudders*
(Dawn Roberto 4:58pm August 26, 2011)
Oops forgot to answer your question....my cat would hide on the dining room chairs out of sight under the table cloth and every time I would walk by, jump at me and scare me to death. She loved to stalk the kids and myself. Now she stalks the animals outside and brings her presents tot he door for us to see.
(Dawn Roberto 5:00pm August 26, 2011)
Hey Jennifer! Lovely to have you here! Shepherds are such characters, aren't they? A friend of mine had one that used to chew golf balls... like, until they cracked open and all the rubber came out, LOL. Your Marley sounds like a real delight! Cigarettes? OMG. Still snorting with laughter.

Dawn--thanks so much for stopping in to chat! And I gotta admit, I'm glad that my current cat has no desire to bring wetas into the house. Spotting those wavy antennae right by my feet, just before the thing started to crawl up my leg used to give me conniptions. Do. Not. Miss. At. All. Cripes, your puss is pure stealth, isn't she? What a worry! You'd have to scrape me off the ceiling if something clawed jumped out at me as I wandered past. Sneaky puss!
(Maree Anderson 7:39pm August 26, 2011)
Registered users may leave comments.
Log in or register now!