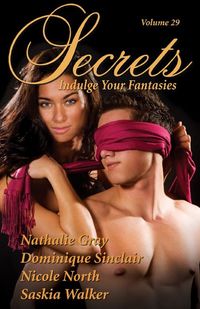 Purchase
Red Sage
August 2010
On Sale: July 25, 2010
323 pages
ISBN: 1603100091
EAN: 9781603100090
Trade Size
Add to Wish List

Romance Erotica Sensual | Romance Anthology
Beast in a Kilt by Nicole North

Can her love break his curse?
Scottish lady Catriona MacCain has loved Torr Blackburn, a fierce Highland warrior, since she was a young lass, but Torr only sees Catriona as his best friend's little sister. When Catriona's family promises her in marriage to a detestable chieftain, she desperately needs Torr to save her from a fate worse than death. But Torr is under the spell of a witch of the dark arts and is cursed to spend his nights as a kelpie water demon. He doesn't believe himself worthy of the virginal Lady Catriona. However, she is determined to seduce Torr and claim him… body, heart and soul, if only they can banish the curse and defeat the enemies who have vowed to possess and enslave them both.
Beast in a Kilt is the second story in the Kilted Shapeshifters series.
Chimera by Nathalie Gray
All warfare is based on deception — Sun Tzu's Art of war
From the overcrowded slums of a future Earth, he rose as the perfect tool of lethal justice and deception. Cold and stoical by choice, alone by circumstances, he will neutralize any and all threat to his client then move on. Blunt, direct. Nothing personal. But when his next assignment involves a popular politician who's as smart as she's attractive, the greatest betrayal would be to deny his heart.
Edge by Dominique Sinclair
The search for the truth leads to the edge of danger, revenge and love… A beautiful hellion, the first woman trained by the Department of International Intelligence, Catlina Demarco left her life without so much as a goodbye. Deep in Mexico, she's close to finding the man who can give her the truth of her past, or kill her.
Agent Noah Tyler, Cat's former partner and lover, is the last man she expects to show up with handcuffs and intent to bring her back to headquarters. No one has ever left the agency alive, Cat's no exception. Only she refuses to go anywhere with Noah, he betrayed her trust. Forced into the jungle by three armed banderos, Cat finds her and Noah once again working as partners, their thoughts as one, their bodies craving, their goals conflicting.
Hot, angry and infuriated, Catalina must rid herself of Noah Tyler before everything is lost, including her heart.
Sweet-talking the Opposition by Saskia Walker
London-based journalist, Eliza Jameson, is on assignment on a luxurious Rhine river cruiser when she finds the perfect distraction on board — old flame, Marcus Weston. But Eliza came dangerously close to falling for Marcus last time around, and in order to play him at his own game, she decides to call the shots. Meanwhile, Marcus has his own agenda. In the ensuing battle, who will end up on top?
Comments
50 comments posted.
Re: Secrets Volume 29 Indulge Your Fantasies

I hope that you enjoy your trip to Scotland. It really does sound like a magical place.
(Joanne Reynolds 7:24am September 21, 2010)
My husband and I Scotland several years ago and Scotland's beauty and mystery stole our hearts. We learned the most intresting facts and about places to go in the pubs and couldn't believe how friendly the people were and how willing to help us have a wonderful time. If you haven't already been there be sure to visit Lithinglow and the "ruins" there. It will not only take you back in time but also take your breathe away. The single malt scotch is pretty darn good too!
(Jeanne Miro 11:20am September 21, 2010)
Thanks, Joanne! It is for sure!
(Nicole North 11:32am September 21, 2010)
Jeanne, it's easy for Scotland to steal your heart! I'd love to visit Lithinglow. I'm not sure if I'll get to this time, but for sure it is on my wish list.
(Nicole North 11:34am September 21, 2010)
Nicole, I can understand your infatuation with Scotland, it is very similar to authors I've heard talk about why they write about Ireland.

I'm happy about writing about the great USA. I grew up reading Louis L'Amour and Danielle Steel and I hope to somehow combine the two into a love story on a setting of a cattle ranch. Eventually I want to write more about the 'old west'. My minor in history is calling me to write a story set in the Civil War or American Rev era -- so we'll see.

I live very near Saratoga NY so the American Rev was right in my back yard. In college I traveled to Manassas and it called me like Scotland calls you -- so I can see myself traveling along the Civil War route for a story..

I also hope you enjoy your trip to Scotland - you need to show us lots of pictures..
(Kris McConville 11:37am September 21, 2010)
I love Scotland and agree with every word you say. It is magical and evocative. Anyone who wonders about ghosts should visit Culloden battlefield - it will make you a believer.
Nicole's heroes fit that tough, wild, and romantic country perfectly. I wish I were going in a couple weeks!
(Carly Carson 11:46am September 21, 2010)
I enjoy books set in Scotland and also in England. It's always interesting to read about the interactions of people from the various social and economic classes.
(Jane Cheung 11:58am September 21, 2010)
Fav setting... I do not know if I really have one. I enjoy visiting so many places through the pages of books... never know what will catch my interest next!
(Colleen Conklin 1:34pm September 21, 2010)
I got to visit Scotland in February and it was cold and rainy but I loved it.

Didn't stay very long, just a couple of days, but I was visiting an author, Marie Treanor who sets most of her stories in Scotland. I love it!!!

Valerie
in Germany
(Valerie Bongards 1:41pm September 21, 2010)
Kris, sounds like you live in an interesting area! America has tons of amazingly beautiful places that I'd love to visit too. I'll be sure to take lots of pics! :)

Carly, I agree about Culloden battlefield. There is definitely a lot of sadness on that beautiful moor. I do love those tough, wild Scottis heroes I write about. LOL And I wish you were going too!

Jane, So do I! Lots of conflict. Thanks!

Coleen, books are a terrific way to visit lots of locals without leaving your chair. I love it!

Valerie, Brr! I'm sure I would freeze into an ice block if I visited Scotland in Feb. :) But that chilliness seems to add to the mystique. I'm taking plenty of warm clothing for Oct.
(Nicole North 2:00pm September 21, 2010)
I would love to visit Scotland. I love stories about haunted castles, paranormal, and historical romances.
(Cheryl Lynne 2:09pm September 21, 2010)
I enjoy the UK settings. I've visited England/Scotland a few times many years ago now and loved it. My favorite was driving through the highlands, eerily beautiful, especially on that cold, overcast day!
(Susan Davco 3:22pm September 21, 2010)
I've never read anything set in Scotland, but I'd probably love it as I love stories set in Ireland. My my favorite is any location you can find a military man - doesn't matter what branch, or a special ops man of some other sort. Any where!
(Kelli Jo Calvert 3:42pm September 21, 2010)
I love American Western settings. The way the land is a character in the story and the people with their connection to their particular setting.
(Leni Kaye 3:45pm September 21, 2010)
My Scottish heart is going wild!
Blessings,
Marjorie
(Marjorie Carmony 3:59pm September 21, 2010)
Ohh I love Scottish books.. I so wanna go there someday..
(Danielle Pontow 4:11pm September 21, 2010)
I love reading on my aunt and uncle's back porch. They live in the mountains and the mornings are just amazing.
(Pam Howell 4:18pm September 21, 2010)
Cheryl Lynne, I hope you get to visit Scotland. It is sooo worth it! Even better than I expected. And there are plenty of haunted castles to visit.

Susan, I know what you mean. The Highlands really are eerily beautiful on overcast days, especially the more north you go. Shivers. I love it!

Kelli, You gotta try a Scottish story! I bet you'd love them. I love military heroes too! They're so strong.

Leni, it's so wonderful when the land is a character in the story.

Majorie, woohoo! A woman after my own heart. :)

Danielle, if you want to go, you should someday. It's amazing. Fingers crossed that you get to.

Pam, oh yes, reading on a porch in the mountains is nice. Sometimes I do that.
(Nicole North 4:37pm September 21, 2010)
Scotland sounds so enticing, but sometimes I remember the Scotland of my college friends' youth. Their father was South Asian and so my friends did not look like their Scottish peers and, as a result, was picked on and bullied a lot in their youth. So, their Scotland is just like any other place. Too bad.
(S Tieh 5:00pm September 21, 2010)
Thanks for the contest. Never been to Scotland but sounds great
(Sheila True 5:35pm September 21, 2010)
I would love to vist Scotland someday. I also enjoy
reading Scottish novels.
(Deb Pelletier 5:36pm September 21, 2010)
Scotland is a good one along with England but my absolute favorite are stories set in Louisiana, particularly in cajun country and in New Orleans. Such a rich history in that state.
(Cherie Japp 5:42pm September 21, 2010)
I love mysterious moors & manor houses etc. Very Wuthering Heights of me.
(Mary Preston 6:13pm September 21, 2010)
My hubby and I have dream vacations. His is Australia and mine is Scotland. Hopefully when our son graduates from college, will get to do both. Our roots are from Scotland and Ireland and it's always had a pull that defied words.
(Maude Allen 6:38pm September 21, 2010)
I have a strong family background in Scotland; I envy you your trip. I believe Scotland has much to write about, so there's lots of room for authors to place good books there.
(Susan Driskill 6:50pm September 21, 2010)
Nicole,
Been to Ireland and New Zealand, both are beautiful, but the one place that holds my heart above all others is Scotland and I've never been. Plan on going in the next few years. Aithout a doubt - tell me a book is set in Scotland, especially a romance - and I am on it! Nice descriptions.
(Clancy Metzger 7:35pm September 21, 2010)
S. Tieh, yes that is too bad. Sounds like a tough time.

Sheila, thanks for commenting!

Deb, I hope you get to visit!

Cherie, I love Cajun and Louisiana set novels too!!

Mary, Yes, those moors are lovely and haunting.

Maude, Oooh I hope you both get to take your dream vacations.

Susan, very cool! I suspect several of my ancestors are from Scotland too, from the early years (1600s).

Clancy, I know how you feel! My connection to Scotland and love of it grew stronger after I visited the first time. Thanks!
(Nicole North 7:53pm September 21, 2010)
Please enter me in your fantastic contest from freshfiction.com and please let me know when I am a winner too. God Bless Everyone. Cecilia
(Cecilia Dunbar Hernandez 8:13pm September 21, 2010)
I enjoy ancient Rome or ancient
Egypt because I've always loved
those places!
(Cathie Veres 8:16pm September 21, 2010)
I love reading books set in Scotland and the the man is wearing a kilt so much the better! WooHoo!
(Kathryn Windland 8:44pm September 21, 2010)
Cecilia, thanks for entering!

Cathie, I love learning about Rome and Egypt! Fascinating!

Kathy, Men in kilts! Woohoo! :)
(Nicole North 9:29pm September 21, 2010)
I would love to go to Scotland! Rome and Egypt, Wow!
(Brenda Rupp 9:33pm September 21, 2010)
i have always wanted to visit scotland
(Debbi Shaw 9:57pm September 21, 2010)
I have always dreamed about going to Scotland and I hope you have a great time.
(Vickie Hightower 10:37pm September 21, 2010)
I haven't been outside Canada in 35 years so anywhere would be my favorite.
(Diane Sadler 10:46pm September 21, 2010)
My favorite settings are places that I have never visited before, or never will be able to visit, so that leaves a lot of places wide open!! I live near a major lake, but I love stories about the water. I'm not a fussy reader, as long as the story keeps my interest. If there's too much involved in the story, or it's going in too many directions, then I can't get into the book the way I'd like. Your books sound breathtaking, and I'm sure I'd be able to inhale the misty air and feel as if I was there in the moors.
(Peggy Roberson 10:50pm September 21, 2010)
My favorite setting to read is in a wooded environmental like a park. I like the relaxing environment enjoy my books or to do some writing where I'm not interrupted.
(Kai Wong 11:00pm September 21, 2010)
would love to go to scotland, my cuz and aunty have been there, they love it.
(Amanda Edmond 12:30pm September 22, 2010)
My favorite places? Ireland and Scotland as my father's people are from there.In fact I still have relatives in Ballymoney Ireland,so they hold a special place in my heart and dreams.Thanks
(Cynde Mitchell 1:07am September 22, 2010)
I have never been anywhere out of the US. Poor me, lol. I'd love to go though.
(Vicki Hancock 1:25am September 22, 2010)
I love reading about Scotlanbd, but, since I am disabled and find it difficult to travel, I love reading about all the exciting places I'll never visit.
(Carol Woodruff 3:17am September 22, 2010)
Thanks so much, everyone, for commenting and entering my contest! I hope you all get to go to your dream destination! It can be so inspiring and uplifting.
(Nicole North 10:07am September 22, 2010)
I loke variety in the scenes I read about, I love the scottish (am part scottish myself) I love a strong brave hero with a kind heart.
(Barbara Hanson 11:00am September 22, 2010)
Kris -

I grew up in Scotia which is not far from Saratoga and loved to go for the races in August. I know what you mean about American history. Whenever my husband and I go on a trip I have to schedule a trip to a history site or National Landmark. I took him to Cowpens battlefield in South Carolina years before they made the movie the Patriot (and a place not to miss). By the way do you know how far Appomattox Courthouse is from anything else? HOURS OF DRIVING but well worth the time. One consolation is that it's a National Park with absolutely no waiting lines!
(Jeanne Miro 1:30pm September 22, 2010)
I have never been to Scotland or any of the countries on that side of the pond, but it is on my bucket list. I love to read about these places,these type of books take me away from it all.
(Joyce Bruner 4:30pm September 22, 2010)
I have never been to Scotland either, would love to go anywhere. I read books about all locations, and since I have never been I can use my imagination on what the place is like.
(Tonya Atchley 5:19pm September 22, 2010)
I loved my first trip to Scotland & want to go again. It's my favorite settings for books I read!
(Diane Sallans 1:58pm September 23, 2010)
Scotland always gets my nod as a place of interest for a setting because of the plaids, the clans and the brogues (how they roll their "R's".
(Alyson Widen 3:56pm September 24, 2010)
sounnds exciting and will look into more of her books.
Janice Peruzzini
(Janice Peruzzini 9:23am September 25, 2010)
Thanks so much, everyone, for commenting and entering my contest! I wish a trip to Scotland for all of you! :)
(Nicole North 11:01am September 25, 2010)
Registered users may leave comments.
Log in or register now!