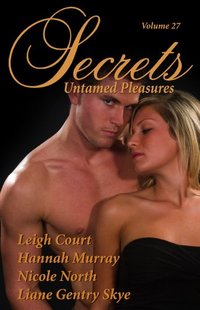 Purchase
Red Sage
July 2009
On Sale: July 1, 2009
ISBN: 1603100075
EAN: 9781603100076
Trade Size
Add to Wish List

Romance Erotica Sensual | Romance Anthology
DEVIL IN A KILT by NICOLE NORTH
A trip to the Highland Games turns into a trip to the past when modern day Shauna MacRae touches Gavin MacTavish's 400-year-old claymore. She finds the Devil in a Kilt she's had erotic fantasies about for months. Can she break the curse imprisoning this shape-shifting laird and his clan before an evil witch sends Shauna back to her time and takes Gavin as her sex slave?
Devil in a Kilt is the first story in the Kilted Shapeshifters series.
THE BET by LEIGH COURT
I can make a woman come using just my words…
That outrageous claim by a very drunk Damian Hunt, Viscount Atherton, somehow escalates into a high stakes wager between two best friends: Damian bets his prized racehorse that he can do it… George Beringer gambles his London townhouse that Damian can't. And the surprising woman George chooses for the bet is not only a virgin, she's also George's very respectable sister, Claire -- and to complicate matters even more, once Damian lays eyes on her, the stakes escalate in the most unpredictable way…
THE BOY NEXT DOOR by HANNAH MURRAY
Isabella Carelli isn't just looking for Mr. Right, she's looking for Mr. Tie Me Up And Do Me Right. In all the wrong places. Fortunately, the right place is right next door. And the boy next door is just about ready to make his move...
HEART'S STORM by LIANE GENTRY SKYE
Sirenia's final breeding moon is upon her. She is the last fertile mermaid of her brood. Racing against a hurricane, she must search out and mate with the only merman who can save her kind--the prophesied Lost Son of Triton. When Sirenia rescues injured Navy SEAL, Byron Burke from drowning, she seals herself into his life debt. When the time comes to ask Byron for her freedom, her heart threatens to stand in the way of the last, best hope for her kind.
Videos
Comments
No comments posted.

Registered users may leave comments.
Log in or register now!