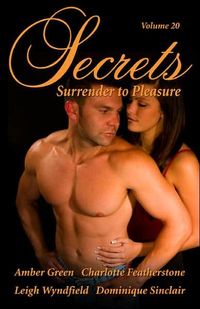 Purchase
Red Sage
July 2007
On Sale: July 1, 2007
350 pages
ISBN: 1603100008
EAN: 9781603100007
Trade Size
Add to Wish List

AMBER GREEN - THE SUBJECT
One week Tyler is the hottest game designer in North America, in sight of her first million and ready to sign the deal of her life. The next week, she's on the run for her life. Who can she trust? Certainly not sexy, mysterious Esau, who keeps showing up right after the hoo-hah hits the fan!
CHARLOTTE FEATHERSTONE - A WOMAN'S PLEASURE
In Victorian England, a woman's lot in life is to marry well, to tend to her husband's hearth and to bear his heirs. But what happens after one has done that? What happens when a woman begins to question her lot in life? That woman is Isabella, Lady Langdon, and when she realizes she is suffocating beneath the strictures of the Victorian ideal of womanhood, she escapes into private fantasies about a most unsuitable man-a man who is a social outcast in England for his mixed English and Turkish blood. Julian Gresham is a man who is exotic and mysterious, whose body speaks of illicit pleasures, and whose eyes convey a deep yearning that Isabella is only too willing to give in to after the death of her husband. Julian is also a man who can show her the sexual pleasures that have always been denied her. This man is everything she has ever desired, and his skillful hands awaken her like no other. She craves his touch and the nights of sexual exploration, despite the fact that he is much younger than her.
LEIGH WYNDFIELD - STASIS
Morgann Right has a problem. Her Commanding Officer-cool, calm, always in control Osborn Welty-has been drugged with Stasis, turning him into a living, breathing statue she's forced to take care of for ten long days. As her hands smooth down soft skin over rock hard muscles,she suddenly sees her CO in a totally different light. She wants him and, while she can tell he wants her, touching him intimately just might come back to haunt them both when the Stasis drug wears off.
DOMINIQUE SINCLAIR - THE SURRENDER
Undercover Agent Madeline Carter is in too deep. She's slipped into Sebastian Maiocco's life for the Department of International Crime to investigate his family, a known Sicilian mafia clan making moves into New York. Dark and dangerous, Sebastian unearths licentious desires Madeline is unable to deny, conflicting the duty that honors her. Madeline must surrender to Sebastian or risk being exposed, leaving her target for a ruthless clan.
Only, if she surrenders, Madeline's heart will be in immanent danger.
Comments
No comments posted.

Registered users may leave comments.
Log in or register now!