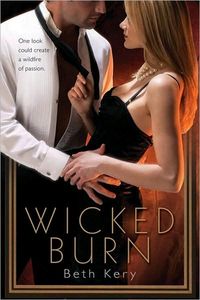 Purchase
One look could create a wildfire of passion.
Berkley Sensation
December 2008
On Sale: December 2, 2008
Featuring: Niall Chandler; Vic Savian
352 pages
ISBN: 0425224376
EAN: 9780425224373
Trade Size
Add to Wish List

Romance Erotica Sensual | Erotic
A red-hot read from a brand-new voice in erotic romance.

He wanted all of her—and did she ever let him have it…

Vic Savian knows what he wants when he sees it. And what he wants is his sexy neighbor, Niall Chandler. When he finds her in the hallway of their building being harassed by an aggressive suitor, Vic steps in—and finds himself greatly rewarded…

Sleeping with her gorgeous neighbor—when she didn't even know his last name—was the craziest thing Niall's ever done. Now, she can't seem to get enough of Vic—or the uninhibited passion he stirs in her. Suddenly, with his help, she's opening to sensual pleasures she's never known before. But when Niall's past comes back to haunt her, will she and Vic let themselves venture beyond the bedroom and explore the possibility of the love that's in their hearts?
Comments
17 comments posted.
Re: Wicked Burn

Vic Savian and Niall Chandler are one of the hottest couples to grace the pages of a novel this year. The sexy love scenes took my breath away. Trust me when I tell you that you'll never look at a pearl necklace the same way again after reading one particular scene. Discover for yourself why Beth Kery is a rising star in the romance genre!
(Robin Snodgrass 4:25pm October 29, 2008)
Im not an author only an avid reader, and I love to talk about the books I have read. I tell all my friends and just about anybody that will listen, I only say good things about the books I have read. If I read a book that I am not crazy about I usually dont say anything, because everyone has different tastes and that person may love it.
(Sara Hurt 10:39am January 26, 2009)
I'm a reader not an author but I have found many new-to-me authors from blogs and reader groups such as Yahoo. I also read the reader reviews I find posted at various review sites and the on-line bookstores.

I will sometimes post a review of a book that I enjoyed a lot and want to spread the word. I will not post a public review for a book I didn't really care for but I will sometimes post a pan-review on my MySpace blog.
(Karen Haas 1:09pm January 26, 2009)
I'm also not an author, but I am an addicted reader. I read several romance-related blogs and websites like FF for new books. I have discovered several new-to-me authors from word of mouth and these sites.
(Denise Powers 1:57pm January 26, 2009)
I am not an author just an avid reader. I have my own book club and love to sing the praises of authors.
I find a lot of books on amazon:) It is a wonderful resource for finding books, new authors and reading reviews.
(Bobbie Seacrist 3:28pm January 26, 2009)
I am not an author but I know when I go to blogs and other places and get to read excerpts on books I have a tendence to get the books because the excerpts will really get me into the story and I want to find out what happens next. :-)
(Larena Hubble 3:39pm January 26, 2009)
Hi Beth; You know I'm a reader and not officially a writer yet but it is a big help to me to know what to expect (hopefully) in my future. Your journey is my guide.
(Teresa Miller 3:50pm January 26, 2009)
Becoming a writer doesn't end with the final edit. Promotion lets people know you are producing a book specific to a niche or genre. Kindof like an expectation or launch due date. If you wait until the book's done, then your market takes longer to become warm.
(Alyson Widen 4:52pm January 26, 2009)
I'm not an author either, and never would have the desire to be one. I do however contribute to a blog, and when it's my turn to blog I go out and make
sure everyone I know knows that I have a new blog up! How exactly just depends on what opportunity I'm presented with, and if I think that opportunity
could lead to someone checking out my blog!
(Sandi Shilhanek 5:00pm January 26, 2009)
Beth,
I have no books published, but I have
been 'researching the marketing end
of publishing,' as I tell my husband
when he asks me what I'm working on
as far as writing is concerned. In other
words, since November, I have
discovered blogging and have so
surfed many author sites. I like the
individual contests authors have which
require me to answer a question about
one or more of their books because I
get to learn about the books, which in
turn is a plus for the author since my
interest has been piqued. Contest
questions sometimes include author
questions. I enjoy reading about the
authors too, so a picture with likes
and dislikes, etc help a reader feel
connected and want to buy that
author's books. Guest blogging at
various sites is something I'd highly
recommend, since you have the
potential to reach different readers.

Contests, though, are not the only way
to remember an author. I'd say that
an eye-pleasing website (color scheme
for easy reading) and useful
information that makes a
reader/writer want to refer back to
your website is good for name
recognition. Some authors use a
variety of high tech means of
communication , like MySpace,
Facebook, and/or Twitter, which may
not be accessible to all readers. A
monthly newsletter on my email is
good enough for me

And, of course, there are workshops,
book signings, and other public
presentations which are beneficial in
marketing your book. I've also
discovered authors through
bookmarks/covers in goody bags
given at workshops or luncheons.
Doing this does require some expense,
though.

Just my basic observations off the top
of my head.
Julie
(Julie Robinson 5:15pm January 26, 2009)
I'm sorry that there's wasted space here.
I don't know how that happened. I was
just typing in this little box posted for
comments, and iIt was hard to proof.
Julie
(Julie Robinson 5:17pm January 26, 2009)
I'm also a reader and have discovered many new authors when they guest blog at various romance sites.
(Jane Cheung 6:33pm January 26, 2009)
I'm just a reader, but enjoy the blogs from different authors. This way I feel like I get to know them better and enjoy reading their books. I've read alot of books that without the blogs and excerpts
I may not have read. Thanks for the contests.
(JoAnn White 7:48pm January 26, 2009)
I like reading the blogs that explain the books and I love the post card promotions.

I know marketing books is tough in today's world. How do you get the readers attention? Excerpts and great descriptions are what draw me to a book.
(Virginia Hendricks 9:32pm January 26, 2009)
Hi all! Thanks for stopping by. Marketing is a real challenge. Thanks for all the input on what you like to see and terrific advice.
(Beth Kery 1:01am January 27, 2009)
I am also a reader, not an author. However with all the booksites dedicated to spotlighting authors and their books, I would think using copy of your books on those websites would bring your writing to the attention of readers. On some websites, I have won books or even just read excerpts of the books has opened up a whole new genre that I like to read now. So my opinion would be to sign up for one of the sites that give away a book a day and donate a book or two for them to giveaway and then spotlight your book on a certain day.
(Vicki Hancock 3:20pm January 27, 2009)
Hi Beth;

Excellent post and advice. As a committed blogger and reader who enjoys writing reviews for books I enjoy. I can attest to the fact that the Amazon community is an effective way of generating interest with readers of specific genres.

Once a reader/blogger is contacted, by an author and reads their book and hopefully enjoys it. The buz generated is very effective.

I have to preface this by saying, it does take time to build a blog audience but once you do, and your blog is "followed" it is an excellent way to generate interest in a favorite book. I also post my reviews on the Amazon sites, and Chapters here in Canada in an attempt to help authors promote their books within that community.

Best Regards Beth
L
(Lea Franczak 9:01am January 28, 2009)
Registered users may leave comments.
Log in or register now!