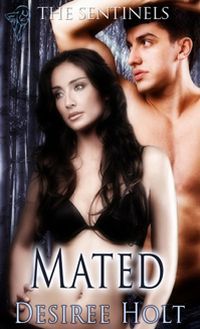 Purchase
Can he convince the human that she?s meant to be his?
The Sentinels #4
Ellora's Cave
December 2010
On Sale: December 1, 2010
50 pages
ISBN: 0857153730
EAN: 9780857153739
e-Book
Add to Wish List

A Sentinel is a person or thing that watches, stands guard. Stationed as a guard to challenge all comers and prevent a surprise attach. In ancient times they were an elite army formed to defend the land, even before the time of Queen Azshara.
Wolf shapeshifters came to be in the time of the Ancients and usually live in packs, run by an alpha. Sometimes a mated pair. They are a race of supernatural shapeshifters, considered in mythology superior to all other shifters. After puberty they experience an awakening into their transformative abilities. They are often hired out as guards.
Sentinels.
And that is how this particular group came to be, orphans who banded together to form a new pack and designated themselves as guards and protectors of others.
In the first four books we learned who and what they are and four of The Sentinels had their individual stories. Now comes MATED, Cale Martin's story.
Cale knew the moment he met her that Linnea Porter was his mate but how could he could convince of that in the midst of her turmoil? When The Sentinels are hired to look into the disappearance of her sister, Cale is tagged as the lead. The surge of lust he experienced when he showed up for their first meeting was not exactly what he expected. Nor was he prepared for his inner wolf to reach out to her.
For Linnea, fascinated by shapeshifters, Cale calls to something primitive inside her As they focus on finding her sister, the bond between them continues to grow. He stands guard as her sentinel, but can he also be her mate?
Videos
Comments
No comments posted.

Registered users may leave comments.
Log in or register now!