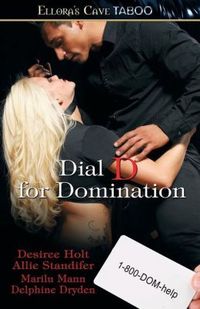 Purchase
A mysterioous business card is the entree to the world of domination
Ellora's Cave
June 2013
On Sale: May 28, 2013
Featuring: Dani; Ethan
328 pages
ISBN: 1419968629
EAN: 9781419968624
Trade Size
Add to Wish List

Romance Erotica Sensual | Romance Contemporary
Dani thinks her growing dissatisfaction with the lifestyle might be because she needs a role reversal. When a mysterious business card appears she calls the number, 1-800-DOM-help and at the club, Unfettered, is paired with Ethan, a sexy-as-sin sub. Dani learns the erotic effect of wielding the single tail whip on her sub and the intense arousal that stimulating him with toys can bring. As their sessions progress, she explores with Ethan every aspect of D/s play, from restraints to punishment to the exercise of control to achieve mind-blowing orgasms, and understands the value of receiving trust as well as giving it. But she develops very strong emotional feelings for Ethan that scare her to death. This could change her life forever. Will she be brave enough to accept what's being offered? Naughty Nature by Allie Standifer Aria's never acted on her secret need to give up her normally tight control—until one night, when a mysterious business card appears in a very personal place. For the first time in her life, Aria's taking a chance on fate and the promise of a stranger to discover her veiled desires. ER doctor Mac Hudson has always known who he is and what he wants. Now he's looking for a sub to explore all the erotic cravings and fantasies he wants to share. One glimpse of Aria, and Mac's ready to claim the petite sub in every way he can. A single night of passion is all she expected. Now Mac's asking for more, and Aria doesn't know if her newfound naughty nature is up to the challenge. Needing Harte by Marilu Mann Harte Donovan has a problem. A murder leads to him wanting a sexy stripper bound and naked in front of him. He can't let his secret desires ruin his career as a detective. But when he's given a mysterious business card, Harte discovers a side of himself he intends to fully embrace. Ramey Nichols strips for a living and he's not willing to pretend to be something he's not. When this sexy submissive meets the closeted cop and unwitting Dom, something has got to give. That something might just be Ramey. Ramey knows what he wants, and more than that, finds himself Needing Harte. Roses and Chains by Delphine Dryden Take one adorable suburban couple just starting to realize their D/s relationship isn't quite enough to satisfy. Add one cute and quirky sub who can't seem to find a Dom to suit her tastes. Place them in a room full of sex toys and candlelight, roses and chains… And after a few smoking-hot nights of pleasure and exploration, all three just might find what they're looking for.
Comments
No comments posted.

Registered users may leave comments.
Log in or register now!