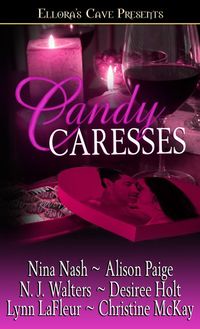 Purchase
Ellora's Cave
February 2007
On Sale: February 25, 2007
292 pages
ISBN: 1419957198
EAN: 9781419957192
Paperback
Add to Wish List

Romance Erotica Sensual | Romance Anthology
A Cupid's Work Is Never Done by Lynn LaFleur
Ally Briscoe falls head over heels the first time she sees Bain Duncan, but has no luck in getting the black-haired hunk to notice her. New to the Fort Worth area and now a single man, Bain wants to do his job and be left alone. Getting involved with another woman is at the bottom of his to-do list.
Claudius Ulysses Pervis Ichabod Derryberry—alias Cupid—tells Ally the solution to getting Bain's attention is simple—she has to seduce him. And what better day for that than Valentine's Day?
Anastasia's Style by N.J. Walters
Anastasia Style, owner of Hassle-free Holidays, is having anything but a hassle-free Valentine's Day. Her normally reliable car has a flat and she has a delivery to make for a last minute, lucrative client. And if that wasn't enough to make a woman crazy, she still has to make it to her lawyer's office in time to sign her divorce papers.
She just has to set the stage for her client's romantic evening and then she's off to her lawyer's office to officially end her marriage to Mason Style. Except her client has other ideas about how Anastasia will be spending her evening, and he has no intention of ever letting her go.
Cupid's Shaft by Desiree Holt
Dumped by her shallow lover for a leggy blonde, Jessie Rawlins was anticipating a lonely, depressing Valentine's Day in her vacation cabin. Then a snowstorm dropped hot, sexy hunk Riley Malone on her doorstep. Suddenly the night took on a whole new meaning as he led her on the sexual adventure of her life.
Curse of Cupid by Christine McKay
Constantine, also known as Cupid, is slave to the god Eros. Bound by a curse, Constantine's only chance at freedom is to find a human lover willing to participate in solving the Fates' riddle.
Six times the cock must blow, once as a lady, once as beau.
Once upon the master's head, once below the leather strap.
Once where feet must tread and at last within the trap.
Only then will the bonds be broke and freedom, your right to invoke.
Inadvertently stuck by Cupid's arrow on Valentine's Day, Rose falls under Constantine's spell. They have less than twenty-four hours to complete their passionate sexual marathon. Join them as Rose explores her hidden vixen under Constantine's experienced touch, tongue and tutelage.
I, Robot Valentine by Alison Paige
Ally hasn't risked love since her divorce. Luckily, in the year 2106 divorces are finalized within days and sex toys are humanoid robots. But healing the heart takes time. So why after two weeks with her Valentine's gift, a Companion sex robot, is she wishing he were as real as her growing love for him?
Thomas Zentry, owner of Issamov Enterprises and model for the Companion robot, would do anything to win Ally's heart, including posing as her personal sex robot. But he can't help wondering—is Ally falling for the robot or the man?
Recipe for Love by Nina Nash
Early Valentine's Day morning Gabriella is summoned to her grandmother's home with an urgent phone call. When she arrives there all is well—there is no emergency. The reason for the call is the family tale—and recipe—that is about to be passed down to Gabi. It is a treasure that will change her life, the way it has changed the lives of generations of women before her. Can one bite of a decadent cannoli seal the destinies of lovers? For some it can.
Comments
No comments posted.

Registered users may leave comments.
Log in or register now!