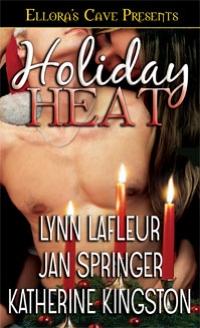 Purchase
Ellora's Cave
December 2004
ISBN: 1419952471
Paperback
Add to Wish List

Romance Anthology | Romance Erotica Sensual
A Wish Granted By Lynn LaFleur
Crista Farrell lost her husband in an automobile accident eight months ago. Now ready to go on with her life, she returns to the place on Hood Canal in Washington to say goodbye to the love of her life.
Car trouble leads her to walk to a nearby cabin, where she meets Jeff Bower. Jeff has come to his cabin to be alone and think about the long relationship he just ended with his girlfriend. He didn't expect to find a damsel in distress on his doorstep. He also didn't expect to fall in love with her on first sight.
Sparks fly between the two lovers, yet Jeff is unsure of Crista's true feelings. Has she really fallen in love with him, or is she still trying to get over the loss of her husband?
Enter a tow truck driver who looks just like Santa Claus. With a little magic and a Christmas wish, Santa makes sure Crista and Jeff will have their happily ever after. After all, Christmas is about miracles.
Jade By Jan Springer
In the land of the rich and famous, people fulfill their deepest sexual desires by calling Kidnap Fantasies Inc., a top secret kidnapping and fantasy organization.
When Jade Hart's two sisters give her a Kidnap Fantasies Inc. questionnaire, Jade is aroused at the prospect of having sex with a stranger whose job would be to fulfill her every sexual fantasy. Although she knows she's too shy to mail it in, she secretly pours her deepest wishes into the questionnaire. Soon it mysteriously vanishes and Jade's fantasy man appears in the form of a well-hung handyman who gives her an erotic sex toy filled Christmas holiday she'll never forget.
The Last Candle By Katherine Kingston
The magic Christmas candle lights Lindsey Hart inherited from her grandmother have helped her bring happiness to others when they flare up and show her a vision of what can be. When only one remains, Lindsey hopes its magic will be for her benefit this time. She's delighted when the candle flare shows her a man—a very attractive one. Perhaps he's the one who can help her explore her deep, secret fantasies, and maybe even one who can share her life.
Of course, she has to start by bailing him out of jail.
Comments
No comments posted.

Registered users may leave comments.
Log in or register now!