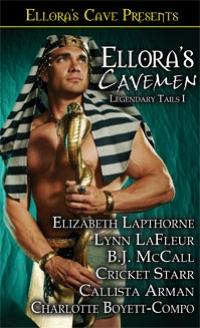 Purchase
Ellora's Cave
March 2005
ISBN: 1419951513
Paperback
Add to Wish List

Romance Anthology | Romance Erotica Sensual
Abduction By Lynn LaFleur
Michaela Ware has loved Jaxon Greene for almost a year, but he only thinks of her as a friend.
Driving Jax home from a party on a Friday night, Mike's car is engulfed by a bright light. It lasts for only a moment…or so they think. Seven hours of their lives disappear. Mike has a theory—an alien abduction. Jax doesn't believe that. As a reporter, he has to investigate what happened to them, and how.
He's never before had sexual thoughts of his pal Mike, but he's suddenly consumed by them. Yet they seem more like memories than fantasies. That can't be possible since he and Mike have never made love.
Or have they?
Breaking the Rules By B.J. McCall
Getting it on with Jac Dancer would be a serious infraction of the rules for Unit Leader Ri Anzer. Since the hunk was assigned to her galactic security team, Ri's managed to keep her desire in check and complete the mission.
But Jac Dancer is a man of action and he's determined to bed his sexy boss.
When Ri catches Dancer bathing beneath a waterfall, in the act of pleasuring what she's craved for two long years, the mission changes.
The mission now is Dancer and Ri breaking the rules.
Dark-Pilot's Bride By Cricket Starr
When her sister was selected to be the dinner of an outer- space vampire in exchange for supplies, Josia Ashen took her place assuming it would mean her death. But Dark-pilot Dimitri is delighted with the spirit as well as the body of the lovely woman he finds tied to a tree. And even Arthur, his fussy computer, approves of the voluptuous Josia. Dimitri wants to make her status as his "bride" a reality, but a hasty promise to her sister may come back to haunt him if he can't earn Josia's love.
Manacles of Love By Elizabeth Lapthorne
Ma'ra has always had a thing for Paul, so when her cousin staked her "claim" on him, Ma'ra decided to take an off- planet job for a few years. When she returns, she is handed the perfect opportunity to have one night with Paul and fulfill every secret desire that has haunted her on her long travels. With her trusty voice-locked manacles, she can keep the control and indulge herself in every way.
What she doesn't realize is that Paul has an agenda of his own. And even more fantasies to create than she does. When he turns the tables on her, it's hard to say who exactly has the control, and who is manacled by whom.
The Changeling By Callista Arman
After five years of marriage, the only way Raye MacLeod can get off is with a fantasy of her favorite erotic romance hero—warrior Kieran MacKenzie, owner of the biggest, baddest, umm…male appendage…in all of Medieval Scotland. Raye's sure sex with macho Kieran would be a big improvement over sharing bedspace with her easygoing accountant husband. Then a wee bit of Scots magic makes her wish come true, and Raye finds herself pursued by the man of her dreams.
What's a girl to do, except make the best of it?
The Windsday Club By Charlotte Boyett-Compo
Six warriors come together to form a private club, meetings held twice a month. At the first meeting they play sports, gamble, or engage in whatever interests them. On the other meeting day, they give themselves up to the carnal delights of gluttony and lust. Gorging themselves with rich foods, heady wines, and willing women, they share all their pleasures amongst them.
When their leader invites the beautiful Rosalyn to one of their gatherings, never does he imagine that love would strike him hard while they were each pleasuring the lady.
Comments
No comments posted.

Registered users may leave comments.
Log in or register now!