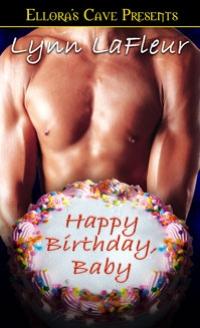 Purchase
Sometimes the best birthday gift is the one least expected?
Ellora's Cave
December 2003
ISBN: 184360891X
Paperback
Add to Wish List

The Birthday Gift
What does a man give the woman of his dreams for her birthday? Her fantasy, of course. When Amanda admits to her husband that she'd like to be part of a ménage a trios, Jake isn't sure if he could ever share his wife with another man.
Then his cousin Patrick comes for a visit...
It's In The Cards
Catherine Ryan has to find the perfect birthday card for her sister. Instead, she finds a card with the exact image of her fantasy man. She never expected to find a picture of the man of her daydreams...and the man of her erotic nighttime dreams. And she especially never expected that man to come to life!
One Thing To Give
Lindsay Cunningham's 30th birthday is far from happy for her. Tired of always being meek, she picks up a man in a bar for a wild night of uninhibited sex.
The night was much more than simply sex for Sam McKeifer. He wants a future with Lindsay. Now he has to convince her the only thing he wants her to give him is her heart.
Unexpected
Finding a spaceship with a little purple alien inside wasn't on Linc Carter's birthday wish list. Holding that alien in his arms is the best present he ever received.
Chandra knows nothing about this strange world, its language or customs. She knows how she feels when she's in Linc's arms and she doesn't want that to change. Maybe crashing on this planet hadn't been a mistake after all...
Comments
No comments posted.

Registered users may leave comments.
Log in or register now!