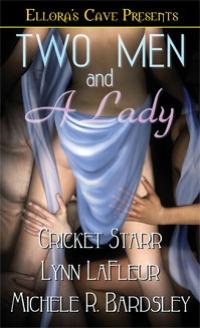 Purchase
Ellora's Cave
November 2004
ISBN: 1419952641
Paperback
Add to Wish List

Romance Erotica Sensual | Romance Anthology
And Best Friend Makes Three By Lynn LaFleur
A teasing remark from his best friend sends Eric McFarland ten years back in time to his college days, when sex was wild and plentiful. Now happily engaged to Brenna West, Eric has no desire to be with any other woman.
When that best friend, Keith Dillard, pays a visit, Eric decides to turn Keith's teasing remark into reality.
Brenna loves Eric with all her heart and wants no other man. Yet when Eric says he and Keith want to give her one night of incredible passion and pleasure, she can't possibly turn down their generous offer.
Lady's Choice By Cricket Starr
Lija is a woman on a mission…to get at least one night of fun in before she has to marry someone she doesn't really want. Gehon and Jackon are Zelion warriors working as space traders, and meeting Lija is a dream come true…sort of. Zelion men can only be fertile with their "true mate" a woman who matches them. They know her when they see her, taste her, and touch her, and once committed to her, will be faithful to her forever. The good news is that Lija is a true mate. The bad news is that she's the true mate for both of them and Zelion warriors aren't real good about sharing. The Zelions set up a sexual competition to win her hand, but in the end it is the "Lady's Choice" that will rule the day.
Saving Sarah By Michele Bardsley
A couple marred by tragedy indulges in a night of passion to redeem their marriage—and the lost soul of the handsome ghost who shares their bed. But the evil that almost destroyed them all a year ago still lurks in their lives, and it wants revenge…
Comments
No comments posted.

Registered users may leave comments.
Log in or register now!