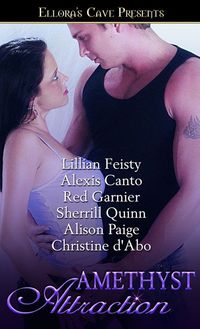 Purchase
Ellora's Cave
September 2009
On Sale: September 20, 2009
426 pages
ISBN: 1419959875
EAN: 9781419959875
Paperback
Add to Wish List

Romance Anthology | Romance Erotica Sensual
I Love Lacyby Lillian Feisty
As an ex-cop turned private investigator in Reno, Nevada, Mason O'Malley thinks he's seen it all. But nothing could prepare him for the kooky phone call about a stolen tiara — or the weird, irresistible woman who places it.
Lacy Kane is a fiery redhead with a love for vintage and a superhuman sense of smell. Her scent energy is grounded in the amethyst that decorates her prized tiara, so she's desperate to get the stolen item back. When she hires a private detective, though, Lacy gets more than she bargained for in Mason, a gorgeous, dominant tough guy with a hypnotic scent.
And that's before the handcuffs come out…
Amethyst Trystby Alexis Canto
When psychic healer Celeste meets her hunky new client Paul, she knows she's in for a tough healing session. As if it wasn't hard enough to keep her hands off his amazing body while healing his nightmares, she also has to convince him that her work is for real.
Nothing prepares her for what she learns when she reads his energy field. In a past life she and Paul were star-crossed lovers Celia and Paolo. With a huge amethyst crystal to help unlock their memories, Celeste and Paul relive the erotic ride of their lives. But is that enough to convince the skeptical Paul that anything is possible — including sex that's even more mind-blowing?
Amatistaby Red Garnier
Lured years ago from her home on Earth, Liana has seen countless natives mercilessly killed by humans in their search for planet Oriana's riches. When the Foher warrior Kavi kidnaps her during his escape, he unwittingly takes the humans' greatest asset — and awakens Liana's strongest lusts.
For years the Fohers have sought the same treasure — Amatista. Only by finding the mystical river of amethysts will Kavi and his people be safe. But Kavi doesn't realize his human captive, with her lush body and eager responses, is more than just a distraction — she is the key to finding the very treasure he seeks.
Reader Advisory: Amatistacontains group sex play and mild female-female interaction.
Jewel of Apthgarby Sherrill Quinn
The Jewel of Apthgar, a six-inch-long amethyst said to come from the great god Apthgar's mighty sword, was lost in antiquity but has recently been found. Rumored to give mystical blessings to noble marriages, it is the only symbol that might reunite two feuding kingdoms.
Rahziya Sanura, Princess of Gar, is sent to retrieve it. So is Callum Heyfeydd, Prince of Apth. Once they join forces, Callum must convince Rahziya to join with him in using the Jewel — their only chance to be together without their fathers' blessings. But this is the first time Rahziya has a chance to win her father's approval. Can she give that up? But if she doesn't, can she give up Callum?
Amethyst Rainby Alison Paige
Katie's grandmother gave her an enchanted amethyst necklace to protect her when her Army unit's called to war. But protection isn't all the amethyst has to offer. During her farewell weekend party, everyone's feeling the necklace's kinky, erotic effects.
Mark and Jarrod never imagined when they accepted an invite to an off-to-war bash they'd find a woman who would make them both rock hard and ready. But with her strange amethyst necklace flipping everyone's libido into overdrive and the sky raining amethyst, will they be able to convince her their attraction is more than magic?
Wizard's Thiefby Christine d'Abo
When Callie is sent into the wizarding stronghold to steal the wizard's binding stone, she enters a world she doesn't understand. Stumbling into the arms of Raine, she learns that she is his connection to a powerful magic and is bound to him for life.
Raine, once the most powerful of the Warren's wizards, lost his magic years ago. He must learn to trust Callie, not only with the secrets of the Warren, but with his heart. Each passing moment makes the flare of passion between them burn higher as the control over his magic returns.
When an old enemy threatens a member of the Warren, Raine must overcome his fears and trust Callie not only to save a friend, but to return the love he wants to give
Comments
No comments posted.

Registered users may leave comments.
Log in or register now!