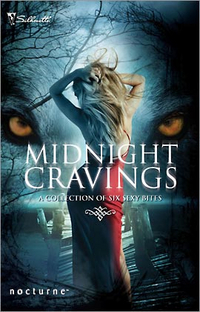 Purchase
A Collection of Sexy Bites...
Silhouette Nocturne
April 2009
On Sale: April 1, 2009
ISBN: 0373250932
EAN: 9780373250936
Trade Size
Add to Wish List

Under the cover of night exists the dark and sensuous world of Midnight Cravings—a world conjured up in six seductive tales of paranormal passion. Follow some of the genre's best writers, including Michele Hauf, Karen Whiddon and Lori Devoti, on a mesmerizing journey where the extraordinary comes breathtakingly close with every turn of the page.
So, please, come on in. The first bite won't hurt, and it's likely that you will crave another…and another…and…
Author Note
BROKEN SOULS by Bonnie Vanak

This is Baylor and Katia's story from THE EMPATH.
She was forbidden by the Draicon to cast the blood-to-blood spell. But Katia was determined to find her father, and the spell was her only option. The Draicon had taken her into their pack when her own family had been destroyed by the Morphs. But Katia had never given up hope that her father was still alive, and refused to mate for life with her beloved Baylor until she found him. Now Baylor had given her an ultimatum, and Katia was forced to take drastic measures.
But when Katias spell summoned a Morph claiming to be her father, nothing Baylor said could convince her of the danger. Baylor knew too well the cost of trusting a loved one whod turned, and desperately wanted to save Katia the pain hed lived with for so long. He also knew that if he spared the Morph, it would destroy Katia, but if he killed this evil being, he risked losing her love forever.
Comments
No comments posted.

Registered users may leave comments.
Log in or register now!