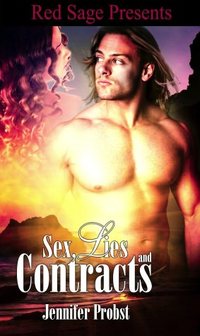 Purchase
Red Sage
February 2012
On Sale: February 4, 2012
Featuring: Julianna Elizabeth Waters; Jack Woodward
ISBN: 0014099624
EAN: 2940014099622
Kindle: B0075X1V12
e-Book
Add to Wish List

Erotic | Romance Erotica Sensual
Julianna Elizabeth Waters promises her dying father to save the family estate at all costs, even if it means marrying for money, and not love. After years of taking care of her sick parents, she's become afraid to push past the walls of her Newport mansion and live.
Jack Woodward has it all - wealth, power, and prestige, but discovers a contract stating he must marry within three months or his legacy will go to his cousin, a man he loathes. He leaves England and disguises himself a gardener, intent on finding a woman who loves him for himself, and not his money and title.
When he spots Julianna on the cliffs, he vows to claim her at any cost, but she is intent on marrying a wealthy husband. He may be disgusted with her values, but he craves to initiate the spinster into the dark world of pleasure. They strike a bargain: she will belong to him every night and do anything he commands. Lust turns to love as the nights unfold, and suddenly the terms change.
But when his cousin comes to town, disguising himself as the perfect husband with a plan to steal Jack's legacy, Jack forces her to choose: love or money. A wrong choice throws a startling chain of events in action. Can love and truth triumph or will it be too late?
Reader Alert!: Julianna Elizabeth Waters is an old fashioned spinster desperate to break out of her sexual constraints. When her sexy gardener offers her a naughty bargain to belong to him, body and soul, she does things she always imagined of. Being dominated, controlled and spanked have never felt so good...
Comments
32 comments posted.
I loved The Marriage Bargain and look forward to reading this book too! Love the tortured heroes :)
(Ursula Avery 2:33pm March 23, 2012)
I like heroes that are thoughtful and love animals.
(Sue Farrell 2:52pm March 23, 2012)
I love heros who are strong and stand up for what they believe in, but also can be gentle. And of course, drop-dead gorgeous and HOT!
(Edwina Cowgill 3:05pm March 23, 2012)
I like heros that get into predicaments and have to utilize their intuitive side to resolve the issues.
(Alyson Widen 3:07pm March 23, 2012)
I love Jennifer. I acnnot wait for this next book Sex,LIes and Contracts.
(Susan Atkins 3:47pm March 23, 2012)
I like snarky ones who need a comeuppance!
(Lisa Elwood 4:10pm March 23, 2012)
I like alpha heroes. But it's their actions, not words, that count. No bullying. No meanness. It's a cliche, but he has to have a kind heart.
(Carly Carson 4:25pm March 23, 2012)
Sounds like quite a mess, but I'm sure it will all work out for the best in the end. I hope so anyway, I like happy endings.
(Kathleen Bianchi 4:33pm March 23, 2012)
I like heroes to have plenty of sex appeal, be kind and good-hearted in nature, be strong and helpful to the heroine, and having a bad-boy past or problems to face and ready for changes in his life that can only come about by meeting the heroine. Then it's a page-turner for me. I think he's jumping off the cover of this book--WOW, is that guy hot!!! I don't have an e-reader and only read paperbacks. I wish authors would offer us a choice if we win. Thanks.
(Linda Luinstra 4:51pm March 23, 2012)
I like heroes who are not controlling.
(Cheryl McEwen 5:38pm March 23, 2012)
I like a hero that can catch me with that first look (you know the one..when it's hard to look away when both of your eyes are locked on each other). He must be strong, sensitive to my needs (good heart), sexy (passionate), kinda wild (but will let me tame him ;) , and someone I can always count on whether it be protection or lovin or just to be there.Hmmm, We all need a Hero, now that would give you a reason to open your eyes. The cover is Great. This was fun..MmmHmm, now I have to go out and find my Hero ;).
Thanks
(Margie Gagarin 6:41pm March 23, 2012)
I love heros that are strong, assertive but not afraid to say I love you and show it.
(Wendy Hulbert 8:19pm March 23, 2012)
I love a hero that is dark and mysterious.
(Julie Parrish 8:23pm March 23, 2012)
sounds like a great book. i love a alph hero that can keep you safe!!!
(Jennifer Beck 8:33pm March 23, 2012)
Sounds intriguing--hope I win! (even if I don't, will still read)
(Lynne Mauro 8:48pm March 23, 2012)
thanks for the giveaway!
cheryl stillwell
(Lynne Stillwell 8:50pm March 23, 2012)
A hero who knows a woman is capable of standing on her own but is always there to provide support.
(Mary C 8:52pm March 23, 2012)
I like female leads who are able to stand on their own, but still keep their friends and loved ones close.
(Alyssa m 9:14pm March 23, 2012)
I love a strong hero who can be sensitive and admit his
feelings.
(Diane Sallans 9:27pm March 23, 2012)
Thank you so much for the awesome comments guys! I may need to steal some of your qualities to incorporate in my next hero - lol! Really hope you enjoy the book!
(Jennifer Probst 10:14pm March 23, 2012)
The hero should be broken (but not too much) and he must be smart and have a sense of humor (even if it's off beat). Gee, I don't ask for much, do I?
(Jennifer Beyer 10:37pm March 23, 2012)
I like a hero who is loyal, strong, knows when to back down and when to push his love, knows what family means, can laugh at himself, knows how to have fun and knows how to laugh with his lady love and has an accent..
(Lisa Kendall 1:39am March 24, 2012)
I like heroes that are selfless & intelligent.
(Mary Preston 5:12am March 24, 2012)
I like the variety of heroes out there... having their own personalities... their flaws showing...
(Colleen Conklin 3:18pm March 24, 2012)
I've heard a lot about The Marriage Bargain and am looking foward to Sex ,Lies and Contracts
(Lynne Stillwell 8:46pm March 24, 2012)
When I read a book, I put myself in the place of the female character, be she the Heroine or the victim. That being the case, the Hero should enter the book as a Gentleman, not like Zorro. He should be able to capture my heart with his strength, as well as his aptitude, make me laugh along with his sense of humor, and put a tear to my eye by his sense of tenderness. As for looks - he doesn't have a bodybuilder physique with a perfect smile. Just a cutie with that special twinkle in his eye that lets you know he's interested, just like I'm interested in reading your book.
(Peggy Roberson 9:30pm March 24, 2012)
I like my heroes to be tender with a good sense of humor.
(Barbara Studer 10:20pm March 24, 2012)
Eye candy doesn't hurt, so a good description of his hotness will make him jump off the page for me. But the ideal man would be someone with intelligence, a sense of fun/funny, yet tender enough to be kind and caring. Selflessness towards his heroine is also nice.
(Susan Navidad 12:51pm March 25, 2012)
Nothing gets to me more than a hero that has wit. He plays
the game, but doesn't even know what's doing to the heroine,
which is driving her slowly go out of her mind. In turn, she
doesn't know what it is about him that is driving her crazy,
because he's unlike any that she's even fantasized about.
(how's that for a storyline *wink*)
(Patti DelValle 1:55am March 25, 2012)
Sounds like a great book! :)

Well... I like my hero to be a bit alpha-ish but not chauvinistic...
(May Pau 10:23am March 25, 2012)
I love a hero who is self confidant, sexy, funny, passionate and respectful. He has a pretty good grasp on when humor lightens the mood and when his woman needs him to take charge. He also takes the time to find out what pleases his mate and gives her the opportunity to study him closely enough to find out what gives him pleasure too.
(Patti Paonessa 6:11pm March 26, 2012)
That "wolfish grin" plays a big part in making a hero appeal to me. My heart goes pitter-patter when a good looking guy grins at me. Muscles and abs are much less important in a hero as is being six-foot tall. Short guys can be very sexy.
(Gladys Paradowski 5:29pm March 27, 2012)
Registered users may leave comments.
Log in or register now!