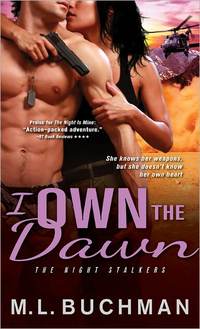 Purchase
They take kick-ass to a whole new level
Night Stalkers #2
Sourcebooks Casablanca
August 2012
On Sale: August 7, 2012
Featuring: Archie Stevenson; Kee Smith
416 pages
ISBN: 1402258135
EAN: 9781402258138
Kindle: B008B8A6XO
Paperback / e-Book
Add to Wish List

Kee Smith battled through a difficult childhood to work her way up the ranks of the U.S. Army. When she finally makes it into the elite Night Stalkers, she feels thrilled, honored, and vindicated...until she finds out she's been assigned to the "girlie-chopper" piloted by the only other woman in the regiment.
Kee is determined to show Lt. Archie Stevenson, one of the male co-pilots, that she is just as tough as the guys. Throughout their special mission, Archie doesn't know whether to make love to her or plant her face-first into the dirt. But he'll do whatever it takes to break through that shield Kee wears around her heart.

Media Buzz
Weekend Edition Sunday - December 23, 2012

Night Stalkers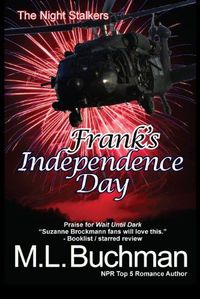 Frank's Independence Day
#0.0
Amazon.com | BN.com | | |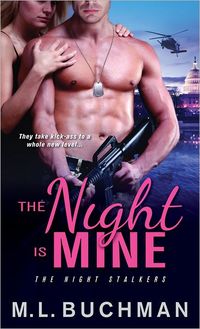 The Night Is Mine
#1.0
Amazon.com | BN.com | | |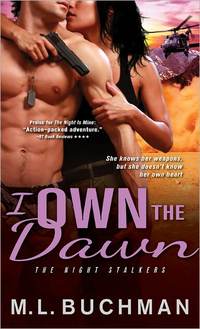 I Own The Dawn
#2.0
Amazon.com | BN.com | | |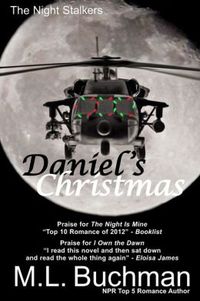 Daniel's Christmas
#2.5
Kindle | BN.com | | |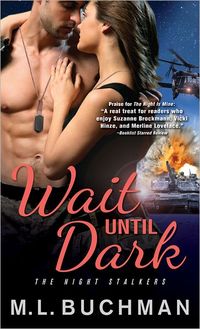 Wait Until Dark
#3.0
Amazon.com | BN.com | | |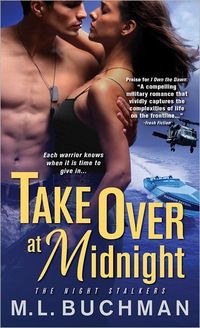 Take Over at Midnight
#4.0
Amazon.com | BN.com | | |
Comments
49 comments posted.
Re: I Own The Dawn

Well laughter is the key to a good marriage!!!
(Vicki Hancock 3:34am August 2, 2012)
I wonder if you know my son's best friend. It seems that you are writing his story. It seems that emotions run high in times of war. I am putting this book on my wish list.
(Kathleen Yohanna 3:40am August 2, 2012)
What stirs up my heart is the little things....
(Deborah Garcia 3:44am August 2, 2012)
It always seems to be something unexpected that gets to me the most. Having my daughter look at me out of the blue and say "I love you mom" will make me tear up in an instant.
(Denise Boyd 4:45am August 2, 2012)
If I'm writing about characters having a big row, my heart rate speeds up, I don't sleep.... if all is well with them again I relax and destress. Doesn't happen if it's just a short story though.
I like a contrast between a character with a sense of humour and one without any discernible sense of humour, because we meet both types and I know which I prefer...
(Clare O'Beara 7:27am August 2, 2012)
I love spur of the moment things---a friend calling and lets go to the movies. A quiet dinner out and a long walk in the park
(Shirley Younger 7:58am August 2, 2012)
I know it's a good book when I have stayed up half the night reading and don't care that I am going to be exhausted tomorrow at work.
(Pam Howell 8:24am August 2, 2012)
LOVE YOUR BOOKS AND IT WOULD BE AWESOME TO WIN THIS CONTEST.
(Shelly Caggiano 9:33am August 2, 2012)
You two sound like soulmates...can't wait to read this book!!
(Bonnie Capuano 9:34am August 2, 2012)
Your books sound wonderful. I would LOVE to win a copy - but feel I'm a winner alredy because, to be honest, I haven't heard of your books but they sound exactly like "my cuppa tea" - so I'm off to get some right now. Best of luck with your newest - and all that you do.
(Nancy Reynolds 9:44am August 2, 2012)
PICK ME!!! PICK ME!! My disposable income got incinerated by hospital bills :(
(Pamela Faye Howell 9:44am August 2, 2012)
Things of nature stirs my heart..so much that many takes for granted. Your books sounds very good and if I were to win any I will share by placing them in the small community library I run to serve my rural area. sue Leech garysue@dejazzd.com
(Susan Leech 9:57am August 2, 2012)
Sounds like a great book! You are fortunate to be able to do what you love and have people you love to support you.
(Julie Touchstone 9:57am August 2, 2012)
Sounds great and I can't wait to read it. I am disabilied and
reading is so much a part of my live. It keeps me going.

Trish
(Trish French 10:14am August 2, 2012)
congrats on the latest release! Thanks for a fun post :)

I love reading about two people getting together, finding out
that they can't live w/out each other and enjoying w/ them a
new relationship :)
(Erin Fender 10:29am August 2, 2012)
Erin: I know, me too! That moment of falling for each other is one of the great highs. I love reading and rereading those.
Denise: Yeah, that moment when your kid says, "I love you." for no reason that you can discern. That's about the best.
Clare: I've lost many a night's sleep to my characters emotions. Doesn't matter if I'm exhausted from the day and wrote until too late the night before, my brain will wake me up an hour before I have to leave for my day job, just so that I can write that next bit of scene. I love that part of writing.
So many: Thanks for all the positive comments, I certainly think they're immense fun. That's the reason I write, because I love to laugh and cry with my characters.
(ML "Matt" Buchman 10:57am August 2, 2012)
That is so neat that you have the loved one to read your script once you think you have it finished I love to read being disabled reading is important in my life and my husband is a non-reader which i don't understand how one can be although from teaching school there were alot of non-readers that i tried to get into them and turn that around hopefully as they got older I hope they are reading someones manuscipt.
(Peggy Clayton 11:44am August 2, 2012)
HI ML! BEEN TRYING TO WI YOUR BOOKS FOR SOME TIME AND HOPE
BEING 18 IS LUCKY FOR ME!
(Linda Bass 11:50am August 2, 2012)
When someone enjoys what he creates, it adds to the enjoyment of the audience.
(Shirley Nienkark 12:21pm August 2, 2012)
My husband stirs up my heart. It's all the little things he does, like getting out my mug to make me a cup of tea when I'm stressed or the way he takes care of our beautiful dog, Mandy. He just smiles when I'm engrossed in a book and laughs when I laugh at the characters...even though he has no idea of the storyline.
(Michele Hayes 1:14pm August 2, 2012)
I love the little things more than the grand gestures. Like
remembering your favorite flower or putting a blanket over
you while you nap on the couch. And of course, sharing a great
sense of humor is so very important. Sounds like you have
that. Congrats on the new book!
(Laura Garofalo 2:19pm August 2, 2012)
The moment ya realize you're on the right path - that's the most emotional moment for me. We've been told that children probably won't be an option for us, but realizing we could adopt a child, a child that may not have a chance @ life otherwise - *ding*! That moment was the most amazing in my entire life. I'm not sure how any could top that feeling, but it's exciting to picture what actually finding "the" child will feel like :)
(Lizzie Bailey 2:34pm August 2, 2012)
you sound like you wrote a winner here
(Debbi Shaw 2:52pm August 2, 2012)
Good book! Good contest! Good writer!
I want to read this one. Pick me, please!
(Mary Hay 2:56pm August 2, 2012)
Music! It can make me smile, feel like dancing or it can make
me cry.
(Diane Sallans 2:56pm August 2, 2012)
A great read that touches my emotions... Mucis, my family, etc.
(Colleen Conklin 3:06pm August 2, 2012)
Elizabeth, you remind me of the day I met my step-daughter to be. I was scared to death! It was that make or break first meeting of "the kid" (6yo at the time) when I was already really enamored of her mom. We spent about 3 hours on the kitchen floor, her teaching me sign language and me teaching her how to spell, in sign. We had a great time and have whenever we've been together ever since (which has been a lot as she's almost 21 now). A real close 2nd for me, was the day we dropped her off at college and she practically took flight. Knew we'd done our job of setting her up to launch into the world.
(ML "Matt" Buchman 3:30pm August 2, 2012)
I love to read about the moment when the hero first admits to himself that
he loves the heroine.
This book looks really good! Thanks for the chance to win a copy.
(Debbie Burdeen 3:32pm August 2, 2012)
Great blog. I love to listen to music. I'd love to win this book.
(Wilma Frana 3:46pm August 2, 2012)
Love the blog! I can't wait to read this book. Congratulations on the release! Thank you for the chance to win.

I love laughter - not silliness - but good, honest laughter!
(Kimberley Coover 3:56pm August 2, 2012)
lOOKS LIKE A GOOD READ. THANKS FOR THE DRAW.
(Barbara Studer 4:45pm August 2, 2012)
My children always stir my heart, pride and joy they are everything to me. I look at them and they just amaze me.

Good luck and happy writing!
(Tracie Travis 4:56pm August 2, 2012)
A couple of cats, an understanding spouse, and doing something that you love! You are indeed a very fortunate fellow.
Blessings,
Marjorie
(Marjorie Carmony 5:09pm August 2, 2012)
I love to laugh, laughter is the best medicine. I can't wait to read the book.
(Rita Wray 5:09pm August 2, 2012)
I love when a writer and his/her characters work together. It makes a virtual
team and I think a better book. Keep writing and laughing--it makes for a
happy life for all of us.
(Sandra Spilecki 5:13pm August 2, 2012)
I think you always feel better after a good laugh---so I try to have one with my hubby at least once a day.
(Sue Farrell 5:37pm August 2, 2012)
ARCHIE AND KEE WILL DEFINITELY GIVE IN TO THEIR ATTRACTION FOR ONE ANOTHER AND SAVE THEIR TEAM FROM INTERNATIONAL IMPLICATIONS. HOW SEXY IS THAT?!!!
(Tiffany Miles 6:03pm August 2, 2012)
Love the silly little things my young grandson does and says that give me a good laugh. Love reading,listening to music and craft projects (I enjoy but don't find enough time to get to, as often as I'd like). I'd love to win this book!
(Linda Luinstra 6:07pm August 2, 2012)
I think some of the most special moments are spent with your grandchildren.
(Kathleen Bianchi 8:28pm August 2, 2012)
What stirs up my heart?? Reading a book, and having something totally unexpected, but good, come out of nowhere, and touch me when I least expect it. It could be a scene, or a gesture made by a character, but it's usually something that's totally unexpected. What makes it fun is when I can totally put myself in the place of the Female character, and live through her eyes. When the plot of the book is flawless, even if there are painful parts, it makes it a fun read. When a book has glitches in it, and I'm sure you know what I mean, and you have to keep putting it down, because it makes you bored, it doesn't make it fun to read, but you want to get through it to find out how things end. Your book does sound quite interesting and exciting, and I would love to get my hands on a copy to read it. I had to chuckle when I read your background, because at one point of my life, I also did one of the same things that you did, although I owned the business. Small world. Congratulations on your book. I'm sure it will do well.
(Peggy Roberson 8:31pm August 2, 2012)
I love Military stories and the Spcl Ops are one of my favorite branches. Then add a woman to assist in the adventure and I am in love with the book. I like the unexpected that I find in my books that make me laugh, or cry or that special part where the h&h realize they have to work together but it is ok to have feelings for each other. I am looking forward to reading "I Own The Dawn" and you are a new author for me to read.
(Brenda Hill 9:14pm August 2, 2012)
I love it when the little pieces start to form a big picture. I love it when one character realizes that another character has layers they had never seen before. I love the humor that happens naturally. I love a book that has a good rythym.
(Jennifer Beyer 9:15pm August 2, 2012)
Would love a copy of your book! I love to read, and am very
interested.
(Edie Creel 11:00pm August 2, 2012)
the little things!!!
(Jennifer Beck 11:07pm August 2, 2012)
Book sounds great. Thanks for giving me a chance to read it.
(Linda Hall 11:14pm August 2, 2012)
Jennifer: Thanks for putting words to it. I love letting my characters discover not only each others layers, but their own as well. I found that falling in love was (aside from all the other great things) more self-educational even than my mid-life crisis on wheels when I bicycled solo around the world. Two people can be so much more than one plus one, which is just neat. I love that it works that way and that I was lucky enough to get that in real life as well as my writing live.
(ML "Matt" Buchman 11:43pm August 2, 2012)
book sounds great laughter
(Ann Unger 11:43pm August 2, 2012)
I love how deeply invested you are in your characters & writing.
(Mary Preston 6:58am August 5, 2012)
I'm getting caught up on the blog tour, as I was away for most of it but love the
Night Stalkers!

I'm all about a great read toughing my emotions.
(Cris Diez 9:40pm August 23, 2012)
Registered users may leave comments.
Log in or register now!