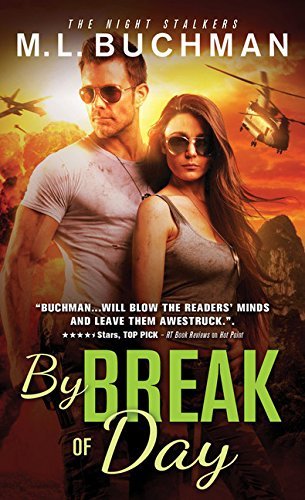 Purchase
Night Stalkers #7
Sourcebooks Casablanca
February 2016
On Sale: February 2, 2016
Featuring: Justin; Kara Moretti
ISBN: 1492619167
EAN: 9781492619161
Kindle: B0169AK2CA
Paperback / e-Book
Add to Wish List

M. L. Buchman raises the stakes-and the heat-in the return of the acclaimed Night Stalkers series
NAME: Kara Moretti
RANK: Captain of the Army's stealthiest remote piloted aircraft (Don't call it a drone)
MISSION: To be the eyes of the team
NAME: Justin "The Cowboy" Roberts
RANK: Captain of the Army's most powerful helicopter
MISSION: To redeem the past, at any cost
They Put Life, Limb, and Heart on the Line
Two new captains join The Night Stalkers with two different strategies in life, love, and combat.
When Brooklyn-raised Kara joins the crew, she knows one thing as an absolute truth: to stay safe, keep everything and everyone at a distance.
Born in Texas, Justin knows only one honorable way to make up for losing his first crew to a suicide bomber: he flies with all his heart. When Kara and Justin collide on a top secret mission deep in the Israeli desert, then the battle truly begins.
Night Stalkers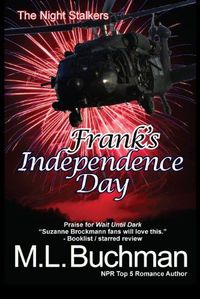 Frank's Independence Day
#0.0
Amazon.com | BN.com | | |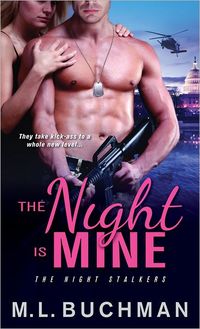 The Night Is Mine
#1.0
Amazon.com | BN.com | | |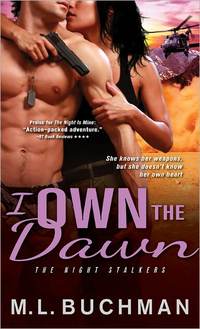 I Own The Dawn
#2.0
Amazon.com | BN.com | | |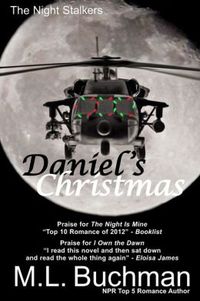 Daniel's Christmas
#2.5
Kindle | BN.com | | |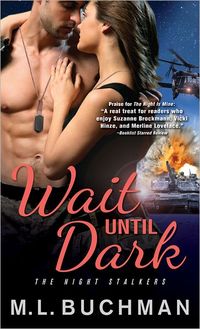 Wait Until Dark
#3.0
Amazon.com | BN.com | | |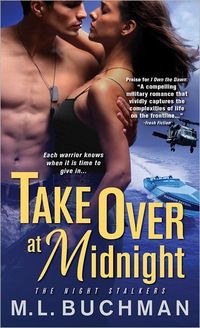 Take Over at Midnight
#4.0
Amazon.com | BN.com | | |
Comments
29 comments posted.
Re: By Break of Day

When you open the book and start reading, it's like
you're reading about your own family!! You become so
familiar with most of the characters, that you can't
wait to find out what they've been up to since the
last time a book came out!! Most series books are
wonderful to read, but I have stopped reading a
couple, because the Author didn't know where to go
with their characters after a while, and it showed in
their books. They got stale, both in character
development and in story line, which was a shame,
because I was such a fan of theirs at the time.
(Peggy Roberson 5:12am February 1, 2016)
Sounds like a interesting read/
(Marissa Yip-Young 10:10am February 1, 2016)
I love in series... seeing characters again that I have met before... whether they have more to share, another adventure, or they share time with their friend's story...
(Colleen Conklin 11:51am February 1, 2016)
Hi Peggy, Yep! I've left authors for the same reason.
It's a real challenge as an author to strike that balance
of "fresh and new" along with "still fits in series." I
keep trying to change things up. And then in my Firehawks
and Delta Force series, the challenge expands: I want the
series voice to be different enough to stand out, but
similar enough that my readers will have a good time when
they follow me sideways. It's one of the main reasons
that this career never gets dull; storytelling is such a
varied beast!
(ML "Matt" Buchman 12:34pm February 1, 2016)
I find that I am often not ready to leave the world and
characters of a good book even with the resolution of an
issue. It is wonderful to be able to read a series for the
reasons that you have listed. I enjoy revisiting.
(G. Bisbjerg 12:36pm February 1, 2016)
Hey Colleen, Me too. As an author I love the chance to
revisit prior characters and see just what they're up to.
Whole new adventures await some of them (sound of author
scheming quietly in the background...a sound often
mistaken for a slightly mad giggle of pure glee). Others
will continue to grow and become more of who they are. I
love reading that, and let me just say as a writer, it's
at least as much fun to write that!
(ML "Matt" Buchman 12:36pm February 1, 2016)
I found you in the Warriors project and fell in love with your people...they've become mine, now...and thank you for the Fire Hawks series!
(Kathleen Bylsma 2:22pm February 1, 2016)
Oh you sooo nailed my thoughts on series, expecially romantic series. That's why you're the
writer and I'm the reader...I've been searching for the words to express WHY I adore reading
romantic series'. I just don't want to say goodbye to characters I've fallen in love with
and the world they inhabit! Thank you for this post.
(Lenna Hendershott 4:01pm February 1, 2016)
Most of the time I am saddened to leave the characters I have
come to enjoy and love.
Marilyn
(Marilyn Collins 6:44pm February 1, 2016)
Night stalker series is outstanding! I love Emily Beale - I followed her into the new series but unfortunately I got side-tracked and haven't kept up. Looking forward to this new edition. Thanks.
Esther
(Esther McKinney 10:35pm February 1, 2016)
I love getting to know the characters and looking forward to whey do in the next book.
(Laurie Bergh 11:19am February 2, 2016)

(Laurie Bergh 11:19am February 2, 2016)
Hi Kathleen,
Thank you for supporting "The Way of the Warrior." I'm
very proud of both that project and the story I wrote for
it. And yes, there will be more about them (my short
story "Dawn Flight" is also in that world). Glad you
enjoyed Firehawks as well.
(ML "Matt" Buchman 12:29pm February 2, 2016)
Hi Lenna,
It was a fun post to write...because I had to figure out
why I liked series so much myself.
(ML "Matt" Buchman 12:30pm February 2, 2016)
Hi Esther,
I love Emily too. Now if I only could figure out how I
created such a cool character in the first place...
Grinning,
Matt
(ML "Matt" Buchman 12:31pm February 2, 2016)
When I read a book that's a stand-alone , most of the time I want it to go on and on . I want more of it , so that is why I like the series , we can keep reading the rest of the stories about the people we have grown to love and care about.
(Joan Thrasher 12:52pm February 2, 2016)
One thing I love about reading a series is that you get more involved with the main characters and their families. The more books you read in the series, the deeper you get invested in all the recurring characters. I love reading when a favorite minor character(s) makes another appearance in the next book aside the main characters. Definitely a cherry on top.
(Lisa L. 8:35pm February 2, 2016)
I just love being able to follow characters from one story to the next. I feel
move invested and involved in the characters. It is almost like watching a tv
show (book series) vs watching a movie (stand alone book).
(Lily Shah 12:48pm February 3, 2016)
I've become so fond of every person you've 'created' in your books: both series....I am so invested in how they develop and find out who they really are when push comes to shove...and that they can accept themselves as they are allowing them to grow with others. thank you for your evocative writing...not so mention, heart pounding action!
(Kathleen Bylsma 12:58pm February 3, 2016)
Hi Joan, Lisa, and Lily,
Thanks for the reinforcement of what I thought I already
knew. Reader Matt may completely agree with you
completely, but Writer Matt is as filled with doubt as
the next writer. Much appreciated.

Hi Kathleen,
So glad you're enjoying the two series. And yes, the new
Delta Force series has some crossovers and is now
starting to grow tie-in short stories of its own. It's
just so much fun. I'm thrilled that you're enjoying them.
All the best,
Matt
(ML "Matt" Buchman 4:37pm February 3, 2016)
I enjoy series because you get to learn what happened to earlier characters. I always enjoy learning what happens to characters after their story ends.
(Linda Henderson 10:47am February 4, 2016)
I like to read all kinds of stories. If it is a series, I don't want more than 4 books
in the series. It is often hard to find all of the books if there are more.
(Joy Isley 2:20pm February 4, 2016)
I love series because you get to see the characters develop and grow.
(Joanne Schultz 2:32pm February 4, 2016)
I enjoy reading your books. My specialty is your series and
how the characters fall in love.
(Mary Pitre 2:56pm February 4, 2016)
I like the character crossover - I like to meet the characters
that will be featured in the next books and to visit with the
characters (and see what they have been up to) that were
featured in the earlier books.
(Diane Sallans 11:29am February 5, 2016)
I love learning more about supporting characters from previous books. Some of
those characters later become my favorites after I learn more about them.
(Melinda Stephens 4:20pm February 5, 2016)
What i love about a series is wanting more after a book ends.
Like with a tv show or a soap opera i got to see what happens
next. When i read or watch something good i get sucked in
pretty fast and i wanna see it continue where it left off or
else I'll be left disappointed.
(Megan Glass 8:24pm February 5, 2016)
I can't begin to count the number of series I have read over the years. However, the number of them I go back and re-read because I simply NEED to revisit that world and those charactors is a much smaller number. In fact, it boils down to two authors: Anne McCaffrey and Nora Roberts.

I haven't had the chance or opportunity to read any of your books, but having read this posting, I can state that I will be putting them on my list at my library!

Many thanks for the introduction!
(Lynn Rettig 5:26pm February 6, 2016)
When I find a story that grabs me, I almost NEED to know what happens next. It's hard waiting when it is a current series. Please keep up the good stories.
(Lois Boden 1:00am February 7, 2016)
Registered users may leave comments.
Log in or register now!