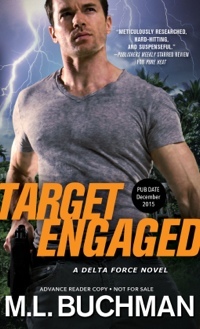 Purchase
Delta Force #1
Sourcebooks
December 2015
On Sale: December 1, 2015
384 pages
ISBN: 1492619221
EAN: 9781492619222
Kindle: B011SPAJ74
Paperback / e-Book
Add to Wish List

Book 1 in M.L. Buchman's thrilling NEW Delta Force series
Delta Force: The most dangerous elite counter-terrorism force on the planet
• The deadliest shooters •
• The most out-of-the-box thinkers in any military •
• Will die to get the mission done •
Sergeant Kyle Reeves: The premier soldier of the new recruits
Sergeant Carla Anderson: The first woman of Delta Force
If the training doesn't kill them, their passion may-but Kyle Reeves and Carla Anderson blast right in. Show no fear. Have no fear. Then they get the call. The most powerful drug-smuggling ring in Venezuela needs a takedown, and Delta's newest team leaps into the deep jungle to deliver. Giving their all? Not a problem. Giving their hearts? That takes a new level of courage.
Delta Force
Comments
30 comments posted.
Re: Target Engaged

I enjoy all types of books. I got very excited when we found books that my
sister and I read as children that I can now pass down to my 4-year-old
granddaughter.
Thank you for the chance to enter the giveaway.
Target Engaged looks like a great book!
(Anita Seymour 2:34am November 30, 2015)
Over the years, I've read so many books, that there have been
dances done from jigs to waltzes. When I was a young girl,
the one book that pops into my head is the Autobiography of
Helen Keller. The reason I mention this particular book, is
because not only did I want to read her life story after
seeing the movie The Miracle Worker on tv, but because after
reading it, I actually looked up to her, and she helped me
shape my life. As I got older, there were other books that
had an effect on me for other reasons, but that particular
book will be one of at least two or three that will always
stand out in my mind. I'm looking forward to reading your
latest book, and congratulate you on your latest
accomplishment!! The kudos you've received aren't too
shabby, either!! lol I know it's going to do well. Have a
very Merry Christmas, and all the best to you in the coming
New Year!!
(Peggy Roberson 6:49am November 30, 2015)
Gosh there are quite a few...when I receive the lastest book of JR Ward or Christine Feehan I hit the roof!!! But I must admit ANY book involving Seals does the same thing for me!!!!
(Bonnie Capuano 9:52am November 30, 2015)
Too many to pick one.
(Marissa Yip-Young 10:12am November 30, 2015)
Anytime I pick up a book from an author I enjoy reading! :)
(Colleen Conklin 11:55am November 30, 2015)
Happy Book Birthday! I was so delighted to discover you in the Wounded Warriors anthology and have been searching you out assiduously! If you write it, I read it!
Expecting Gini Koch latest Alien and Diane Kelly's next Paw book, along with Suzanne Johnson's next Pirate...
(Kathleen Bylsma 12:45pm November 30, 2015)
What a delightful post! Happy Book Birthday
(Lenna Hendershott 1:10pm November 30, 2015)
...Gee Cyber Monday, it didn't post all my comment so I'll try again...

What a delightful post! Happy Book Birthday
(Lenna Hendershott 1:11pm November 30, 2015)
It was the second book in The Hollows series by Kim
Harrison. The first books had so impressed me with the
creativity of her world building.
(G. Bisbjerg 3:28pm November 30, 2015)
The first book I win made me dance was a Robyn Carr fool gold
touch me
(Emily Stemp 3:32pm November 30, 2015)
I have danced through lots of books from beginning to end and some I kept reading hoping they would eventually get better and which some did not .I love to dance and hate it when the music stops.
(Joan Thrasher 5:27pm November 30, 2015)
As a kid I was reading Zane Grey, Earl Stanley Gardner,
Flicka and much more... and dancing, especially tap
dancing!
(Nancy Ludvik 5:36pm November 30, 2015)
My daughter and I read the Harry Potter books together. When
the last book came out she was at her Dads house for the week.
When I got the book in the mail I danced around and read it
before she got home. Don't worry we read it when she got back.
(Julie Wingate 6:43pm November 30, 2015)
I do remember dancing about any books. They do make me happy
when I read a good book. The sad part is that it ends,
(Cynthia Cook 10:13pm November 30, 2015)
Any book makes me dance with joy.If it's part of a series
I've been waiting to finish then I dance twice as much. :-)
(Lisa White 12:18pm December 1, 2015)
any Linda Leal miller books or Robyn Carr books i won
(Emily Stemp 9:45am December 1, 2015)
Anything by JD Robb.
(Shirley Cochran 3:25pm December 1, 2015)
M.L. love your writing style. That being said, if I'm to be
completely honest, every book has that effect on me. When I
was a child my maternal grandmother used to always buy me
books. I grew-up, and found I've never outgrown my
appreciation for the written word.
(Susan S 5:09pm December 1, 2015)
Thank you for sharing your remarkable talent with the world. The world is often a tapestry of gloom and doom and it is those people with a passion for the creative that weave the threads of light and colour into the tapestry.
(Kerry-Louise Parker 7:00pm December 1, 2015)
My favourite book, always has been, the Velveteen Rabbit. I loved it as a child and when a friend recently gifted me a copy, I actually squealed with joy.
(Kerry-Louise Parker 7:01pm December 1, 2015)
I would have to say it was the 3rd Harry Potter book, only because I waited
outside all night in line for the store to open to get my copy!
(Lily Shah 7:02pm December 1, 2015)
anything esp j.d.robb books
(Ann Unger 9:19pm December 1, 2015)
I look forward to reading your book if i happen to win
(Natasha McDonald 9:37pm December 1, 2015)
Sweet talk by Julie Garwood I was so excited I bought it the day it came out
and did a happy dance in the story. Lol my dad was so embarrassed hehe
we were supposed to be birthday shopping for the munchkin
(Krys Barton 4:48am December 2, 2015)
Any book by Patricia Briggs.
(Karin Anderson 11:49am December 2, 2015)
Oh my gosh! there are so many books that make me do a happy dance when I get them...not the least of the, yours!, now that I've found you! I'm so happy you joined in the Wounded Warriors anthology, otherwise, I probably would have been longer in finding you. Already have the next firefighters and this book in my TBA list! Thank you for such great characters and to your sweetie for being your alpha reader!
(Kathleen Bylsma 11:54am December 2, 2015)
I also love the Velveteen Rabbit! It is a remarkable read and can be reread many times with or without our family!
(Susan Patterson 12:29pm December 2, 2015)
I thought the book with no pictures was hilarious. I can't
wait to share it with my granddaughter.
(Krypton I 1:16pm December 2, 2015)
There are so many books I would be so excited about receiving. I love all regency romances and do get carried away when they come. Today I did a happy dance because my JR Ward book came. I do happy dances for just about all my books!! I LOVE them all!!!!!
(Bonnie Capuano 4:03pm December 2, 2015)
I love to get the newest JD Robb In Death book, and for action
with humor the Janet Evanovich Stephanie Plum series.
(Diane Sallans 8:53pm December 2, 2015)
Registered users may leave comments.
Log in or register now!