Purchase
Firehawks #4
Sourcebooks
May 2016
On Sale: May 3, 2016
352 pages
ISBN: 1492619191
EAN: 9781492619192
Kindle: B019HQ2L7C
Paperback / e-Book
Add to Wish List

Fourth in M.L. Buchman's critically acclaimed Firehawks romantic suspense series
The elite firefighters of Mount Hood Aviation fly into places even the CIA can't penetrate.
FROM WILDFIRE TO GUNFIRE
When former Army National Guard helicopter pilot Robin Harrow joins Mount Hood Aviation, she expect to fight fires for only one season. Instead, she finds herself getting deeply entrenched with one of the most elite firefighting teams in the world. And that's before they send her on a mission that's seriously top secret, with a flight partner who's seriously hot.
Mickey Hamilton loves flying, firefighting, and women, in that order. But when Robin Harrow roars across his radar, his priorities go out the window. On a critical mission deep in enemy territory, their past burns away and they must face each other. Their one shot at a future demands that they first survive the present-together.
Firehawks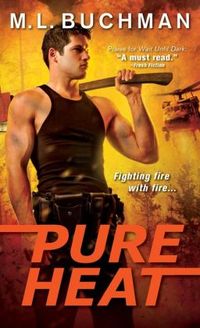 Pure Heat
#1.0
Amazon.com | BN.com | Apple Books | Kobo | Google Play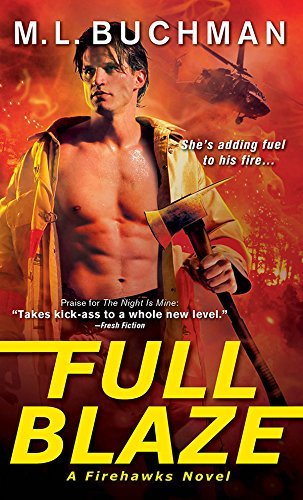 Full Blaze
#2.0
Amazon.com | BN.com | Apple Books | Kobo | Google Play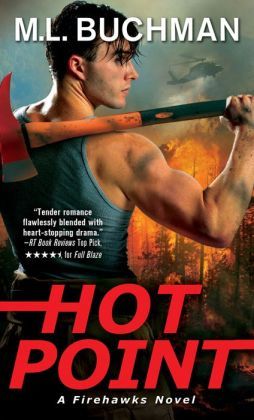 Hot Point
#3.0
Amazon.com | BN.com | Apple Books | Kobo | Google Play
Comments
22 comments posted.
Re: Flash of Fire

My passion is also romantic suspense. I love it and I love your books! Thanks for the chance to win this one!!!
(Bonnie Capuano 9:34am May 9, 2016)
And this is exactly why I read your books! I've already bought Flash of Fire and now must check out your new series.
(Kathleen Bylsma 2:02pm May 9, 2016)
I love to create! My medium of choice is fabric and textiles. I can't limit it to
any one medium as I move from one to the next. I've sewed, crocheted and knitted,
painted on canvas and fabrics, counted cross stitch, my scrapbooking is a work of
art, done jewelry and taught all of the above. It's a joy to gift someone with
either one of my creations or teach them that YES YOU CAN
(Lenna Hendershott 4:22pm May 9, 2016)
I just love to read. I grew up in a small town in the Colorado and was raised on a
ranch. About the only thing to entertain myself as a young girl was to read. We
went to town every 2 weeks and could check out 10 books for 2 weeks. I think
my sister and I read about every book in that little library.
As I grew up, I never lost my love of the printed word. (well,with the exception
of a couple of college texts).
So my passion is reading. I promised myself I would read the list of 100 best
books. Just have about 10 left and then I will be considered "well read"
(Joy Isley 5:32pm May 9, 2016)
My true love began at age seven when I received my birthday book "Cinderella". This edition was illustrated by Kate Smith. I started in 1st grade in the bottom reading group; but phonics gave me a lasting love of reading especially romantic suspense /thrillers.
(Joanne Hicks 6:52pm May 9, 2016)
My true love is my creativeness in all I do. I was fortunate to be born with
artistic abilities.
(Jackie Wisherd 11:38pm May 9, 2016)
Really want to read your book.
(Cathy Garner 12:39pm May 10, 2016)
Sampling sounds good. Will look forward to reading the whole story.
(Charline Bonham 9:27am May 10, 2016)
Your books sound interesting...I will be looking for them now that I know .
(Karen Dieffenbaugher 9:34am May 10, 2016)
My true love is gardening - watching plants sprout and grow
and flourish (hopefully)
(Krypton I 11:17am May 10, 2016)
I love to read.I would read all the time if i could get away with it.
(Marsha Baurns 12:03pm May 10, 2016)
My True Love is books. I've always loved books.
(Kimberly Miller 12:50pm May 10, 2016)
My true love is reading along with poetry. I belong to 2
poetry workshops and we make poems more readable along with
losing a few words and creating titles.
(Alyson Widen 2:45pm May 10, 2016)
I love to read and especially romantic suspense. This books sounds like one I'd love to read.
(Bonnie Capuano 10:24am May 11, 2016)
"Flash of Fire" is exactly what I need to read....now.
(Laila Baloch 2:48am May 12, 2016)
My true love are books with men dedicated badassed to protection of innocents and sassy badass women who do the same.
(Mariah Oyondi 10:20pm May 12, 2016)
My true love is to read both romance and suspence novels
(Shirley Younger 2:42pm May 13, 2016)
love the cover
(Angela Parrish 3:44pm May 13, 2016)
Well , I have several ' True Loves ' I guess . I love to dance . I'm 70 years young and dance at least three times a week with a group of ladies around my age that go to Nursing Homes and all different kinds of events in our area and entertain for them . We are real cheap ( free ) so we get calls for lots of events . We line dance and all seem to enjoy and some will join in with us . We have lots of fun wherever we are . I love to read and enjoy life . I wound love to read this book and thanks for this chance to win .
(Joan Thrasher 9:42am May 14, 2016)
I love to read! Mostly romances - the best have adventure and
some humor (even under tense circumstances).
(Diane Sallans 4:11pm May 15, 2016)
Fabric collecting, I mean quilting.
(Laura Gullickson 11:58pm May 15, 2016)
Such an amazing book! I loved reading it!
(Mariah Oyondi 2:31pm June 20, 2016)
Registered users may leave comments.
Log in or register now!