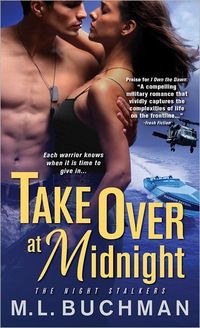 Purchase
Every warrior knows when it's time to give in...
The Night Stalkers #4
Sourcebooks Casablanca
December 2013
On Sale: December 3, 2013
Featuring: Lola LaRue; "Crazy" Tim Maloney
384 pages
ISBN: 1402258194
EAN: 9781402258190
Kindle: B00ENQEM8I
Paperback / e-Book
Add to Wish List

Lola LaRue, Chief Warrant Officer of the U.S. Army's secret helicopter regiment, is a natural at everything except relationships. She's a professional in the air but she screws up every time she touches the ground.
Sergeant "Crazy" Tim Maloney is a goner the moment he first sees LaRue on a mission to deliver a Delta Force team into the Iranian Desert. He's always been a 'love 'em and leave 'em' kind of guy, but all that changes when Lola's in danger. Now with the stakes higher than ever, they must find a way to eliminate a threat that could destroy more than just their future.
Night Stalkers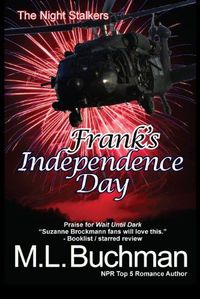 Frank's Independence Day
#0.0
Amazon.com | BN.com | | |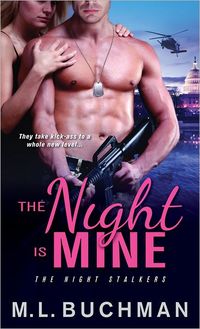 The Night Is Mine
#1.0
Amazon.com | BN.com | | |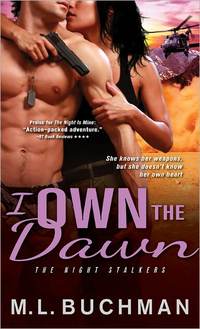 I Own The Dawn
#2.0
Amazon.com | BN.com | | |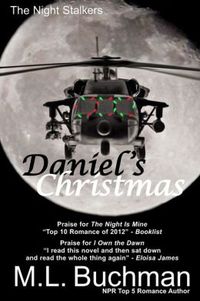 Daniel's Christmas
#2.5
Kindle | BN.com | | |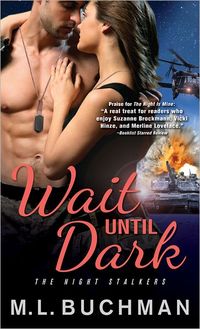 Wait Until Dark
#3.0
Amazon.com | BN.com | | |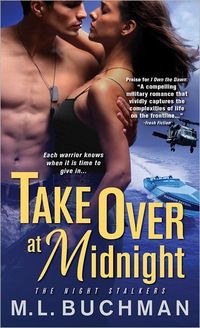 Take Over at Midnight
#4.0
Amazon.com | BN.com | | |
Comments
24 comments posted.
Take Over At Midnight sounds great and I am definitely intrigued.
(Melanie Backus 8:13am December 20, 2013)
This book sounds like once I start it I don't want to put it down....it's so on my list!!!!
(Bonnie Capuano 8:41am December 20, 2013)
Sounds great! I haven't read any of your series... would I
need to read the previous books to enjoy this? :-)))
(Linda Townsend 9:10am December 20, 2013)
This sounds like a great book. And since I haven't read any of the series, I have a lot of catching up to do. Thanks for the chance to win. Happy Holidays.
(Nancy Reynolds 9:35am December 20, 2013)
Linda, each book is designed as a stand-alone, with cool reader cookies as to what the past characters are up to. I've read books where it was all reader cookies and I was bored because I wasn't a series reader so I'm very careful not to do that.

Also, the list of books above, "Frank's Independence Day" is actually book 3.5 and book 3.9/4.1 is not shown "Peter's Christmas". The events were supposed to occur after the release of "Take Over at Midnight", but that book was delayed by a few crucial months. So Peter (the President of the USA) single in book #4, but finds HEA in the earlier release of his Christmas story. A little weird, even if it doesn't effect the plot line.
(ML "Matt" Buchman 10:04am December 20, 2013)
I love the way you write!! It makes me feel as if I were a fly on the wall, so to speak, and that's exactly the way a reader should feel when they open a book!! I'm looking forward to reading this book, since I'd like to learn more about your characters, and how the story line plays out. Have a wonderful Christmas, and a great New Year!!
(Peggy Roberson 11:41am December 20, 2013)
Love the sound of this book and its series... have it written down.
(Colleen Conklin 11:52am December 20, 2013)
I love Fresh fiction- you are a new author to me. I have to read your books. Thanks for the giveaway.
(Barbara Wells 12:33pm December 20, 2013)
Cant wait to read this book. I am always looking for new authors to read. That's why I love fresh fiction.
(Denise Austin 12:49pm December 20, 2013)
HI thank you for the chance! Who is your favorite author?
(Vickie Schultz 1:29pm December 20, 2013)
This sounds like a great read! Thanks for the chance to win!
(Michelle Schafer 3:12pm December 20, 2013)
You're a new author to me, but I loved the excerpts from this book and I'll be sure to check into it.
(Marcy Shuler 3:18pm December 20, 2013)
Wow, Congrats on your new book: TAKE OVER AT MIDNIGHT. I like
the hot book cover too! I would love to win and read your hot
new book this Christmas. Happy Holidays Everyone! Thank You
very much. Cecilia CECE
(Cecilia Dunbar Hernandez 4:01pm December 20, 2013)
I've only read book 1 in this series and loved it. Very intriguing and now they are on my TRL. Thanks for the post and the chance to win.
Carol L
Lucky4750 (at) aol (dot) com
(Carol Luciano 4:42pm December 20, 2013)
I am so sorry I haven't read your books, but after reading about your latest one, it will be on my to read list! How do you decide about your storyline and characters? Thank you.
(C Culp 6:26pm December 20, 2013)
Carletta, I figure that the true first reader of my books is me, the writer. So, I look for what will interest me, intrigue me through the much longer process of writing a book rather than just the reading. My storylines in this whole series are taken from recent and past news. "Take Over at Midnight" looks at the birth event of the Night Stalkers, the motivating event of these two soldiers, and the course of the meeting and courtship. Juxtaposing these three elements gave me the background, and the concept of bioterrorism gave me the cap on that sequence.

For the characters themselves, Crazy Tim Maloney was born back in Night Stalkers I and has been waiting for his story. Lola was an interesting challenge. I wanted to explore someone who had not connected with her life, who had drifted as I've seen so many young women do, and then what she's done to turn her life around on her own. What would that do? What weaknesses/fears would she be carrying forward from that past? What strengths would that require to overcome?

It kept her interesting to me the reader, totally mystifying and intriguing Crazy Tim, and hopefully made her fun for the reader as well.
(ML "Matt" Buchman 6:49pm December 20, 2013)
Are there any plans to do audio versions of your books?
Loved the first two books in the series - #3 is in my TBR
pile.
(Mary C 9:36pm December 20, 2013)
This sounds very exciting! It must be fun to let your
imagination fly and propose a lot of 'What Ifs' to see which
is the best idea.
(Diane Sallans 10:48pm December 20, 2013)
I love reading about military and special co-ops stories. I have seen your name but never a face to the name. I love the book description on each of your books. I will be following your books. Thank for the introduction.
(Kai Wong 11:34pm December 20, 2013)
Sounds wonderful. I loved the excerpts that you posted!
(Marcia Berbeza 8:27pm December 21, 2013)
I'm looking forward to a great read thank you.
(Mary Preston 1:17am December 22, 2013)
Congrats on your new release! It sounds like a very exciting book.
(Bonnie H 8:06pm December 26, 2013)
Hi Mary,
The audio rights are in the publisher's hands and they haven't yet exercised those rights. I have recorded the three holiday novellas however and those titles are available on both Amazon and iTunes.
Thanks
(ML "Matt" Buchman 11:06pm December 27, 2013)
Friday night, 10:30 , and I just finished Wait Until Dark, Book 3. And Book
4 is out! I must have been really good in another life to have another book
waiting for me now.

Wait Until Dark knocked my socks off. I love your damaged heroines (and
Emily) who still get the job done, who have the courage to mend
themselves, and who have incredible action-adventures while meeting The
One. I highly recommend the first three books in this series. Don't walk.
Chopper to the closest store and get these.

Urban Fantasy - Jennifer Estep's Elemental Assassin series and Seanan
McGuire's Incryptid series. Three thumbs up for both these series.
(Diane Flindt 2:00am December 28, 2013)
Registered users may leave comments.
Log in or register now!