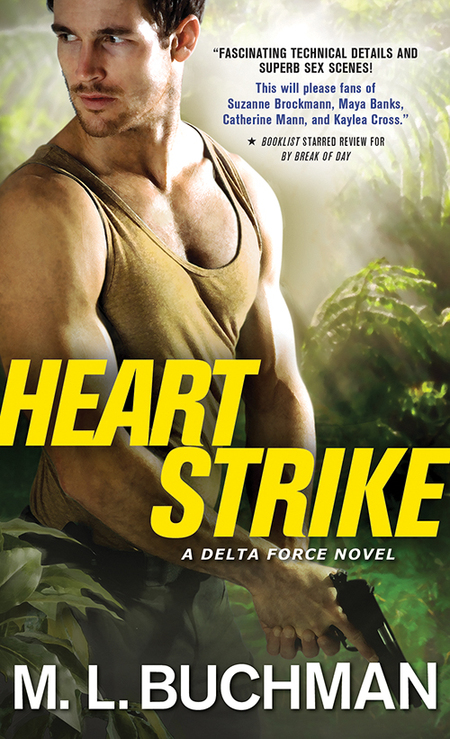 Purchase
Delta Force #2
Sourcebooks Casablanca
August 2016
On Sale: August 2, 2016
Featuring: Melissa Moore; Richie Goldman
384 pages
ISBN: 1492619256
EAN: 9781492619253
Kindle: B01G5UCXM6
Paperback / e-Book
Add to Wish List

Romance Suspense | Romance Military
DELTA FORCE: The deadliest elite counter-terrorism unit on the planet
• A precision strike force
• The most out-of-the-box thinkers in any military
• Will die to get the mission done
SERGEANT RICHIE "Q" GOLDMAN: The smartest soldier on any team
SERGEANT MELISSA "THE CAT" MOORE: Newest on the team, determined to be the best
Rescued from an icy mountaintop by a Delta operative, Melissa Moore has never met a challenge she can't conquer. Not only she will make Delta Force, she will be the best female warrior in The Unit, and woe to anyone who says otherwise. Technical wizard Richie Goldman is Bond's "Q" turned warrior. A genius about everything except women, he takes point on the team's most dangerous mission yet. When the Delta Force team goes undercover in the depths of the Colombian jungle, surviving attacks from every side requires that Richie and Melissa strike right at the heart of the matter...and come out with their own hearts intact.
Delta Force
Comments
20 comments posted.
Re: Heart Strike

This series looks interesting, esp. as you've put in so
many personal conections! I'm always up for a new to me
author! Even if I don't win...I'll look for one to read!
(Sharon Shearouse 2:04pm August 8, 2016)
Kicking back with my son and his family. They've been my rock
since I was widowed. When my sweetie was still on this side of
the sod, we hung together and did whatever struck us as fun.
(Kathleen Bylsma 5:59pm August 8, 2016)
WOW my favorite weekend would be to just curl up and read and not make dinner....just read and relax!!!! Heaven!
(Bonnie Capuano 6:29am August 9, 2016)
My weekdays are so busy with going or taking to appointments : dentist , eye doctor , x-rays , exams , or keeping grandchildren . On the weekend I'm ready to 'do nothing'. Just relax and curl up with a good book . That doesn't work on most Sundays since I go to church , then company starts coming in the afternoons . Well , I'm not complaining , thank God I'm able to do all of this and enjoy it also . Thanks for the chance to win your book , it sounds like a very exciting read .
(Joan Thrasher 10:45am August 9, 2016)
My perfect weekend is cooking up a storm, enjoying it with
family, chatting and laughing with them, and also to sit
down in the evening to read a good book with a pot of tea.
(G. Bisbjerg 12:10pm August 9, 2016)
My perfect weekend would be with my husband of 46 years
enjoying peace, tranquility and enjoyment at a beach. Since
that is rare a nice walk in the foothills is lovely which I
would cherish.
(Sharon Berger 1:35pm August 9, 2016)
My perfect weekend...Two Kilts Porter on tap, sun out, 77
degrees, comfy lounge chair and your series on my tablet
while "my pool boy" (ha) grills steaks on the BBQ! Heaven
(Lenna Hendershott 2:05pm August 9, 2016)
Curling up with a mug of tea & a good book. Thanks for the
chance!
(Jana B 6:59pm August 9, 2016)
My favorite weekend would be sleeping in late and reading on my deck with a cocktail
(Joanne Pezzuti 9:42pm August 9, 2016)
My favorite weekend is sitting out with family and friends
and enjoying a cook out.
(Debra Guyette 5:22pm August 10, 2016)
Favorite weekend starts with a beauty shop appointment and then lunching
with friends in an eatery overlooking the ocean then shopping ...I love to
shop. Resting up on a Sunday then for all the activities for the coming
week.
(Jackie Wisherd 2:08pm August 11, 2016)
Favorite weekend, starts with a visit to the Farmer's Market
to visit with my friends in that little community, then
spending time with my family, ending with Sunday worship. I
want my weekends to be a relaxing oasis in a sea of
insanity!
(Marcia Berbeza 1:02am August 12, 2016)
Oh I love your books and I look forward to reading this one. My favorite weekend would be just to be left alone and read. When I read I just really get into the book and seem to live it. It's a great way to just get away!!
(Bonnie Capuano 7:50am August 12, 2016)
My perfect weekend is when we can spend time with our son, just eating together or some fun activity. Doesn't happen as often as you like once they leave home.
(Connie Sahn 5:30pm August 13, 2016)
I'd love to spend the weekend at a beach house with a pool -
sitting in the shade with a good book to read, a tall cold
drink, and taking dips in the pool every hour.
(Diane Sallans 7:06pm August 13, 2016)
any weekend i can spend with my family is a favorite!
(Dianne McVetty 2:01pm August 14, 2016)
A perfect weekend would be to sleep in with my hubby, have a nice
brunch, and a quiet day, unless family is visiting which is always
fun, especially with 3 young grandchildren. Finding some time to
read is always a plus.
(Nancy Luebke 3:07pm August 14, 2016)
My favorite weekend would be going to see a well known band live at the beach. Atlantic City is doing just that this summer and it's awesome.
(Nancy Marcho 5:48pm August 14, 2016)
My favorite weekend would be relaxing at home with family.
(Carrie Edmunds 2:32am April 30, 2017)
Looks like a great book to get started
exploring this author!
(Diana Leanne Roberts 4:02pm August 23, 2020)
Registered users may leave comments.
Log in or register now!