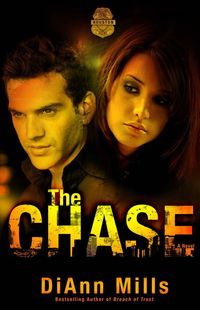 Purchase
Expect an Adventure
Crime Scene: Houston
Zondervan
April 2012
On Sale: April 1, 2012
Featuring: Kariss Walker; Tigo Harris
352 pages
ISBN: 0310333172
EAN: 9780310333173
Kindle: B005MQVADI
Paperback / e-Book
Add to Wish List

Based on a real–life cold case, The Chase, by bestselling author DiAnn Mills, teams novelist and former news–anchor Kariss Walker with FBI Special Agent Tigo Harris as they reopen an unsolved crime case and discover more than they bargained for. Will Kariss's pursuit of her dream as a suspense writer come at a deadly cost? Join in The Chase and find out.
Description: To the FBI it's a cold case. To Kariss Walker it's a hot idea that could either reshape or ruin her writing career. And it's a burning mission to revisit an event she can never forget.
Five years ago, an unidentified little girl was found starved to death in the woods behind a Houston apartment complex. A TV news anchor at the time, Kariss reported on the terrifying case. Today, as a New York Times bestselling author, Kariss intends to turn the unsolved mystery into a suspense novel.
Enlisting the help of FBI Special Agent Tigo Harris, Kariss succeeds in getting the case reopened. But the search for the dead girl's missing mother yields a discovery that plunges the partners into a witch's brew of danger. The old crime lives on in more ways than either of them could ever imagine. Will Kariss's pursuit of her dream as a writer carry a deadly price tag? Drawing from a real–life cold case, bestselling novelist DiAnn Mills presents a taut collage of suspense, faith, and romance in THE CHASE.
Videos
Comments
69 comments posted.
Re: The Chase

I love Castle and I watched every Cold Case episode. Both are great shows.
Your book sounds very intriguing. I also like Covert Affairs and Justified.
Covert Affairs has romance and adventure. Mystery and intrigue. Justified
shows there is a thin line between good and evil. It also shows that there is
good and evil in us all. Raylan is the hero and Boyd is the bad guy, yet Raylan
has his demons and Boyd can be loving and caring. I also love Once upon a
Time, An amazing group of talented actors. Robert Carlyle blows me away
with his evilness and his heart.
(Tammy Yenalavitch 12:28pm March 28, 2012)
I love any books that have some form of mystery in them.
(Marilyn Legault 1:38am March 28, 2012)
It's funny you mention Castle because at the moment, that is one of two shows I watch regularly!

Out of the two, though... It's a tough call.

Castle has Nathan Fillion, and I love seeing him in the role of Richard Castle. He tries to be suave and sometimes fails. He may not be romance-book-cover material, but he's got the charisma and the goofy charm to pull it off just a little bit. He's also smart, and in tune with those around him, giving him the ability to draw connections like a writer would. As easy as it would be for the writers of Castle to go a different way, they've maintained a kind of authenticity to the character of Richard Castle, I think.

On the other hand, I am watching "Once Upon A Time" and there's NOTHING better for me than allusions to well known fairy tales and fables. (I love Rumplestiltskin.)
(Jennifer Bird 2:10am March 28, 2012)
There aren't actually any shows that I watch regularly...cuts into my reading time!
(E Felder 2:52am March 28, 2012)
I would rather read then watch television!
(Susan Ashcraft 3:10am March 28, 2012)
Wow, this is a tough question for me. I don't watch much TV at all these days. My favorite TV shows are re-runs of old shows. I like "I Love Lucy" and "Gilliagians Island" and "I Dream of Jennie" and so on. Why? Because they are funny and inventive without use of much technology. The silliness each show fills in 30 mins makes me laugh. Thanks for the contest. Sounds like a fun read!
(Sally Hannoush 7:02am March 28, 2012)
I enjoy the show Grimm. Its funny, serious, different and the characters are interesting. Its a show about someone trying to help others even if they are different.
(Theresa Richardson 7:11am March 28, 2012)
One of my favorite shows was The
West Wing. No explosions but great
dialogue!
(M Bell 7:40am March 28, 2012)
I have 2 favorite tv shows at the moment! The first is Mad Men, which I missed when it was on hiatus for so long and I am thrilled came back for season 5 this week:D I just love the vintage fashion, great writing &acting, and Jon Hamm. I feel like I get a sense of what it was like back then too. The other show is Dancing with the Stars. I'd never seen it before but my mom loved it ever since Emmitt Smith was on and she got me to watch last week. So now I'm rooting & voting for Sherri Shepherd cuz she makes me laugh so much, lol!
(Bella Franco 7:41am March 28, 2012)
Even though it's over, Lost is still one of my favorites. I came in during the second season after listening to friends tell me I should watch it (thanks ABC for having the first season online so I could get caught up). Besides some nice man candy, it had an unusual story format and covered all the emotions from joy/humor to sadness (OMG one of the saddest moments ever in the last season).

I'm also with Bella on DWTS. I hope Shari Shepherd makes it to the final three because she's so passionate about it, but there's no way she'll win.
(Anne Muller 7:57am March 28, 2012)
Castle is one of our favorite shows.
(Susie Kerner 8:21am March 28, 2012)
I love TV Dramas. Shows like NCIS, Criminal Minds, CSI, Blue Bloods are tops on my list. But, there are some new programs this year that, IMHO, are off the charts. Person of Interest with its quirky futuristic trouble spotting machine stars Jim Caveizel and Michael Emmerson (from LOST). Those 2 play well off each other then through in 2 NYPD detectives...one a bit shady and the other, a tenacious woman who just won't let go of that bone. And, it has been renewed for a 2nd season.

Then there is the new AMC drama HELL ON WHEELS. Done for the season now, but has been renewed for another season. If you haven't seen this gritty, post-civil war drama, you are missing an outstanding program. Excellent acting, writing and directing. If reruns of season one appear, do yourself a favor and watch. You won't be disappointed.
(Karen Haas 8:40am March 28, 2012)
I love mystery books and we watch a lot of TV dramas too. CBS is our favorite channel.
(Bonnie Capuano 9:00am March 28, 2012)
This will probably make my co-workers laugh but my favorite show is Gossip Girl even though I am no longer a teenager. :) I love the love/passion/hate between Blair and Chuck.....
(May Pau 9:02am March 28, 2012)
Hmm, Okay let's see. Since I don't watch much TV , it's no too hard to say what I watch. First off I do like the CSI and Cold Case but the timing is tough on that. Then I do an about face with Angel and Charmed. But I usually sit in front of DIY and have either my laptop, Kindle, or a book that I'm reading instead and when everyone asks "are you even watching" my reply is "sure, it's called multitasking, I can hear that while I see this, no problem". *sigh* Can't help it, I love to read. Thanks
(Margie Gagarin 9:12am March 28, 2012)
Interesting what good non-fan-fic writing can come from a fan-fic kind of place. :)

Since my seven-year-old son and my beautiful husband typically maek our TV choices, I see a lot of Curious George, cooking shows (that's my son, interestingly), stuff about dinosaurs, and sports. We all like Community, The Office, and 30 Rock. And luckily for me, I do enjoy Phineas and Ferb, aside from the weird misogynistic stereotyping of girls and women.
(And I know an awful lot about torosaurs for a 51-year-old woman.)
(Mary Ann Dimand 9:28am March 28, 2012)
Huge fan of Castle. I originally turned on the show because -- well its got Nathan Fillion and he is my geek god! Canadian, Handsome, promotes literacy and a geek what is not to love.
(Jennifer Rayment 10:32am March 28, 2012)
I love books that have drama, mystery and are an easy read.
(Audrey Skinner 10:33am March 28, 2012)
do you ever listen to the Old Time Radio show The Chase?
(Catherine Myers 12:39pm March 28, 2012)
Loving these comments and TV recommendations! Keep them coming!
(DiAnn Mills 12:45pm March 28, 2012)
I love Castle, Unforgetable, CSI, NCIS, Body of Proof...the list goes on. My favorite, which is ending, is The Closer. I love that the lead is a southern woman, who is able to be both beautiful and intelligent. I like that Brenda has weaknesses (candy) and is portrayed with all as a regular human being - caring, selfish, right, wrong, mean, nice...well rounded. Being from Texas - I love her "bless your heart" attitude (being so nice, even when you mean it the opposite). I love mystery and romance and puzzles. Castle and other shows of the genre fufills my needs. Thanks for the giveaway.
(Kimberley Coover 12:57pm March 28, 2012)
I love mysteries and would love to win this one
(Anne Derkat 1:07pm March 28, 2012)
I would love to win this book love mysteries and adventures
(Lilian Gamble 1:45pm March 28, 2012)
I have found that in the past two years I have more enjoyment in reading then with TV.
(Colleen Conklin 1:47pm March 28, 2012)
I watch CSI endlessly. I cant wait to read the new book to break open a new case!
(Latarsha Charles 1:47pm March 28, 2012)
I enjoy watching Unforgettable and The Mentalist, but actually prefer to read mysteries with romance. More details are in the books than in a television show.
(Anna Speed 1:49pm March 28, 2012)
I have a confession: I haven't seen Castle. Why? It's a mystery. I love Nathan..who couldn't with that boyish charm of his? We own Serenity and even with the movie's flaws I have seen it several times..yep, it's Nathan. I never missed an episode of Cold Case and was so so disappointed in the ending. That's a cold case in itself..why would they end it that way? So not satisfying.

I am fascinated by your storyline. I'm not sure why I love to read thrillers and crime stories so much. But I do. Throw in some romance and it's the perfect book. I look forward to yours.

My favorite show is Criminal Minds. I like the characters especially Penelope. I like the stories. Sometimes it's a bit over the top with the gore..like my second favorite show NCIS. But it's the one show that doesn't load up the DVR. I can't wait to see it each week. If they could just bring back Mandy Patinkin for a show or two..
(Kirsten Kimball 2:45pm March 28, 2012)
I love Castle too but Hawaii Five Oh and it are on at same time. So I watched Castle this week as Hawaii Five Oh was a repeat. I wish I could watch both all the time.
Please enter me to win gift card. You know I love your books as I've reviewed some and am friends with you on fb.
Jane Squires [email protected]
(Jane Squires 2:53pm March 28, 2012)
Well...I'd have to say The Walking Dead and Breaking Bad on AMC are my favorites but I also like Hell On Wheels & The Killing. Okay...so they don't have much to do with Castle or Cold Case, however, they both show the extreme lengths that people will go to not only survive but become the one in charge no matter the cost.

I read reviews about your book and would really like to read it myself...and, yes, being a mother, too, the thought of a child starving to death in the US is heart breaking & makes me angry. I think you have touched on a subject that a lot of people should consider & would like to read your novel.
(Cecilia Huddleston 3:04pm March 28, 2012)
I really enjoy Criminal Minds &both NCIS shows. My Husband wathes Castle & Justified. I always read while watching TV, so I don't miss much. Enjoy your Books too.
(Pat Wilson 3:06pm March 28, 2012)
I am a HUGE Castle fan. The vibe that they have together is so good, it is actually what I think makes the show. All of the supporting characters have their own uniqueness to them but they all work together so well, they feel like family. The storylines are hilarious. Sometimes I figure out whodunit and sometimes not until the end. I look forward to each Monday just to watch the show, besides starting the school week for my daughter. LOL. Nathan rocks as Richard Castle. Congrats on the release DiAnn. I can't wait to read it.
(Christine Arcidiacono 3:08pm March 28, 2012)
I enjoy James Roday on Psych because he's so over the top with his humor. The just plain silliness of the show makes it a lot of fun.
(Sue Farrell 3:14pm March 28, 2012)
Castle is one of my FAVORITE shows! I love it and when I was reading the description for this book it actually made me think of Castle. One of the things I love most about the show "Castle" is Castle's personality as well as the relationship between him and Beckett as well as the friendship between Ryan & Esposito and the way they all work together and have bonded.
(Chelsea Knestrick 4:04pm March 28, 2012)
I just love Castle, I like cold case. I cant wait to read this book.
(Heather Poindexter 4:16pm March 28, 2012)
Great blog! Hope I win!
(Kelsea Eaton 4:19pm March 28, 2012)
Bones is my favorite show. It has been killing me because it has been off for so long. I love the interaction between Booth and Bones and can't wait to see how they interact with the baby.
(Catherine LeClair 4:24pm March 28, 2012)
I'm 76 yrs. old and love the Castle show. I recommended it to my grand-daughter, who is now in love with it also. She's also read three of the Castle books.
(Patricia White 4:40pm March 28, 2012)
I would pick NCIS as my favorite show because it combines serious plot lines with humor and a nod to the military. It also has a star who is handsome with his gray hair in a very peculiar cut.
(Maureen Emmons 5:24pm March 28, 2012)
I really can't pick just one show (& fortunately I don't
have to since they don't run against each other). So here's
my list: Castle, NCIS, Bones, The Closer (too bad that's
ending this year), CSI, Flashpoint
(Diane Sallans 5:35pm March 28, 2012)
Castle is a good show!
(Gina Freire 5:40pm March 28, 2012)
Community and Modern Family always make me laugh. Being Human and Walking Dead because I love the paranormal. Wilber in the summer,even though it is about a dog, it reminds me totally of my cat.
[email protected]
(Debbie Penny 5:47pm March 28, 2012)
I'm often reading with the TV on, since there are so many commercials in between shows anyway, and I like to make use of that idle time, because I'd much rather be reading. I've been enjoying watching American Idol lately. I also really like America's Got Talent (which hasn't started it's new season yet), and Lifetime movies. I will have to check out Castle as I've never watched it. Your book sounds very good.
(Linda Luinstra 6:33pm March 28, 2012)
My daughter and I really love "Once Upon a Time". We watch or record it every week and can't wait for the next installment. I think it is the draw of the fairytale personalities mixed in with true life people. I think the show's writing has been excellent, I appreciate the actors, and how the story lines are intertwined. You can definetly appreciate all the nuances with the "good" and "Bad" of all the people. Just like real life, we are human in spite of ourselves!
(Debra Simning-Chapman 6:44pm March 28, 2012)
I love a great mystery. It all started from Watching Murder She Wrote and grew from there. Thanks for the givaway.
(Kiki Winn 6:56pm March 28, 2012)
I enjoy a great mystery and your book sounds interesting. I like Castle and Hawaii Five-O.
(Rich Cook 7:11pm March 28, 2012)
chasing the chase... lol !
(Susan Jeffers 7:21pm March 28, 2012)
About the only show I could say is Big Bang Theory. I wish that I could be as smart as the guys in the program are. I don't have a lot of shows to pick from, due to the fact that where I live, my broadcasts come from Canada, and I have 3 channels to choose from - 4 if you count the "French one" from Quebec!! lol As they say, it's slim pickins' as far as programs go, so most of the time we listen to the radio. It's such a weird area, that Cable isn't even offered!! Figure that one out!! Anyway, that gives me more time for doing more important things like reading your book, which I'd love to do!! It sounds heartwrenching, but exciting at the same time. Such an awful story, but should be told. Thank you for writing it.
(Peggy Roberson 7:23pm March 28, 2012)
I tell my husband and son all the time....did you ever think you would regularly watch a show about a cooking competition and enjoy it!?! We Love to watch Chopped.
(Elaine Meglathery 7:36pm March 28, 2012)
Wow I LOVE this book already...especially as a fan of Cold Case - my son and I LOVED that show, especially since it was set in Philly, where we live - we also love NCIS - and miss Shark - and I have become totally hooked on Top Chef, Chopped and Iron Chef - especially since my cooking skills are very "basic", to put it politely! LOL
(Felicia Ciaudelli 7:44pm March 28, 2012)
csi and criminal minds love them!!
(Jennifer Beck 7:56pm March 28, 2012)
I watch Castle with my teenager and we also liked Cold Case. We are also big fans of Body of Proof and Rizzoli and Isles. I'd love to win a copy of The Case - it sounds like my kind of book.
(Sue Ellen Williams 8:01pm March 28, 2012)
I've watched Saturday Night Live, ever since it was acutally Live!
(Diane Pollock 8:12pm March 28, 2012)
NCIS - love the interaction between the cast members and discovering more about their personal lives over the years.
(Mary C 8:26pm March 28, 2012)
Wow, tough question. I watch Dr. Who. I have always watched Dr. Who. I have discussed Dr. Who with many and various individuals. I own Dr. Who memorabilia. Why do I love it? It is fun, funny, creative, thoughtful, scary, and it has been on FOREVER! Yup, FOREVER is a big reason.
(Jennifer Beyer 8:33pm March 28, 2012)
I love Castle, Cold Case, Unforgettable, CSI, and CSI Miami, and NCIS. I love all
mysteries.
(Elisa Varey 8:39pm March 28, 2012)
I enjoy watching Bones. I liked the older series best but am
waiting to see how they handle the addition of a baby. I
especially like the interaction with Bones and Booth.
(Mary Hay 8:54pm March 28, 2012)
Well unlike everyone else, I have never seen Castle, imagine? Well I guess just the chaos of my life must be to blame. I loved Alias when it was on and of course 24, which I must watch on DVDs because I could never keep up otherwise. I do love cold case and watch the reruns all the time,always glad when it's one that I have missed over the years. Your book sounds real interesting, so maybe once I read it, and love it, I'll investigate the show Castle that you all seem to love. Must go and because my son is in the why? but why? but whyYYY mood and I can't write and answer the endless questions. Have a great night everyone!
(Audrey Burke 8:59pm March 28, 2012)
Cold Case gets my vote. The character of Detective Lilly Rush seems so fragile, but she really digs in her heels when she's getting to the truth. She squints her eyes when she knows somebody's lying to her. Really cracks me up.
(Joy Botkin 9:01pm March 28, 2012)
Love suspense books! :)
(Krystle Smith 9:10pm March 28, 2012)
I enjoy reading FBI stories.
(Molly Wilsbacher 9:17pm March 28, 2012)
bones
(Paul Cowal 9:52pm March 28, 2012)
love romance series
(Denise Smith 10:21pm March 28, 2012)
I don't watch much tv. When I did I used to watch Criminal Minds and Cold Case.
Thanks for the post.
(Patti Paonessa 10:23pm March 28, 2012)
My favorite all time tv show is "The Walking Dead"
It is so well written and acted. The plot is even
believable if the world started to go crazy.
Hey, it makes me have nightmares at times.
Also, enjoy Cold Case files. At times my family just
wants to scream at the "evil" killers in the show.
Alot, of research has gone into making the show.
Some of the shows stay with one for a long time.Thanks, for
review about the interesting sounding Castle series. Will look it up. WTG on your writing skills. Gosh, you have me so interested in your plot. cheers
(Dayle Butler 11:10pm March 28, 2012)
Starbucks!!! That is the only place that could drag me away from the T.V. when my favorite shows are on. I love Castle but I can only watch it because my husband watches his favorite show before it comes on. When is he going to tell Beckett how he feels about her? I also like Monk but it has been cancelled. No problem. I can watch it on-line. Thanks for the contest.
(Kathleen Yohanna 12:13pm March 29, 2012)
I'm a Castle watcher, too--whenever I think of it. I think I missed it again this week. I really should find out if I can get it on the Internet somewhere--if I don't forget that. It's one of the few shows I watch other than news and documentaries, the older Law & Order franchises, and Flashpoint, a Canadian series using a minimum of violence, in which people are rarely killed during an investigation or takedown. I can remember only one instance.) Thus that you're writing Christian fiction is a bonus.
(Sigrun Schulz 12:51pm March 29, 2012)
Yep. I love Castle, too, and the predicaments they get into and the great storylines. The characters are well developed and I can't wait to learn more about them in my favorite TV show and in books that are in the mysterious/thriller line.
(Alyson Widen 6:23pm March 29, 2012)
The minute I saw the words "cold case" I thought of what is currently going on in Houston with the successes that a cold case squad has experienced of late. A native Houstonian, I am definitely interested in reading this book
(Gladys Paradowski 8:17pm March 29, 2012)
Wow, this is a great book and is on my Wish List! Based on the TV show discussion, my son and I LOVE "Cold Case" - first because it was set in Philly - and we loved all of the fascinating cases - we also love Law & Order, and NCIS, among other shows. In my Dream Life, I would sit all day and read, watch my television shows and listen to my music...wait, I think I do that already...maybe that's why I need to "clean house" more! LOL
(Felicia Ciaudelli 2:16pm April 20, 2012)
Registered users may leave comments.
Log in or register now!