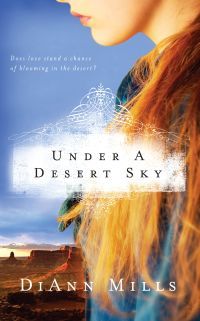 Purchase
A race from danger...straight into the arms of love.
Summerside Press
June 2011
On Sale: June 1, 2011
Featuring: Tahoma Benally; Eva Fortier
320 pages
ISBN: 1609361385
EAN: 9781609361389
Kindle: B00564OQ14
Paperback / e-Book
Add to Wish List

When Eva Fortier's grandfather is murdered, her attorney urges her to leave New York and take refuge in the high desert area of New Mexico. Leaving her life of wealth behind, Eva attempts to make sense of the tragedies in her life.
Navajo Tahoma Benally has his hands full taking care of his people's medical needs. But when his father asks him to help fulfill a vow made to Eva's father, he has no choice but to oblige. He views Eva as a spoiled rich girl...until he sees her strength in the midst of life-threatening danger.
Videos
Comments
86 comments posted.
Happily ever after doesn't have to mean the couple gets married at the
end of the story. I think a HEA can happen when the couple admits their
true feelings and acceptance of each other. I am satisfied when the
characters have an emotional breakthrough. Both people should be
stronger and more confident at the end of the story because they met
each other.
(Stacie Deramo 8:44am June 18, 2011)
For me, happily ever after means making the world together-- and that does require continuing, pretty much continual, negotiation. But good negotiation is conversation and refreshment and epiphany....
(Mary Ann Dimand 8:51am June 18, 2011)
HEA: evolution of the original feelings. People will change and their
needs will change also, but we should always be able to shake that snow
globe and recapture that same love; make us smile again. And then we go
about the day with that same silly 20 year grin on your face.
(Brandi Evans 9:11am June 18, 2011)
HEA is being able to look at that special someone years later and still have your heart skip that little beat just like it did the first time you saw them.
(Deborah Rudd 9:31am June 18, 2011)
Together, the couple feels complete. Being with each other is a whole much better, much stronger, much more than being apart.
(G S Moch 9:32am June 18, 2011)
When a book is action/adventure/suspense combined with romance, I am happy with an ending where the hero and heroine survive and at least partially succeed in their mission to go on to the next book. Over the arc of a series, I would expect their relationship to strengthen albeit with some ups and downs.
(Carol Drummond 9:48am June 18, 2011)
Happily ever after? When two people care and love each other so much they'd sacrifice anything just to be together. They can be content with each other and enjoy the others company. Happily ever after is finding your other half and having the luck of spending the rest of yours lifes together.

Btw, great post. I love suspenseful romance, it keeps you on the edge of your seat but your heart still beats a lil harder when the hero and heroine are together.
(Heather Chamblin 9:53am June 18, 2011)
Happily ever after to me means loving, caring and enjoying being with the one you love forever.
(Dawn Staniszeski 10:15am June 18, 2011)
HEA to me means still loving, liking, supporting, and appreciating each other after 25+ years together.
(Cheryl Castings 12:01pm June 18, 2011)
Your book sounds really good.
(Terri Quick 12:19pm June 18, 2011)
It means peace and security. Trust and balance. It means
sleeping well at night because you have faith in 'it' and you
know all will be well....
(Michele Powell 1:50pm June 18, 2011)
Aren't we humans funny!
Blessings,
Marjorie
(Marjorie Carmony 1:53pm June 18, 2011)
I can't wait to read your book! Happily ever after to me is a couple that have been through struggles and come through it stronger as a team (and of course they can't bear to live without each other!).
(Jody Hollenbeck 1:58pm June 18, 2011)
HEA is something you have to work for 24/7. To begin a relationship living
from event-to-event on adrenaline but to expect HEA to continue like that is
kidding yourself. Relationships have to stretch and grow and live day-to-day
with some normalcy. Adrenaline moments (hours, days etc) will definitely be.
there but no "body" could withstand a continuous bombardment. Exhaustion
would be the least of the problems.
(Sandra Spilecki 2:03pm June 18, 2011)
HEA is only possible in real life if you constantly work at it
together. The operative here word being TOGETHER!
(Ilona Fenton 2:05pm June 18, 2011)
When I'm reading a book, the HEA means the resolution of conflict and the hero and heroine are secure in their love for each other. In real life it's harder to define.
(Jane Cheung 2:24pm June 18, 2011)
Am sure your new book will be just as good/better if that's possible/ than your others. HEA is a wonderful concept----I am still looking for it:)
(Barbara Studer 2:29pm June 18, 2011)
Your books sounds fabulous. Happy Ever After is when a couple gets together and things really work out for them in the end.
(Gail Hurt 2:39pm June 18, 2011)
I am 48, on my 2nd marriage, and with 2 middle school-age children. Contentment is the word for me for happily ever after, LOL. Content to do "my" best relating to anything in life or family.
(Debra Simning-Chapman 3:20pm June 18, 2011)
Happy ever after, a true love story in it's self. My husband died 14 years ago,along with my two oldest sons. I was still blessed to have 4 children left, and now grandchildren and greatgrandchildren. I still call this happy ever after, he gave me the greatest gift of all and I have them with me today. Can't wait to read your book.
(Frances Namuth 3:40pm June 18, 2011)
to me happily ever after means living with someone that you can grown together with
(Julie Barett 3:44pm June 18, 2011)
"HAPPILY EVER AFTER" FOR ME IS DEPRESSING BECAUSE I ALWAYS VIEW IT AS THE END OF A NARRATIVE..I OFTEN WANT MORE!
(Silvana Moscato 3:48pm June 18, 2011)
i think it means that the couple comes to understand that this is the person that means more to them than anyone else and that they will not be happy without each other. this does not mean they will run out and get married right away but that they will love each other no matter what obsticles are in the way.
(Tammy Ramey 3:49pm June 18, 2011)
Your new book sounds great. I am orig from NYC & have visited NM once. It was so beautiful. I have told my children that we need to take a family vacation there. I would love to read about the beautiful sights again, in your book.
(Monique Santos 3:51pm June 18, 2011)
Oops, pressed enter too fast.

As far as happily ever after is concerned, it is not a fairy tale, it is work, & dedication. It is a daily committment to seeing it through & looking out for one another.
(Monique Santos 3:53pm June 18, 2011)
your books sounds great!!!!
(Jennifer Beck 4:00pm June 18, 2011)
Under the Desert Sky sounds wonderful and I hope that I'm the lucky winner. HEA just means that you are contented and satisfied with yourself. Your life takes many changes and not all are what we wanted or expected.
(Rosemary Simm 4:04pm June 18, 2011)
HEA to me is when you and your partner compromise, work things out and grow together. Being happy and finding enjoyment in each others company.
(Colleen Conklin 4:25pm June 18, 2011)
I guess it's when the two partners feel it's HEA. It's not one sided and the partner often cares more for the other than self.
(Jeanne Sheats 4:32pm June 18, 2011)
HEA is when two people like each other --warts and all---and are willing to work at continuing a good relationship even when things go wrong.
(Sue Farrell 4:40pm June 18, 2011)
Passions have cycles of intensity and I like both the up and the down times. HEA (Happily Ever After) endings don't always finish completely and of course not perfectly. But some semblance of compromise that works for both parties is what I find happens like ordering Chinese - one from column A and one from column B. When both get something they want the sparks fly and energy ignites.
(Alyson Widen 4:43pm June 18, 2011)
I love novels that include both suspense and romance. Sounds like a book that is going to be hard to put down
(Shirley Younger 4:57pm June 18, 2011)
To me it means no more anxiety, no more stress about your future together. You have found what you have been looking for.
(Rita Wray 5:08pm June 18, 2011)
HEA in real life and in stories to me means marriage and family...and perhaps characters fought hard against a villain and used their wits to outsmart the bad guy in order to be able to reach something as beautiful as a peaceful place with a beautiful sunset. Take note, this doesn't mean that they will never need have adventure in their lives, again. It just means that even when they are not having an adrenaline rush, being together in life is enough of a high that they want to continue life as loving partners.
(G. Bisbjerg 5:43pm June 18, 2011)
In books happily-ever-after means the hero and heroine finally admit that they want to be together and are now going to work on being together.
(Leni Kaye 5:50pm June 18, 2011)
I think 'happily-ever-after' means living the life you want to. Personally, I like it when the couple marries & has children, it shows commitment. It's usually shown in an epilogue or in continuing stories in a series (which is why I like both). Since I rad for enjoyment, I like to feel good with a happy ending.
(Diane Sallans 6:02pm June 18, 2011)
HEA means the h/h have admitted their love for each other, have resolved any issues they may have had and have a wonderful future together.
(Pat Lieberman 7:55pm June 18, 2011)
HEA means finally making a true, lasting connection.
(Mary Preston 8:32pm June 18, 2011)
HEA means an average over many years spent together, so the scales tip in favor of more happy moments than not. :)
(Natalie Damschroder 8:44pm June 18, 2011)
It means trying your best to be a good, loving partner, and your partner also trying to do the same.
(Wilma Frana 8:46pm June 18, 2011)
It means a couple are happily in love. Everyday is like the first day of love. New, exciting and full of possiblities.
Thanks for the giveaway!

Margaret F.
(Margaret Faria 9:33pm June 18, 2011)
Can there ever be "Happy ever after".. to some it can. to all the couples out there...
(Doris Stewart 10:15pm June 18, 2011)
IRL - HEA = fluffy bunny slippers, finishing each other's sentences, heading is the same direction
In fiction - HEA = ? I often wonder, what happens to the characters after all the madness ends.
(Jennifer Beyer 10:33pm June 18, 2011)
Happily ever after means finding a mate that is going to make you feel complete. He should have the same goals as you, along with a good sense of humor, and of course be compassionate and caring. The rest should fall into place. You don't need the house with the white picket fence. Any place you choose you can make a home and be happy together with the right attitude. Just be happy together. I can't wait to read your latest book. I'm a big fan!! Congratulations!!
(Peggy Roberson 10:49pm June 18, 2011)
growing old together, satisified at where we find ourselves.
(Lisa Kendall 10:50pm June 18, 2011)
To me happily ever after is being abel to look over at the one you fell in love with in 50 years and still feel that new love spark.
(Kindra Faith 10:55pm June 18, 2011)
Peace of mind heart and spirit. The hope and promise of tomorrow both
in reality and fiction. Happily ever after exists even after the storm has
come and years have passed.
(Carla Carlson 11:04pm June 18, 2011)
To me it just means that no matter what ups and downs, or hardships you go through you end up together and always look at the other person with love :)
(Ashley Applebee 11:17pm June 18, 2011)
The phrase itself makes me think of cliche ending with crappy dialogue where everything magically comes together. A true happily ever after would be something that makes you feel good and happy but doesn't have to be perfect. Caring for eachother no matter what.
(Jessica Sutton 2:26am June 19, 2011)
Your book sounds great. I've been with my HEA for 34 years.Thanks for giving me a chance to win your book.
(Linda Hall 2:32am June 19, 2011)
I have yet to find anything that could remotely be considered HEA so I'm not sure what it could mean to me..
(Crystal Blake 4:44am June 19, 2011)
A HEA means gettting to the end of the adventure alive and whole and having breathing space to process what has happened and get ready for the next adventure.
(Lindsey Ekland 4:48am June 19, 2011)
To me, happily ever after is finding someone you really like
to spend time with and learning how to just appreciate every
moment you have with them.
(Margay Roberge 7:15am June 19, 2011)
HEA is just a story. Real relationships take a lot of hard work. But they are great escapes to fantasize about.
(Pam Howell 9:48am June 19, 2011)
Hmm... I love HEA... Nothing wrong with that. :) As long as you don't expect it to be so easy in real life too...
(May Pau 11:33am June 19, 2011)
Happily ever after means that you are willing to do the work to keep your commitment to each other fresh and to love each other. You can not become lazy and expect your relationship to weather all of the storms life throws at you. But if you can be strong, love will always find a way.
(Patti Paonessa 11:42am June 19, 2011)
I am a sucker for happy endings and if a story is really good I want to know how they get on in the future - marriage, babies, etc.
(Barbara Hanson 11:48am June 19, 2011)
I love happy endings and don't read books unless they do have one. Of course, HEA means a lot of commitment, being open and honest, and a lot of work in the real world.
(Cathy Phillips 1:40pm June 19, 2011)
Happily ever after is when you never cease having pop-up moments of realization that this really IS a good thing.
(Nan Zahar 1:46pm June 19, 2011)
"Happily Ever After" really means having a loving partnership with someone who shares your ups and downs, your tragedies and triumphs, and your laughter and your tears. It also means that 50-50 is sometimes 70-30, or even 90-10, but that's OK. What goes around comes around, and when you care more about each other than you do yourselves, all will right itself once again. It's packing a lifetime of shared memories into whatever time you have together, and then finding strength in those memories when the day comes that you are on your own. It's not the years in your life that really matter. It's the life and love in your years!
(Virginia Campbell 2:40pm June 19, 2011)
HEA means that you have found the person that completes you. It's the two of you against the world (and lets face it the world is a tough place). I have been married for 22 years and it has not all been peaches but it has made us a stronger couple because we work together through everything. That to me is a HEA...
(Kris Bowers 2:45pm June 19, 2011)
Love, a home and good health.
(Deb Pelletier 3:43pm June 19, 2011)
Happily ever after means that you are all your loved ones are happy and safe. No small feat!
(Janice Milliken 3:44pm June 19, 2011)
It means lasting love...
(Diane Pollock 3:59pm June 19, 2011)
Happily ever after means just that. It is pretty simple, just to be happy and to be grateful for what you have in your life.
(Amanda Welling 4:16pm June 19, 2011)
Happily ever after means that you live your life appreciating all of your blessings.
(Melissa Maringer 4:26pm June 19, 2011)
Happy ever after - working together to enjoy life and each other though the good and bad times; knowing when to give cuddles and hugs, laughing at the same dumb jokes - it's all the little stuff that creates happy ever after.
(Karen Cherubino 4:37pm June 19, 2011)
I love the cover of your new book...since I grew up in Arizona and love the desert
this is one book I'll be getting to read.
(Jackie Wisherd 4:38pm June 19, 2011)
It's bringing up a family together, sharing the sorrows along with the joys together, being able to talk and discuss all of life's little and big problems.
(Diane Sadler 5:07pm June 19, 2011)
Happyily Ever After is almost always considered the resolution of a conflict including the blossoming of a romance. I do not disagree with this, but the kind of Happily Ever After I crave is of a different nature, altogether. In my opinion, a true Happily Ever After is merely the ability to have found someone you can share your life with, be it within or without the norms of marriage - someone who witnesses the progression of your life, someone who can provide testament to the small, insignificant events and achievements, in addition to the great milestones of your life. Also, in my Happily Ever After, although romance, love & understanding are key...another extremely important aspect is 'self-acceptance', and having found something to do with your life that truly provides comfort to you, and makes you feel validated. I mean, what good is being in love with someone, and having them love you back...when you cannot love yourself, or are not also loving what you do? The amalgamation of all those aspects is what truly makes a perfect "Happily Ever After" - and I wish it for every man and woman in this world! :)
(Hira Hasnain 5:32pm June 19, 2011)
My definition of happily ever after is finding your soul mate and growing old together and not hurting each other but instead being each others best friend for the remainder of your life.
(Stephanie Bondlow 5:37pm June 19, 2011)
Weird! Definitely weird! Whenever I logged in yesterday, this page was all in Spanish. I know some Spanish but not enough to read a blog like this, let alone answer intelligently. But I also had a lot of problems with having my pages translated from English when I wanted nothing of the kind. I thought I'd try again today, and lo and behold, it's in English.

It's truly wonderful to see all the inspirational Christian books available nowadays. When I was growing up, you were able to get children's books, but nothing beyond that. Thanks for being one of the authors that has brought us stories to nourish our souls.
(Sigrun Schulz 5:38pm June 19, 2011)
I was raised on the Navajo Reservation and can hardly wait to read this. HEA to me is being surrounded by your family.
(Rhonda Slack 5:47pm June 19, 2011)
Happily Ever After is really a decision to live each moment granted to you as well as you can and to support the other person through the bad times and the good.
(Jackie Robertson 5:48pm June 19, 2011)
HEA, to me, means that a couple is absolutely sure of their love and devotion for each other and has declared it to each other. It simply means that they are together, presumably forever, at the end.
(Amy Z. 6:31pm June 19, 2011)
Your book sounds really good. I think that Happily Ever After means being able to be yourself.
(Yuka Liew 6:55pm June 19, 2011)
your book is great and then i wish to read it
(Desiree Reilly 7:48pm June 19, 2011)
Happily Ever After to me means you have worked very hard to be with the person you love. The couple can tell each other anything and they won't judge each other. The couple knows they will love and support each other forever.
(Kara Lepard 7:54pm June 19, 2011)
Happily Ever After means that after the trials of finding true love, the hero and the heroine know that their is true and whatever happens after the trials, they will never be a part again.
(Kai Wong 8:28pm June 19, 2011)
Happily ever after, means you have achieved the goal you set
for yourself or someone else. It means you are satisfied with
the end result.
(Leanna Morris 8:50pm June 19, 2011)
Still looking for my happily ever after! Love reading about others who are lucky enough to find it. Thanks for the contest.
(Teresa Ward 9:32pm June 19, 2011)
Happiness means finding the right person who loves you in spite of your flaws.
(Anna Speed 10:05pm June 19, 2011)
Happily ever after for me can only mean contentment. Book sounds great.
(Sheila True 10:07pm June 19, 2011)
I love the suspense and uncertainty. I can't wait to read this book>!
(Renee Brown 11:09pm June 19, 2011)
That's simple. There for each other through the good, the bad, and the ugly For Ever. When a crisis is there are you there for each other?
(Christina Harrison 12:39pm June 20, 2011)
My favorite to read it Romantice Suspense!!
(Kelli Jo Calvert 12:51pm June 20, 2011)
Registered users may leave comments.
Log in or register now!